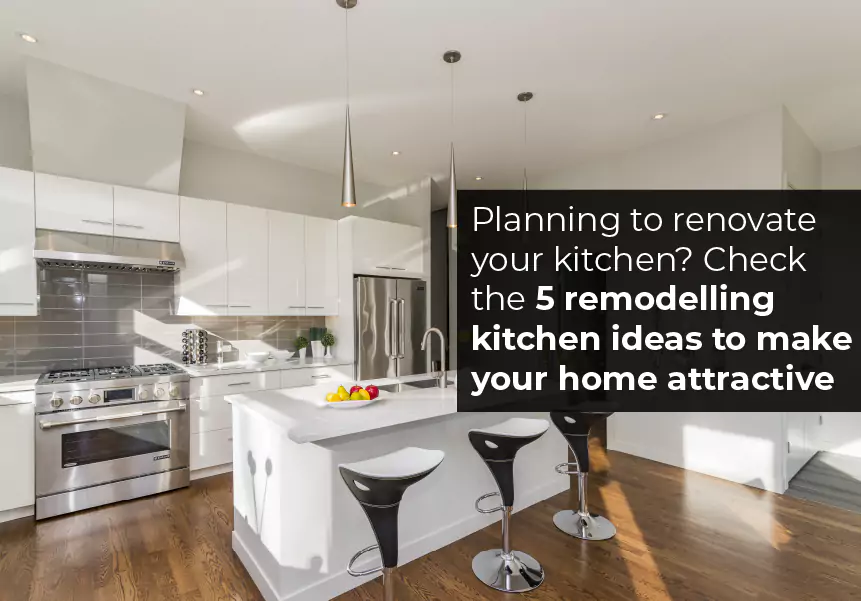 Published on : December 30, 2021
"If you cannot change your home, renovate it," is the philosophy most house owners follow. Everyone wants a change of scene as the same becomes mundane after a period of time. The kitchen is one area that everyone wants to experiment with once in a while. Here are some smart remodelling ideas that will give your kitchen a dapper look.
1. Use bold cabinet designs
Cabinets can make your kitchen look more elegant. Whether you choose lower cabinets or upper cabinets, it will give your kitchen a decorative and stylish look. You can also prefer simple wood cabinets, or white cabinets to make your small kitchen look larger. You can also customize your kitchen cabinets according to your style.
We can give you a few ideas to make your kitchen look artistic.
You can select from a wide range of bold cabinetry designs combined with a Mediterranean pattern for a beautiful kitchen. You can also prefer a sleek design with lamination or glass doors for a contemporary kitchen style.
You can also prefer textured or decorated glass panels ideas with complex designs ideas for a more elegant and stylish look that is comfortable to use.
You can use your ideas to enhance the look of your new kitchen with your imagination to make it more attractive.
2. Add a Kitchen Island
A kitchen island can make a great difference to your kitchen. It's indeed true that countertops and slabs are a very important part of the kitchen, but a kitchen island can make your kitchen space open further, but still give a semblance of closed functionality.
What we exactly want to convey is that you can create more space by opening up the walls of your kitchen and changing the floor design.
The kitchen island helps you to open up more space for seating or laying down prepared food items or other kitchen activities. You can even double the space and change it into a workstation with open shelves on the sides to use your chopping board, vegetable cutter, butcher block, cheese grater, and other smaller kitchen objects that are required for food preparation and to carry out day to day activity.
3. Use uncommon shelving and storage spaces
Nowadays, use of open shelving and boring storage spaces is outdated. With the launch of new interior design plans and innovative kitchen modular design ideas, you can give your kitchen an elegant style and look and also upgrade its functionality.
If your kitchen space is large, then you can easily install a befitting cabinetry design and a kitchen island with storage but you can also use hanging storage designing ideas for more comfortable use. This works well even with a small space kitchen where only limited space for cabinetry is there and almost no space for a kitchen island.
Thus, hanging open shelves and advanced kitchen renovation can provide enough needed storage spaces for carrying out day-to-day kitchen activity without overloading your countertops.
Also, consider a pantry area. It will become much easier to store all your food in the kitchen cabinets, but it could be a fickle option as it cannot give enough space to bulk purchases, which are relatively cheaper in cost and easy to afford. Take up a little space for a pantry room where you can store bulk purchases for a longer duration.
4. Add a Tile Backsplash
The backsplash is an imminent part of your kitchen. Controlling the sputtering and splatters are not in your hand, however, you can stop them from destroying your splendid white kitchen, or the tile on the back wall of the subway, or the wood panels.
A tile backsplash is usually constructed in a planned position to prevent the excess moisture from destroying your new kitchen.
These structure designs can be pre-installed or even used as short-term measures while cooking. Innovative kitchen ideas and advanced interior designs include removable tile backsplashes.
Ideally, you can also prefer wax or laminate techniques to prevent the walls from moisture and grime and the backsplash can be used as an added measure to keep your kitchen neat and clean.
5. Install advanced stainless steel appliances
Most appliances nowadays use stainless steel for maintaining durability, hygiene, and tensile strength.
Wood-burners, steel grates, iron, and other materials that were used in the past were usable but not reliable to make use of in the future.
Stainless steel appliances are strong and smooth. They can withstand extreme heat and cold temperatures; also they are not difficult to clean. It takes a lot of time and patience to scrub those burners and spilt food every time manually especially if they get dried due to the heat.
But with the use of stainless steel appliances, a quick wipe is enough to wipe out the leftover residue and stains, leaving your kitchen spotless. Also, stainless steel gives your kitchen an elegant design and elevates its functionality.
Now that the home remodelling ideas have been provided, you will have to decide on your budget and figure out how to fund it.
There is no need to fret if you are falling short of funds. You can rely on LoanTap to offer you a home renovation loan that can take care of your expenses.
If you are an Indian citizen or resident between 21 and 60 years of age and have a net monthly income of over Rs 30,000, you can apply for a personal loan.
All you need to do is download the LoanTap app on your phone and fill in the online application for a home renovation loan.
You will need to upload the following documents-
PAN Card
Aadhar Card/Driving Licence/Passport
Salary slips of the last three months
Bank statements of the last six months
Once you submit your application, it is evaluated by LoanTap. If your credit score is good and you meet the other parameters, your application will be approved. The entire process will not take more than 24 hours.
If you take a home renovation loan, you can even get a tax benefit u/s 24 of the Income Tax act on the interest paid up to a maximum of Rs 30,000. This is yet another reason why you can take a loan to fund your renovation expenses.
You can choose one of the following methods to repay your personal loan for a modular kitchen.
Step-up EMI – If you use this option, you can pay only the interest component of the EMI for the first three months after which you revert to the normal EMI for the rest of the agreed tenure.
Interest-only EMI – You can use this option and pay only the interest component on a monthly basis while you make bullet payments towards the principal on a quarterly or half-yearly basis.
Overdraft facility – You can use the sanctioned home renovation loan as an overdraft and pay interest only on the amount withdrawn.
LoanTap offers home renovation loans from Rs 50,000-Rs 10,00,000 for tenures between six months and five years with interest rates starting at 18% per annum. You can foreclose the loan after six months without any prepayment penalty.
Renovating your home is a project close to your heart. Don't short change your dreams. Give your kitchen the facelift it needs and you can depend on us for the funds. Use the LoanTap home renovation loan when you need to go for home remodelling. It is tailored to your requirements and gives you sufficient flexibility. Remember, you cannot defer all your aspirations. Go and give your kitchen a brand new look. As for funds, we are just a LoanTap away!