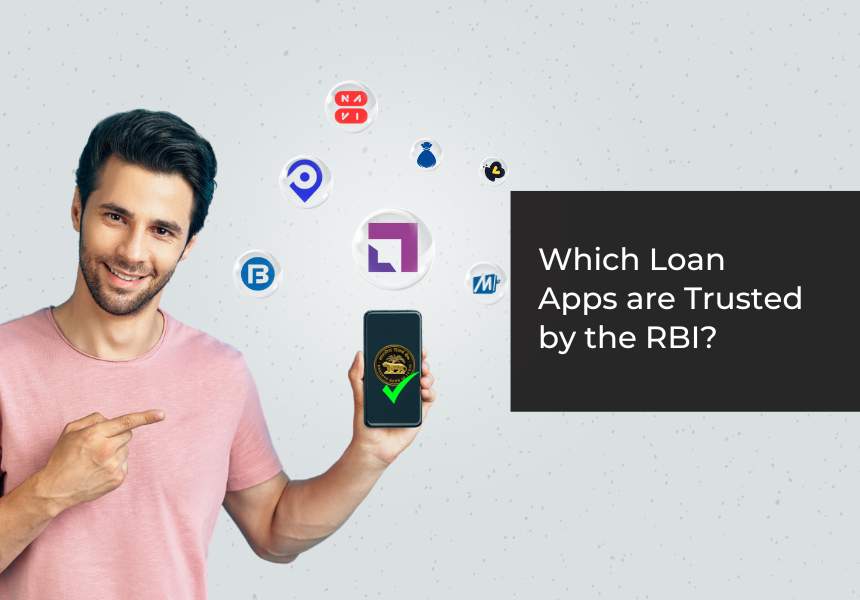 Published on : September 23, 2023
As more people turn to digital loan apps for borrowing, it's essential to know which ones the Reserve Bank of India (RBI) trusts. The RBI is like a guardian overseeing banking in India. They make sure loan apps are safe, reliable, and follow the rules. The RBI sets guidelines for these apps to ensure they protect your personal information and handle your finances securely. Here, we'll look at loan apps that have the RBI's approval, explaining why this matters and how it impacts people who need loans. It's all about making wise choices while borrowing in the modern world.
RBI Registered Loan App List 2023
Below is the complete list of the RBI-trusted personal loan apps.
| | |
| --- | --- |
| App Name | Credit Limit |
| PaySense | Up to 5 Lakhs |
| Navi | Up to 5 Lakhs |
| SmartCoin | Up to 1 Lakhs |
| Freeo Pay | Rs. 10,000 |
| Dhani | Up to 5 Lakhs |
| LoanTap | Upto 10 Lakhs |
| Paytm personal loan | Upto 2 Lakhs |
| Mobikwik | Upto 2 Lakhs |
| Rupeek App | Upto 50 Lakhs |
| KrazyBee | Upto 2 Lakhs |
| BharatPe | Upto 5 Lakhs |
| True Caller | Upto 5 Lakhs |
| Amazon Pay Later | Upto 60,000 |
| Tata Capital | Above 10 Lakhs |
| SBI YONO App | Upto 60,000 |
| Bajaj Finserv | Upto 5 Lakhs |
| IDFC Bank Pay Later | Upto 60,000 |
| IBL Finance App | Upto 25,000 |
| Mystro Loans and Neo Banking App | Rs. 50,000 |
| KreditBee | Upto 2 Lakhs |
Key Features of Personal Loan Apps
Online application
Minimal documentation
Quick approval and disbursement
High loan amount and long loan tenure
Affordable interest rates and fees
Easy repayment
List of Documents for Personal Loan
Photo Identity
Passport
PAN Card
Voter ID
Aadhaar Card
Driving Licence
Address Proof
Passport
Utility Bill (telephone, electricity, water, gas) – less than 2 months old
Aadhaar Card
Driving Licence
Ration Card
Income Proof
Salary Slips (Last 3 months)
Bank Statement for the last 3 to 6 months
Tax Paid
IT Returns (for 2 years)
Form 16
Residence Ownership Proof (Any One)
Property Documents
Maintenance Bill
Electricity Bill
Proof of Job Continuity
Current Employment Certificate
Appointment Letter from current job
Experience Certificate
How to Apply for Personal Loans via Loan App
If you need finances urgently, follow the steps below to get a personal loan.
Download the LoanTap app via Play Store or the App Store.
On the home page, click on the 'Apply Now' tab to apply for an instant personal loan
Select your employment profile. Choose if you are a business owner, self-employed or salaried.
Select the purpose of your loan, like a home loan, personal loan, wedding loan, etc., and click on continue.
Type in your email address and permanent residence address.
Enter all additional information, including monthly income, active loans (if any), and type of current residence.
Upload the required documents, such as bank statements, pay slips, and ownership records for real estate. 
Enter your PAN card number and birthdate.
Once all the information you've provided is verified, your loan amount will be sanctioned immediately if it is approved.
Conclusion
Ensuring the trustworthiness of personal loan apps is crucial for responsible borrowing. Among the loan apps approved by the Reserve Bank of India (RBI), LoanTap stands out as a trusted option for personal loans. By adhering to the RBI's guidelines and maintaining a commitment to secure and fair financial practices, LoanTap demonstrates reliability in the digital lending landscape. Choosing RBI-approved apps like LoanTap can provide borrowers with the confidence and assurance needed for a safe and transparent borrowing experience.
Apply Using WhatsApp