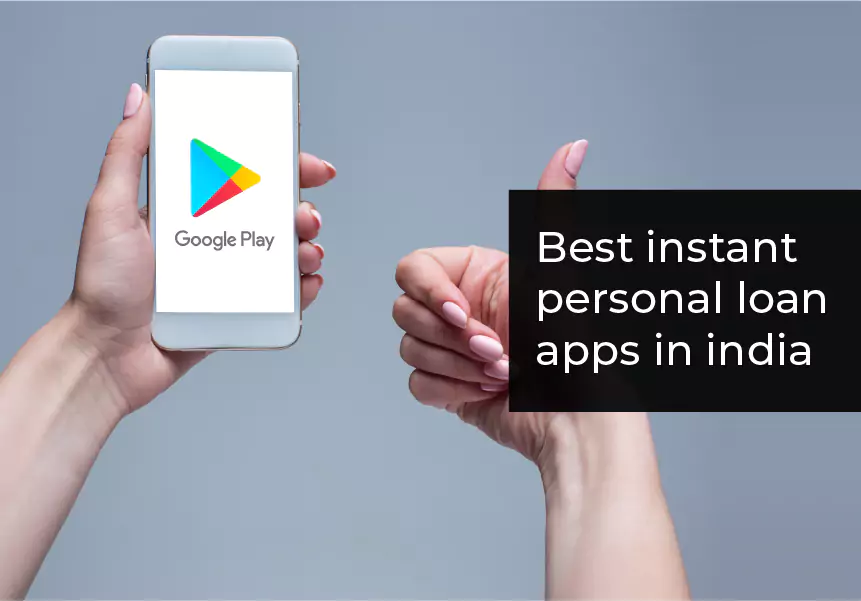 Published on : November 11, 2021
Personal loan applications at traditional banks take a long time to process, and money lenders are notorious for charging exorbitant interest rates, making the procedure suspect.
Personal loan apps have evolved as a fantastic idea to supply safe and hassle-free instant cash loans in India.
Our Top 10 Picks For Best Instant Personal Loan App In India
LoanTap
LoanTap is an instant loan software that offers personal loans, founded by Satyam Kumar and Vikas Kumar. LoanTap offers loans between Rs 50,000 and Rs 10,00,000 within 24 hours. If you are an Indian citizen or resident over the age of 21 (less than 60) and earning over Rs 30,000 per month, you can use this loan app to get a personal loan within 24 hours. You will need to upload a few documents for KYC verification.
You can check your loan eligibility and apply using the app. You can use the personal loan EMI calculator to work out the monthly payments and adjust the tenure accordingly.
PaySense
PaySense is an instant money software that offers instant cash loans online, founded by SayaliKaranjkar and Prashanth Ranganathan. You may check your loan eligibility, submit your KYC credentials, and apply for a loan using your phone or laptop, and get approval in as little as a few hours.
Personal loans of up to 5 lakh are available online, and you can borrow anywhere from 5,000 to your entire sanctioned amount at once. PaySense also has an EMI calculator where you can figure out how much you'll have to pay each month.
India Lends
IndiaLends is a cash loan app that offers personal loans, credit cards, and free credit reports in India. IndiaLends provides quick personal loans online at the lowest possible interest rates, with loans disbursed within 48 hours.
IndiaLends' instant lending app in India makes considerable use of data and technology to improve processes and risk assessments, resulting in a more efficient, faster, and easier loan disbursal procedure.
NIRA
NIRA is a FinTech firm in India that provides salaried workers with a line of credit. You will be offered a personal loan in the form of a line of credit with a credit limit ranging from 3,000 to 1 lakh.
The loan period can last anything from three months to a year. You can only withdraw a maximum of 5,000 dollars at a time. The amount of interest charged on a loan is determined by how much you borrow and when you repay it.
Dhani
Dhani, also marketed as the "phone se loan" app, disburses the loan amount to your bank account immediately. You can apply for a personal loan at any time and from any location. You can acquire a quick loan of up to 15 lakh rupees with an interest rate as low as 12%.
You can get the Dhani loan app for free, enter your Aadhaar card number and loan amount, and the money will be deposited into your account immediately.
KreditBee
KreditBee is a mobile app that provides fast personal loans to young professionals. You may be eligible for a loan of up to one lakh rupees. The entire loan application and approval process takes place online. The distribution is completed in no time and the funds are deposited immediately into your bank account.
Capital First Limited
The fast loan app from Capital First in India is a one-stop shop for most of your financing needs. Within a few minutes, your online loan application is approved. For a loan amount ranging from 1 lakh to 25 lakh, the organisation offers a flexible repayment period of 1 to 5 years.
You may simply access your loan account information, statement information, and submit service requests if you are an existing customer. You can also see your current amount and payment due dates.
Credy Technologies
Credy is one of India's fastest loan-giving apps, offering personal loans on a one-to-one basis. Credy is straightforward, fast, and low-cost, with no hidden fees, no collateral or guarantor requirements, fast online processing, and acceptance of a low CIBIL score.
The organisation offers loans with terms ranging from three to fifteen months for values ranging from Rs 10,000 to Rs 1,00,000. The annualised interest rates begin at 12%. You can use Credity to get quick cash loans, improve your lifestyle, refinance loans and credit card payments, and finance your own or your children's education.
CASHe
CASHe is a digital lending company that offers short-term personal loans to salaried persons for a variety of financial requirements. When applying for a loan, you must offer papers such as pay stubs, bank statements, address proof, and your PAN card, which can all be uploaded through the cash lending app.
You may also use a simple calculator to assess loan eligibility and interest rates online at Capital. The loan amount granted can be anything from $5,000 and $25,000, with terms ranging from 15 days to six months. Every month, payments can be made via bank transfer or check deposit.
Early Salary
EarlySalary, a FinTech startup based in Pune, has been making waves in the Indian money lending industry. Its personal loan app makes obtaining instant loans simple and quick. The loan amount is limited to Rs. 2 lakh, with an interest rate starting at 2% per month.
Instant personal loan apps are life saviours in an emergency. No matter what your need is, you can check the internet to find a loan app that meets it. There is no need to worry when you face a temporary fund shortage or face the awkwardness of borrowing from friends and family. Using a loan app to get the funds and repaying it over the agreed tenure is the best way to handle a financial crisis.
Whether it is for your wedding, dream vacation, a home makeover or a hair transplant or buying the latest gadget, you can use an instant personal loan app to fund your expenses and repay it at your convenience over the prescribed tenure. Life has surely become easier for a lot of people after the emergence of so many loan apps that make borrowing no longer sound like a difficult chore.
Related articles –
Apply Instant Mobile Loan with LoanTap With Flexible Repayment Option
How To Choose The Best Lender To Deal With Your Financial Uncertainties?