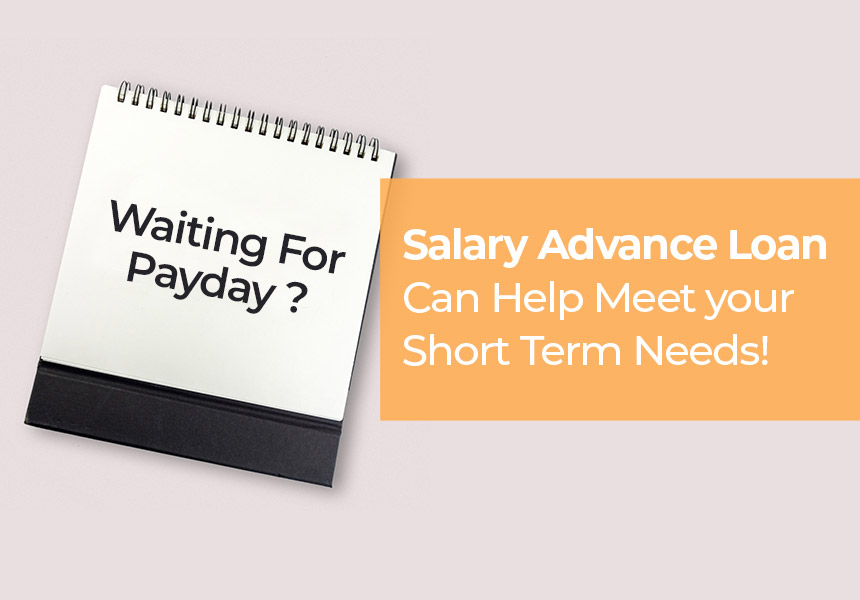 Published on : December 04, 2019
Unexpected expenses always strike when you are least ready for them: in the middle of the month, after you've paid your rent, EMI, and utility bills.
This has happened to all of us at some point. What do you do then? Ask friends or family members for a loan? Or Disrupt your investments? Neither of these options sound very appealing because they put you in an awkward position or mess up your financial plans.
This is where a "Short Term Loan" comes into the picture. Nowadays, many lending companies have started to provide short terms loans for various reasons and have made it quite a simple task to get some 💰 mullah immediately and for a much shorter tenure than personal loan, generally 12 months.
What is a Short Term Loan?
A short-term loan is a loan that is used to take care of unexpected, one-time expenses that may come up because of unexpected overshooting while traveling, medical emergencies or similar instances. This type of loan is called a "short-term loan" because it is availed for a short duration.
Why should one opt for a Short Term Loan?
This loan can be a savior when used right because of these features:
1. Lower interest rate
Mostly, the tenure of short-term loans is just 12 months; this automatically translates into lower interest. Longer loan tenures generally involve a relatively higher interest amount.
2. Can help in improving your credit score
Getting a short-term loan is easy, and you can repay it within a few months. Repaying these loans within the given time will improve your credit score.
3. Affords better financial management
Owing to the shorter loan tenure, you can maintain a firm grasp on your finances without too much pressure of the loan debt. The debt lasts only for a year and does not tie up your money for a longer duration like other longer-term loans.
What is Advance Salary Loan?
People who work for daily wages and unskilled workers like our housemaids, cooks, and construction workers have the luxury of asking for an advance on their salary from their employer. However, IT professionals, MNC employees, and other salaried employees don't have this privilege. They need to plan monthly and yearly expenses as per the salary cycle.
This is where Advance Loan against salary comes in. To remove this restriction of spending like a king only during the first 10 days of the month (the 10 days after salary is credit to the account), "Advance Salary Loan" is now being offered by several money-lending companies.
As the name suggests, advance salary loan is a short term loan against Salary or income in case of business owners. Salary advance loan is a type of short-term loan. The loan amount is directly proportionate to your salary and shortly after you apply, the loan is credit to your bank account. These loans are perfect for people who need immediate financing for unforeseen situations. So, even if your bank account is empty and you have reached your credit card limit, you can still make your purchases with this loan!
Must-knows of Advance Salary Loans
1. Hassel-free and instant loan disbursal
You just need to fill a simple application form online and instantly the money is transferred to your account. No hassle of visiting the bank, standing in long queues, document submission, and waiting for days for the loan to be sanctioned.
Also, the amount of advance salary loans is relatively smaller than that for other loans, and the tenure is shorter. So, taking this loan doesn't put too much pressure on the borrower.
2. Simple eligibility criteria
Advance Salary loan allows you to avail 2.5 times your net salary for anywhere between 3 to 12 months. The only requirement being that you need to qualify as a salaried professional working in a Private/Government organization with income of Rs. 40,000.
3. Repayment flexibility and customization
You can customize the amount and repayment tenure for your advance salary loan as per your requirements. You can repay the loan in part or full, and some lenders will allow you to pay the whole outstanding amount within as less as 3 months and as long as 12 months.
4. No pre closure charges
Some lenders will let you repay the loan quickly without paying any pre closure charges or penalties post 6 months of servicing the loan regularly
5. Get more than your salary
Your loan amount can be more than just your salary amount. Some companies might lend you as high as 2.5 times your monthly salary as advance salary loan.
6. Clarity about loan amount
The prospective borrower is able to figure out, based on his/her salary amount as to how much loan amount he/she can get.
7. Nominal rate of interest
Advance salary loans are provided by the lenders at a nominal interest rate. Even though this rate is higher than that for a long-term loan, you end up paying a lower amount as interest because of the short tenure.
8. No collateral needed
This type of loan does not require you to pledge any collateral or security.
When would you need an advance salary loan?
Some of the most common reasons for which people apply for advance salary loans are:
Festivals
Festivals include a lot of expenses, both planned and unplanned. Sweets, new apparels, gifts for loved ones, and many such ad hoc expenses happen during this time.
Advance salary loans are perfect for such a situation, where you can spend on all these festivities and then pay back slowly over the next few months.
Occasion in house
Your sister's wedding or your kid's first birthday party. Such occasions are worth splurging on and having a party no one will forget. But from where do you get the money to make these occasions memorable. Break your mutual funds or FD? Ask your family? No need for all this. Just get an advance loan instantly and then pay back once you get comfortable financially.
Medical emergency
Medical expenses are always difficult to handle. Even if you have insurance, it might not cover all treatments and you might still need a considerable amount in a short span. Take an advance salary loan and stop worrying about the medical expenses. Just concentrate on your loved one's health.
Plan a trip
Fancy a trip, but waiting for the savings to happen? Why wait to grab your bags and see the world. When you see a great offer online or get the desired holidays, grab the opportunity. Take an advance salary loan and pay for the trip easily. Come back happy and relaxed and pay back the loan as you desire.
Buying during sale season
We keep putting things in our online shopping carts and wait for the sale period to come. Why pay full price when you can get everything at such great discounts. But what if your bank balance is not enough for all your annual purchases at once. No worries. Don't let these discounts fly away. Take an advance salary loan, shop till your heart desires, and take advantage of these money-saving sales.
Who is eligible for Advance Salary Loan?
As mentioned, advance salary loans are much easier to obtain as there are very few conditions to be met. Unlike personal loans this fast loan requires less documents too. Let's look at the most basic requirements you need to meet to be eligible for an advance salary loan.
1. The borrower must be an Indian citizen and a resident of India
2. Should be above 21 years of age and capable of entering into a legal contract as per the Indian Contract Act.
3. PAN Card
4. ID & Address Proof
5. Bank Statement and Pay Slip
Advance Salary loan vs Personal loan?
It is undoubtedly better to take an advance salary loan than a personal loan. Let's understand why should one opt for this fast loan.
Customizable and perfect for smaller loan amounts
salary advance loan can be obtained for an amount as small as ₹ 25,000. Personal loans generally tend to have a much higher minimum ticket size.
Short tenure
Personal loans generally have a much longer repayment tenure than advance salary loans and therefore the interest you eventually end up paying is much larger. If you need to prepay your outstanding loan amount in personal loans, you will have to pay a penalty or pre closure charges which are waived off in advance salary loans.
Why Choose LoanTap's Advance Salary loans?
LoanTap is one of the leading lending companies in India and provide customized instant personal loan products to suit everyone's needs. LoanTap Awarded as "BFSI Most Innovative Fintech Product of the Year" provides an innovative salary advance loan. Let's look at some of the key features:
Nominal rate of interest
Most banks charge an extremely high rate of interest for Advance salary loans but LoanTap provides this loan at a nominal rate of interest of 2.5% per month only.
Customizable tenure
You can choose a tenure which suits your need. You can pay the outstanding amount is as short as 3 months or take as long as 12 months.
Higher loan amount
Most companies provide a loan equal to your salary, but LoanTap provides a loan as high as 2.5x of your net monthly salary. All your financial needs can be fulfilled by taking this one loan only. You can check your eligibility by going on their website and filling a simple form. No uncertainty at all!
Fast loan disbursement
Obtaining a loan can take days on end. But not with LoanTap. Just fill a quick form online and upload your basic documents and done. Your loan will be disbursed within 24 to 36 hours.
No hidden charges
Most companies have attractive packages to lure customers but then the hidden charges make you want to pull your hair. With LoanTap you can be assured that there will be no hidden charges. The whole process is transparent, and all details and conditions are shared upfront.
Impeccable customer service
Once the loan is disbursed, lending companies generally do not care about the borrower and his woes. But for LoanTap, the customer is king, and their great customer service is proof of that.
So, why wait to fulfil your financial needs? Get an advance salary loan from LoanTap now and bid adieu to your financial worries. Apply now!