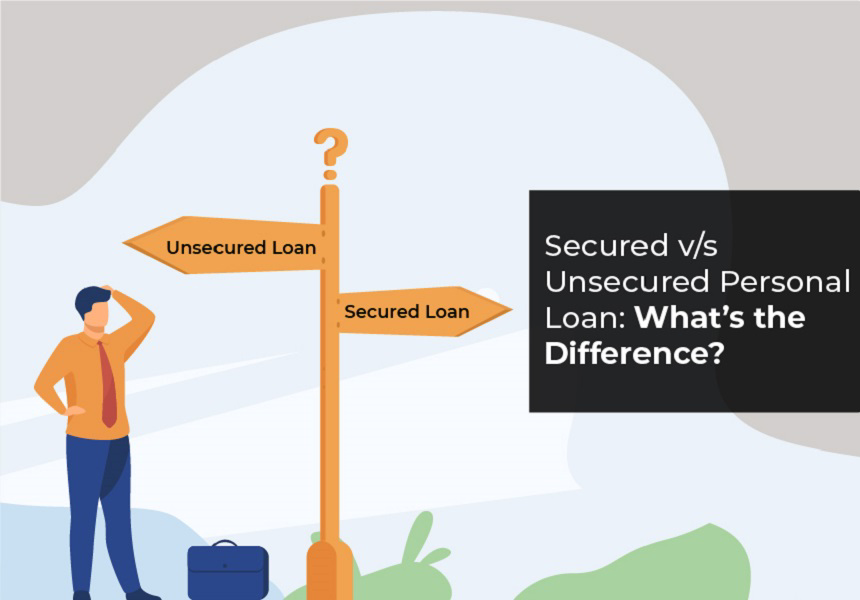 Published on : May 21, 2021
If you have a sudden big-ticket expense, a medical emergency or need to go on a vacation and are wondering which financing option to choose, a personal loan may be a good solution for you. It is convenient to process, doesn't need too many documents and it takes only 24-36 working hours for the loan to be disbursed. Sounds cool, doesn't it?
Another convenient feature of a personal loan is that it can be unsecured if you so wish. This means that you do not need to pledge any asset while availing of this loan which makes it the go-to option for millennials.
What do the terms Secured and Unsecured mean?
We often come across the terms secured and unsecured when it comes to personal loans. What are the differences between the two? Let us examine this in detail so that you can decide what is best for you.
A secured loan is a loan that is backed by security or collateral. An unsecured loan, on the other hand, has no collateral. For example, if you pledge your house and take a personal loan against it, it is a secured loan. If you take a loan on the basis of your monthly income without any asset backing, it is called an unsecured personal loan.
A secured loan can be taken for a longer tenure like 15-20 years while an unsecured loan comes for a shorter tenure of 1-5 years. Effectively, a secured loan can be availed of at a lower rate of interest compared to an unsecured loan.
A secured personal loan is useful when you are looking for a big-ticket purchase like a home or a vehicle where you prefer to have the EMIs spread out over a long tenure. When you are interested in meeting a smaller expense, say a new gadget, a vacation or an urgent medical emergency, an unsecured personal loan is the answer. It is easier to process and the loan can be disbursed with 24-36 working hours. It requires minimal paperwork and the entire process is user friendly.
How can I apply for an Unsecured Personal Loan?
Applying for an unsecured personal loan is a very simple process. If you are over the age of 21 and have Indian citizenship or residency, you are eligible for a personal loan as long as you are earning a fixed/minimum income of Rs 30,000 per month.
You can visit the LoanTap website and fill in an online application. Please upload the following documents-
PAN card
Address Proof
3 months salary slip
6 months Bank statement of salary account
e-Nach mandate form
We will verify your application and the documents provided. Once the KYC is completed, we will disburse the loan amount in 24-36 working hours.
You can avail a personal loan ranging from Rs 50,000 to Rs 10,00,000 for a tenure between 1-5 years. The interest rate would be around 18% per annum but you need not fret over it. There are flexible repayment options available like Term, Interest only EMI (EMI free), Overdraft or Step-Up. You can pick the one that suits your monthly cash flow. Moreover, we offer an easy prepayment policy. You can prepay whenever you want from the 6th month onwards without any prepayment charges.
A personal loan is the most convenient financing option available in the market today. At LoanTap, we ensure that it is a pleasant experience for the borrower from the point of filling in the loan application to the point of receiving the credit in the account. In two easy steps, you can fill in the application and upload the documents. We will verify your credit score and other parameters and if everything is in order, you can expect the loan to be disbursed within 24-36 hours.
So, next time, you need funds for a sudden expense, go ahead and explore the option of a personal loan from LoanTap. We assure you of an unforgettable and pleasant experience!