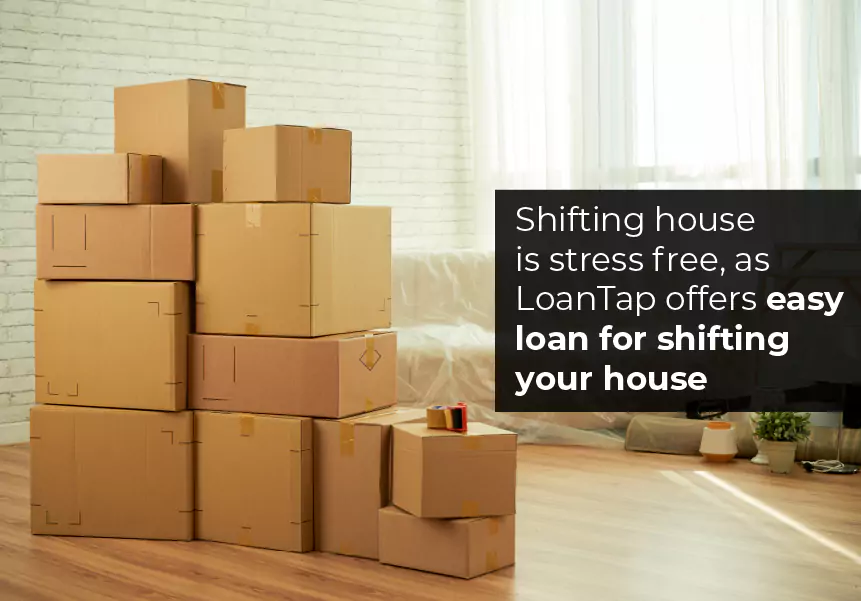 Published on : December 31, 2021
Are you relocating to a new city or switching to a new house? LoanTap offers easy relocation loans for making your experience stress-free. You have been planning to relocate but struggling with the expenses of packers, movers, furniture, and rental transportation. Moving Loans are designed for affordable relocation and can be a saviour while shifting houses. Personal Loans are quick and convenient with manageable monthly repayments to make the relocation a pleasing experience.
What is a moving or relocation loan?
Moving Loans, known as Relocation Loans, are used to pay for shifting expenses. It is an unsecured personal loan that covers the costs of movers and packers. You can repay this loan in fixed installments over the tenure of the loan. At LoanTap, we offer customized loans for relocation to pay for packers and movers services, furnishing, home improvement, rentals, moving insurance, and overnight hotels for stay. Applying for a Relocation loan helps in shifting homes or cities with peace of mind and easy access to immediate funds for settling into your new home.
How Do Moving Loans Work?
Moving loans are fairly suited for salaried professionals and business people to get instant funds. It is a quick solution and much better than borrowing from friends and relatives. Unlike credit cards, instant personal loans are a more convenient way to overcome the urgent needs for short-term expenses like shifting your home. LoanTap provides a collateral-free and quick solution to manage partial moving expenses ranging between Rs. 1,00,000 – Rs. 10,00,000.
Why take a Relocation Loan from LoanTap?
Sudden expenses can come without warning. LoanTap's relocation loans are a smart choice for unexpected needs to shift your house. We understand personal and professional reasons for changing locations. Whether you are starting a new career or setting up your new home, a little financial assistance can be a great help. LoanTap has designed customizable relocation loans to carry out all the house/office relocation activities.
No-collateral: Instant Relocation Loans do not need any security, assets, or collateral to be mortgaged against them. It is the ideal choice for the millennials who have no option other than borrowing money from family and friends.
Instant Approval and Disbursal: It is the best feature of taking relocation loans from LoanTap. We can avail of moving loans with an easy online application process. Traditional financial institutions take a week or two to approve the loan. However, at LoanTap emergency moving loans are disbursed within 24 hours to credit the amount for immediate needs.
Minimal Documentation: You need a few basic documents to apply for instant loans. Individuals should have proper and valid documents like identity proofs, bank statements to apply online. All you have to do is visit the LoanTap website and upload the required documents after signing.
Flexible Repayments: It gives you the benefits to pay the loan in easy EMIs. Flexible Repayments help you tackle the moving expenses and decide the monthly installments in the form of EMIs.
Transparent Process: Moving Loans support by giving instant cash to ease the moving process. There are no hidden charges for accessing the relocation loan amount. LoanTap follows a transparent process of approving your loan request. The LoanTap team tries to process the residence relocation loan on the same day to credit the amount quickly.
What are the eligibility criteria for Relocation Loans?
Relocation Loans will help you in covering the relocation expenses such as hiring movers, renting a truck, and more. LoanTap could be a good option If you are looking for a trustworthy lender. However, there are eligibility criteria for getting any personal loan. This is another reason why this product is so affordable and popular among the millennial population. Listed conditions should be met to apply for the relocation loan.
You must be an Indian citizen or resident
You must be over 21 years and under 60 years of age
Individuals with a net monthly income of over Rs 30000 are eligible.
Valid Bank Statements of the last six months.
If you have cleared all the criteria, apply for the moving loan via the LoanTap app or website. You should have proper residential proof and valid bank details. After qualifying for the loan, check out the process of getting the Instant Moving Loans.
How can you get a Relocation Loan from LoanTap?
LoanTap is the best digital lending platform that makes the lending process more efficient. LoanTap, as a Fintech lender, ensures money borrowing as an affordable solution and guarantees the best user experience. LoanTap has a simple application process for borrowers, who need to follow a few steps to get a loan. Here they are:-
Step 1 – Visit the LoanTap website or download the LoanTap app on your mobile. Create your profile by entering your email and residency address.
Step 2 – Further, you need to fill an online application form with the required personal and bank details. Check your details twice to avoid mistakes.
Step 3 – You upload the following identification and documents –
PAN Card
Aadhaar card/ Driving License/Passport
Salary slips of the last three months
Bank statements of the six months
Step 4 – Wait patiently while the LoanTap team evaluates your application.
Step 5 – Complete the KYC process within 2 minutes. Further, the team will finish the verification of documents and activate instant disbursal.
Also, your creditworthiness will decide when your loan application will be approved. If your credit score is very high, LoanTap will credit the loan amount within 24 hours. You can withdraw the credited loan anytime.
Top Four Repayment Plans for Relocation Loan
EMI Free Relocation Loan
If you are a salaried person with a steady income, EMI Free is suitable for you. The borrowers can use the loan amount to shift with ease. This customized relocation loan will cover the shifting expenses ranging from INR 7,00,000 to INR 10,00,000. There would be no pre-payments or charges to get the credited amount. You can repay via bullet payments towards the principal outstanding on a quarterly or half-yearly basis. For IT professionals, it is the ideal choice because they receive quarterly or half-yearly bonuses. By paying monthly instalments towards interest, you can make lump-sum payments towards the Principal outstanding every 3/6 months.
Term Relocation Loan
Salaried professionals and business owners are best suited for the term Relocation Loan. It can be repaid in Fixed Equated Monthly instalments which contain both Principal and Interest amounts. Personal Loans for Job relocation are the perfect option if you need financial assistance to buy furniture and electronics while shifting to your new home. It can cover expenses ranging from INR 3,00,000 to INR 7,00,000. If your credit score is good and you have a constant income, you can apply now!
Step Up Relocation Loan
Anyone can enjoy interest-only payments by applying for the Step Up Relocation Loan. But why should you take this loan? The primary reason is to fund your partial moving expenses between INR 2,00,000 to INR 5,00,000. There is no need to spend your whole month's salary to shift your house. You can repay the loan amount with low monthly installments in the initial months. The remaining tenure can easily be covered with fixed EMIs.
Overdraft Relocation Loan
A Relocation Loan Overdraft is best suited for Self-employed and business professionals. You don't need to know the exact amount to apply now. You can pay the interest on the amount you withdraw. There would be no charges on the entire amount credited to your account. It is the most affordable loan for individuals to handle multiple expenses of house fittings, furnishings, major repairs, etc. Self-employed are eligible to apply for an Overdraft Relocation Loan to ease the moving with the comfort of paying interest only on the amount used.Don't wait anymore. Try out the relocation loan to reduce your stress after incurring huge outflows on security deposits, new furniture, and other moving-related expenses. If your company suddenly transfers you to a new place, don't worry. Relocation Loan is just a few clicks away. Apply Now and enjoy the best offers from the LoanTap.