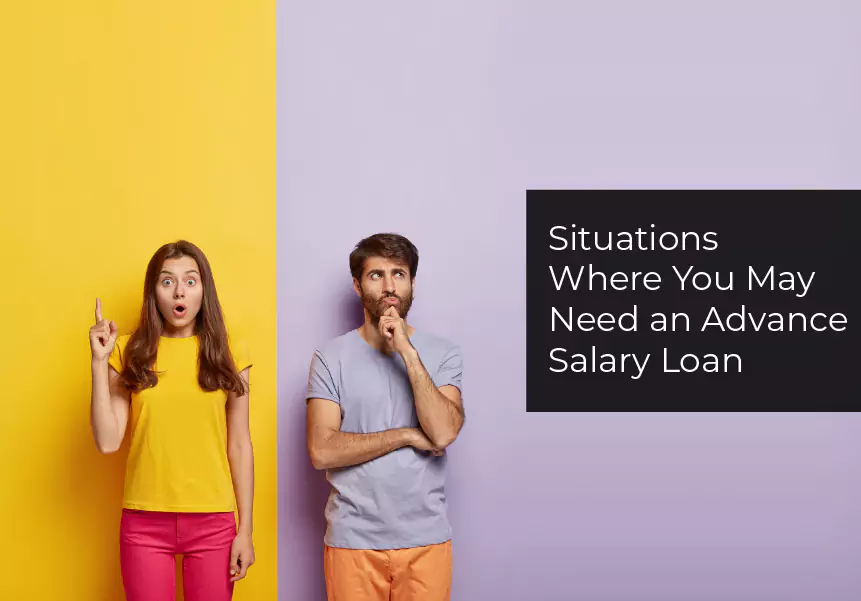 Published on : June 23, 2021
Life is unpredictable and it is difficult to plan for all emergencies at all times. With expenses, you never really know when the next one will pop up. It could be a car breakdown or emergency flight tickets to be booked or a sudden school trip you need to sponsor for your child. If it comes in during the beginning of the month, you wouldn't be worried but what if the expense pops up towards the end of the month when payday is still away and delaying it is not possible?
Don't fret if this is the situation you are in. We understand you completely and we have your back . For temporary short term expenses like these we've got just the right thing for you! You can look at LoanTap's Advance Salary loan option to tide over and meet a temporary cash crunch.
What are the situations where you would need an Advance Salary Loan?
Let us examine a few circumstances where taking an Advance Salary loan would be the best option.
Medical emergencies
If your loved ones or you face an immediate medical emergency that is not covered by insurance, you can use an Advance Salary loan. You can meet the expense without stress and pay back over the loan tenure.
Travel Expenses
A sudden emergency may require you to book flight tickets for the family or arrange travel. You may choose to take an advance salary loan to pay for this and pay it off in EMIs.
School trip for your child
Schools arrange out of city trips for kids and it can cost decent bucks. If the last date for payment is towards the end of the month and you are taken by surprise, you may use an advance salary loan to make the payment without stressing out on your budgets.
End of season sale
It is the end of season sale and you have some incredible offers for consumer durables. The sale ends in 2 days but there's a while for your salary to be credited. No fuss. This is the perfect reason to go for an Advance Salary loan. You can pay it off in the next few months with ease.
Course Enrolment Fees
You may have planned to enrol for an online course and you find a sudden limited time discount offer. You can use an Advance Salary Loan to make the payment instead of looking for other solutions. You can pay it off comfortably over the loan tenure.
Deposit on a house
You have been house hunting and you have just managed to find yourself the perfect deal. You need to pay a booking amount to block the house and payday is ten days away. Do you let a golden opportunity pass or do you borrow from family or friends. Well, you can just apply for a Salary Advance and solve the problem independently.
So, now that you know the situations where an Advance Salary Loan would be the best fit, let us address some frequently asked questions with regard to a Salary Advance.
What do you mean by Advance Salary Loan?
An advance salary loan commonly known as a Salary Advance, is offered by online lenders to help you to manage your emergency situations which cannot be put off by a week or ten days. You can get up to 2.5 times your net salary as an Advance Salary loan. This can be taken for a short term tenure of 3 -12 months and you can repay them in equal monthly installments.
Who can apply for an Advance Salary Loan?
Anyone can apply for an advance salary loan if
They are an Indian citizen/ resident
They are over 21 years of age
Their net salary is over Rs 40,000 per month
What documents are needed to apply for an Advance Salary Loan?
The documents needed to apply for an Advance Salary Loan are roughly the same as demanded by all lenders.
At LoanTap, the following documents need to be uploaded by you along with your online application.
PAN Card
Proof of Residential Address( Aadhaar Card/ Driving Licence/Passport)
Three months salary slips
Six months Bank Statement of Salary Account
e-Nach Mandate
On what basis does the Advance Salary Loan get approved?
If you need an Advance Salary loan and you meet the eligibility criteria given above, you can visit our website at https://loantap.in/ , fill up the online application and upload the mandatory documents. Ourteam will review your application and documents. If you meet the loan criterion and the KYC is complete, your salary advance will be credited within 24-36 hours.
The tenure of the loan is entirely up to your convenience. You can choose any period between 3-12 months. Normally, it is ensured that your EMI does not exceed 50% of your net salary. So the tenure should be calculated accordingly. It is good to keep in mind your repayment capacity and not put additional pressure on yourself.
The interest rate on Advance Salary Loan is a flat 2.5% per month. You have the option of foreclosing your loan with zero charges after you complete six months without any default. The loan amount in this category ranges from Rs 25,000 to Rs 1,00,000. The final amount of loan sanctioned will depend on the salary and credit verification.
Do I need to pay any loan processing fees?
Yes. You will have to pay loan processing fees at the following rates to get an Advance Salary Loan processed.
Flat fee of Rs 2500 plus GST on loan amounts up to Rs 50,000
Flat fee of Rs 5000 plus GST on loan amounts higher than Rs 50,000
Now that you have a fair idea of how the Advance Salary Loan works, you can stop worrying about how to meet urgent financing needs. There is no need to borrow from family, friends or money lenders. Our personal loan process is transparent, easy and efficient. We promise you a comfortable loan experience. Feel free to visit our website/ social media and talk to one of our team members who will be happy to assist you and address any queries you may have. Your financing is just a Tap away!