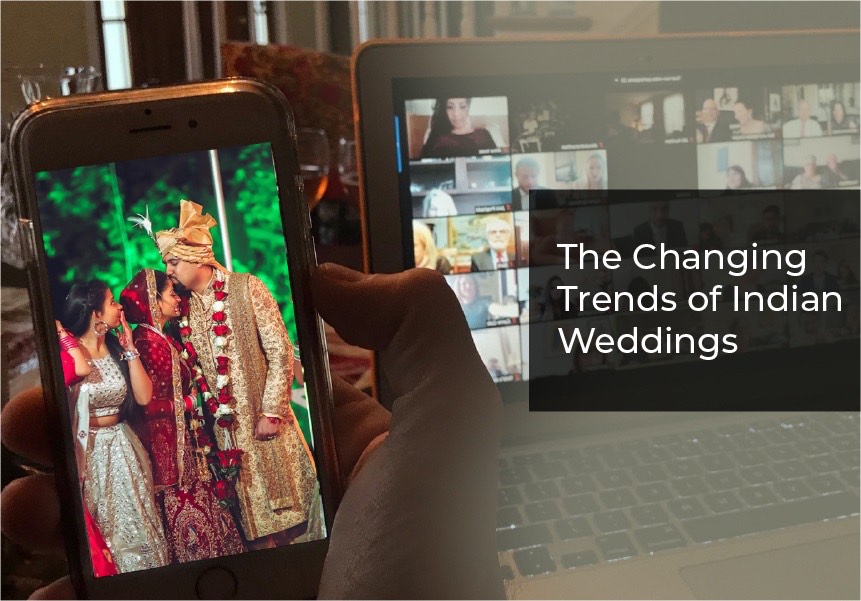 Published on : January 22, 2021
Wedding – that special day for the bride, groom and the ones related to them both! People really put their heart and soul into planning a wedding and making it the most beautiful day of their life. Indian weddings are culture rich and are powered by traditions. Most weddings have a decent build up in terms of celebration, in the days prior to the main wedding ceremony. Rituals and traditions are the crux of Indian weddings and people are willing to put their hard earned savings in planning a grand, lavish one.

The question thus arises , how much does a typical Indian wedding cost? An average Indian wedding typically costs between INR 5,00,000 to INR 10,00,000 depending on many factors like number of ceremonies, guests, venue, decor and so on. However, the recent onset of the pandemic brought many lockdown rules that changed the face of wedding celebrations.

The concept of 'Lockdown weddings' surfaced making weddings a very cost effective affair for many. Infact, this concept will make its way through the coming years even if situations see scope of normalising. So if you are one of those aspiring millennials who want to make the most of the opportunity, here's how you can let traditions meet trends without denting your pockets.

How to plan your Lockdown Wedding ?
While social distancing was never a part of anyone's wedding day fantasies, many are finding this a boon. Here are the trends that make lockdown weddings a preferred option –

Wedding Planning – DIY
Wedding planning can prove to be an intricate affair as there are multiple arrangements to look after. Thus, a wedding planner is usually the safest bet as they look after all the nitty gritties associated with weddings. Lockdown weddings being small scale, you can plan the wedding all by yourself as there are limited people visiting and most of the ceremonies are going to be organized with a tightly knit circle of people. This helps as even the tiniest details can be matched to your taste and preference.

Minimal invitees
Happiness multiplies when shared with others, but certainly there is a limit to the number. Lockdown weddings have helped couples restrict the number of people invited ( Some of which are invited under obligation 😉 ), which of course helps save a fair deal of money. So if you are planning one too, stick to a limited guest list and plan the celebration with a really close set of loved ones.
Digital invitations
The best way to cut costs further is to not waste money on wedding invitation cards. Go paperless by choosing digital invitations. Digital wedding invitations can be in the form of a customised card or a short video with personalised messages and themes chosen by the couple.
Choice of Venues
Most people prefer organising the ceremonies in house as there is no obligation of accommodating a big crowd. If otherwise for you, you must choose a venue that is open and spacious, something like a garden area. For everyone's comfort and making more room for breathers, you must avoid enclosed areas.
Off season is in
As already the buzz of full fledged wedding celebrations is at an all time low, couples have become all the more lenient and flexible while planning these occasions. The best way to save some bucks is to plan your wedding on the less popular dates or a off season time. During off season, you can get venue, catering, decorations at as good as 50% discounts. You may rather use the saved amount for your honeymoon or plan revamping your home to start your new life!
Zoom weddings
'Zoom Weddings' ..the buzz of the hour ! More and more aspiring millennials are making peace with this concept as there are many benefits to reap out of this trend. One being the entire wedding can be organised in house and guests and family can be a party of it virtually. This would cost you barely anything . Also, the saved amounts can be genuinely dedicated to planning a trip or setting aside funds to step into the new life. Many use these funds to fulfill their fantasies instead.
As we read, riding on the wave of these trends can be very beneficial financially. You may be able to keep aside that fund to plan your honeymoon. Choosing a Road Trip for your honeymoon can further help you save more. You can visit the best honeymoon places in India by road and explore the beautiful scenic landscapes within the national boundaries. Win – Win, isn't it ?!
Can I cover Wedding Costs without touching my Savings?
Yes of course ! Although you may have planned the wedding in a way where you are saving every penny you can, you may not have the liquid cash available to sponsor the wedding. Dipping into savings would mean you would have little left post the celebrations. That is certainly not the right thing to do as savings could come handy in the near future while you would be settling in your married life. So, how to cover the wedding costs?

A personal loan for Wedding i.e., Wedding Loan, can be availed to cover all the expenses arising from planning a wedding viz., venue, caterers, clothing, photography and so on. You can easily pay off in small EMIs as that would not strain your monthly budgets, as against a big chunk debited from your account at once. Also, a personal loan for travel i.e., travel loan can help you cover the costs that you would incur while planning your honeymoon. This way you can make your celebrations more joyous without the worry of finances!
Related Blogs –
Tips for managing Marriage finances
What Does an Indian Wedding Cost? Budget Breakdown & Tips to Cut Down on Expenses