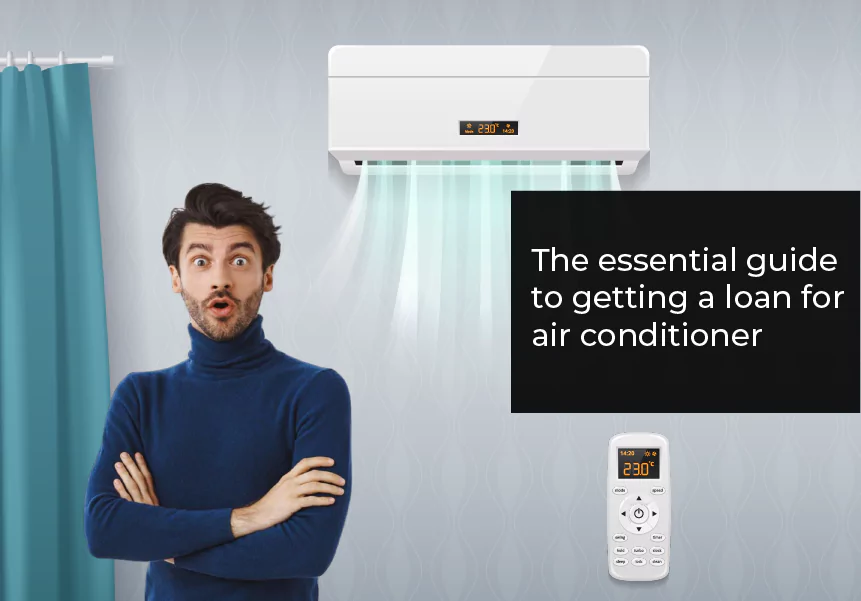 Published on : October 06, 2022
The summers can be pretty oppressive and global warming has sure played havoc with the temperature. The hot summers are followed by humid monsoons. The rise in temperatures has ensured that we have six months at the minimum of soaring temperatures. This has led to air-conditioners becoming a necessary home appliance from being a luxury till about a decade ago. While buying an air-conditioner, always check the energy efficiency rating. Make sure you get one with a five-star rating so that you can save money on your energy bills. In case you live in a place with an extreme climate, you may need to look at an air-conditioner which can double up as a heater during winter making it an all-weather AC. If you feel the need to purchase an AC but are trying to collect the funds to do so, stop worrying because LoanTap has your back.
LoanTap offers air-conditioner loans to those needing funds for the short term at competitive rates. These free loans online can be used for any legitimate purpose without any limitation. This makes it perfect for those planning big-ticket expenses but not sure how to finance them. LoanTap offers air-conditioner loans online from INR 50,000 to INR 10,00,000 for tenures ranging from six months to sixty months.
What are these air-conditioner loans?
Air-conditioner loans or Personal loans for air-conditioners are unsecured financing options for the short term that do not require the pledging of collateral. They can be used for any urgent funding needs that you may face. LoanTap processes these loans within 24-36 hours which makes them perfect for an emergency situation.
Who is eligible for these air-conditioner loans online?
If you
Are an Indian citizen or resident
Are over 21 years of age and
Earn a minimum net monthly income of over INR 30,000
You are eligible for applying for a personal loan for air-conditioners from LoanTap. Now let us move to the next step.
How does one apply for an air-conditioner loan online?
Here we go explaining the process in a few simple steps and you will agree that it is as easy as a walk in the park.
Step 1 – Download the LoanTap app on your smartphone
Step 2 – Fill out the online application with the requisite information
Step 3 – Upload the mandatory documents like
PAN Card
Aadhaar Card
Bank Statement for the last six months
Salary Slips for the last three months
Step 4 – Sit back, relax and sip on your favourite beverage while the system processes your application.
Step 5 – If all your documents are in order, your loan application will be approved.
Step 6 – Your loan will be credited to your mandated bank account.
The entire process from Step 1- Step 6 will be completed within 24-36 hours.You can repay the loan in flexible EMIs over the agreed tenure of the loan. You can choose to foreclose the loan at any time after six months without any prepayment penalty.
What are the flexible repayment options available?
LoanTap offers a slew of flexible repayment options which makes servicing the loan very convenient for borrowers.
EMI Free Loan – This is a good option for higher amounts since you will need to pay only the interest component as EMI over the loan tenure. This can reduce your monthly cash outflow by up to 40%. This is ideal for those who get variable incentives and bonuses on a periodic basis.
Term Loan – This is the vanilla option where borrowers pay the interest and principal components on a monthly basis. This is perfect for those with a constant monthly income so that they can have uniform cash outflows.
Step Up Loan – In this option, you can pay only the interest component for the first three months post which the normal EMIs commence. This gives you a breather during the initial months.
Overdraft Loan – This is ideal when you are not sure about the amount or plan to spend over a period of time. In this option, interest will be charged based on the amount of actual usage based on the value and period of usage. You don't lose any interest for idle funds.
What is the convenience of opting for personal loans online?
There are several benefits of opting for personal loans online from LoanTap some of which are mentioned below-
24/7 availability – Personal loans are available around the clock and are not limited by weekends or holidays. This gives you extreme flexibility when you are planning big-ticket expenses.
Instant disbursal – LoanTap disburses loans within 24-36 hours. Compare this to traditional bank loans which may take up to a week at times. In today's fast paced world, nobody has the time or patience to wait that long for gratification.
Cheaper than credit cards – Before you swipe that piece of plastic in your wallet, think about how much you could save by using a personal loan instead. Credit cards charge 2.5-3% per month while personal loans for air-conditioners are available at half the rates. Why go for credit cards when you can manage your expenses equally efficiently with personal loans?
No collateral – Personal loans for air-conditioners are unsecured loans which means you are not equired to pledge any assets as collateral.
No paperwork – Personal loans for air-conditioners from LoanTap require no paperwork other than the simple online form that you are required to fill up. This makes the process seamless and digital which makes the process hassle-free.
Minimum documentation – Apart from the mandatory documents mentioned above that need to be uploaded, nothing else is required in an air-conditioner loan online. This is unlike a traditional loan where multiple documents would be required for processing.
Finally
So, if you are trying to beat the oppressive heat and need a cooling solution, just keep your cool, choose the brand of air-conditioner you want, download the LoanTap app, get the cash in your bank and enjoy. LoanTap specialises in providing customised solutions for individuals who need short term financing solutions without moving from their seat. The digital revolution is here. Don't be left out. Download the LoanTap app today!