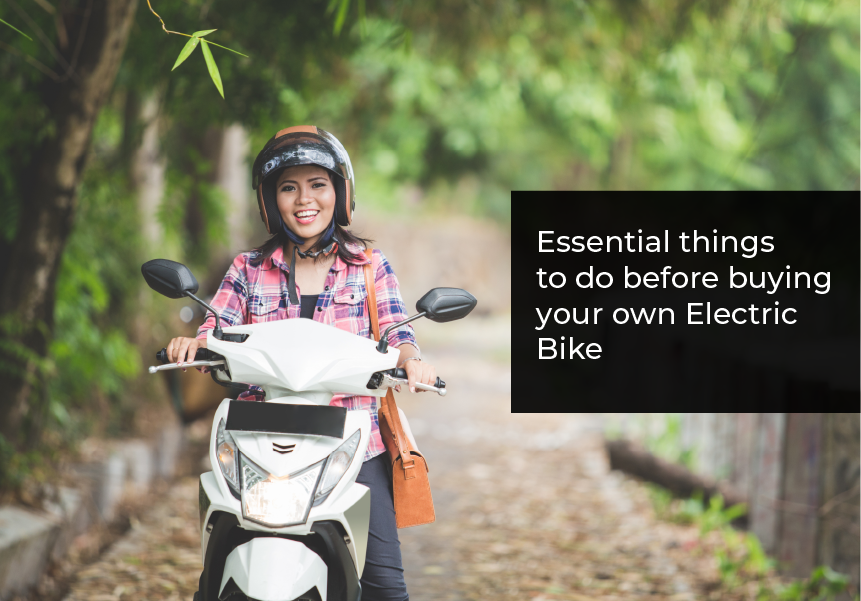 Published on : March 01, 2023
A sustainable commute is desperately required, given the hazardous effects of carbon emissions on the environment. As a responsible citizen, you can contribute towards a greener environment by purchasing an electric bike. There are several things to consider if you plan to buy an electric bike. Read on to get a fair idea of the things to do before buying an electric bike.
Most people are familiar with the working of normal fuel bikes, but electric bikes have a slightly more complicated mechanism. Understanding how an electric bike works would help you in informed decision-making.
Electric bikes are more expensive compared to their fuel equivalents. However, they need very little maintenance, and the total maintenance and fuel costs make them less expensive in the long run. You can save money on electric bikes by taking advantage of tax incentives and insurance benefits.
Tax Incentives – The central and state governments are actively promoting the use of electric vehicles. So, several incentives are available to those choosing to buy electric bikes. Apart from subsidies, you get a lower sales tax rate on electric bikes compared to fuel bikes.
Insurance and Registration – Did you know that electric bikes with low speeds don't require registration or insurance? You don't even need a driving licence to ride an electric bike. So you can save some cost on these heads if you choose low-speed electric bikes that are perfect for short distances.
Factors To Consider While Choosing An Electric Bike
There are many benefits of electric bikes, so you should consider an electric vehicle if you plan to buy a new one. Below are some of the factors to consider: 
Cost – Obviously, the cost of the bike will be an important factor in your decision-making. Since electric bikes are more expensive compared to fuel bikes. You will need to check if it fits your budget and meets your speed requirements.
Maintenance – While the purchase cost of electric bikes is higher, the maintenance cost is very low. The running cost of an electric bike is around INR 0.25 per km, while a fuel bike costs around INR 2.5 per km. Since an electric bike doesn't have many moving parts apart from the battery pack, maintenance costs work out cheaper.
Battery Life – The battery is the most expensive component of an electric bike. It is prudent to check the battery life before buying the bike to ensure that it is long-lasting. Some bikes have detachable batteries, which is more convenient. Always opt for lithium-ion batteries instead of lead or nickel batteries since they have a longer life.
Speed – Remember you are getting an electric bike to commute. If it is an ultra-slow bike, it doesn't serve its purpose, and you will feel exhausted. Always check the top speed of a bike and choose one that meets your requirements.
Distance Covered On Single Charge – This is an important parameter to consider while buying an electric bike. You will need to know how far you can travel on a single charge. Some of the top-end models can deliver a distance of 150 km on a single charge. Low-speed bikes may deliver 50 km, while high-speed bikes will deliver around 75 km. You can choose based on your needs.
Charging Stations / Detachable Batteries – Since your electric bike runs on power, it is good to ensure that the brand you buy has sufficient public charging stations. Those offering detachable batteries should be preferred as you can replace the battery faster, saving you time when you are in a rush.
Compare the models available – There are limited options available for electric bikes. So it makes sense to check out the leading electric bike models and make an informed decision keeping your budget and desired features in mind.
Customer support – Buying an electric bike is a long association with the brand. Ensuring that they provide good after-sales service should be a key factor in your decision-making process. In case of any issues, you will need to visit their authorised service centres, so it is best to go with a brand with a wide network to ease access.
Warranty – Make sure you check the warranty for the battery and electric motor before you buy the electric bike and read the fine print carefully.
LoanTap Advantage
Buying an electric bike can become very easy when you take an electric bike loan from LoanTap. LoanTap offers loans from INR 20,000 to INR 2,00,000 for tenures ranging from 12 to 36 months at interest rates from 13-15% p.a.
If you are an Indian citizen or resident over the age of 21 years and earn a minimum net monthly income of over INR 10000, you can apply for an electric bike loan. It is preferable that you have a credit score of over 630.
The process of applying for an electric bike loan from LoanTap is very simple. You will need to download the LoanTap app on your smartphone and fill out an online application with the required details.
The next step is to upload the following documents-
PAN Card
Aadhaar Card
Salary slip for the current month
Bank statements for the last three months
The system will process your application and verify your documents. If everything is found in order, your loan application will be approved, and the loan amount will be credited to your bank account within 24 hours.
LoanTap has partnered with several premier brands like Ampere, Hero Electric, Bajaj Auto, Revolt and more. You can choose the model you want and repay the loan over the agreed tenure. You can foreclose the loan after six months without any prepayment penalty. These loans work out cheaper than credit cards, and the seamless process ensures that you have a great customer experience.
So what are you waiting for? If you are looking for an electric bike, you are in the right place. Download the LoanTap app today and enjoy the pleasure of owning an eco-friendly electric bike!