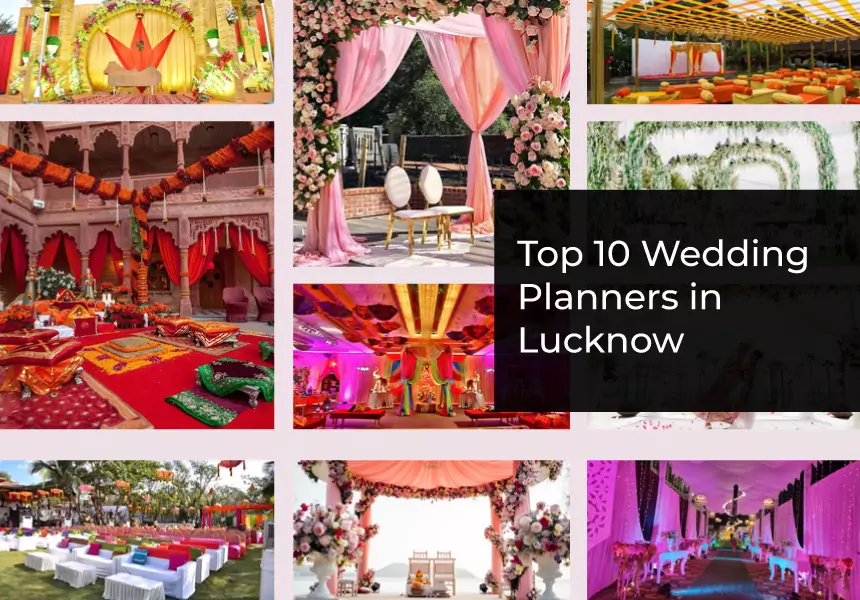 Published on : December 02, 2021
The wedding is a festive occasion for people embarking on their new journey. Indian weddings have numerous kinds of functions and ceremonies. Planning weddings are stressful in busy schedules. Here come wedding planners, as a savior for you who can shoulder all the burdens of your wedding preparation.
India's Nawabi City Lucknow is a truly perfect location for styling weddings with delicious cuisines and drop-dead gorgeous venues. Are you here to plan your wedding in the Perfect Nawabi Style? Here is a compiled list of the top 10 popular wedding planners in Lucknow.
Wedlock Junction
The most recommended wedding planner, Wedlock Junction, can become your partner in planning a wonderful fairytale wedding. Shivam Dwivedi founded the wedlock Junction back in 2014 to provide a complete solution for Indian weddings. Based in Lucknow, Wedlock has a dedicated management team full of enthusiastic young talents to make your life's precious day beautiful with memories, laughs, and surprises.
They take limited appointments to execute each wedding efficiently. Work endlessly to bring out effective results and let clients enjoy the wedding in their comfort zone. They pay close attention to every detail and handle the last-minute decisions. They also provide excellent customer support 24/7 and assured stress-free service by taking charge of everything.
Services Offered
Destinations Weddings
Innovative Decorations
Appropriate Wedding Caterer
High Entertainment Facilities
Pre-wedding parties
Vanshika Wedding Planner
Vanshika Wedding Planner won second place in our list of the Best Wedding Planners in Lucknow. Mr. Sanjay Chauhan established this full-service wedding planning company in 2009 that envisioned your D-day to be what you imagined. With a team full of passion, they do their best to turn your dream into reality.
At Vanshika, they bring you the ultimate wedding experience to celebrate your love and relationship. The core team will do everything to make your day magical. They deal with all sorts of entertainment needs and also plan a great show by inviting celebrities for a wedding audience.
Services Offered
Planning Decorations
Catering Solutions
On-site management
Transportation facility
Bridal makeup
Dressing stylist
Theme weddings
Hospitality services.
Musical Entertainment
Radiance Event
Are you looking for fresh minds and ideas for your wedding? Have a look at Radiance, a customizable wedding planner in Lucknow to style your wedding with colors and love. The Radiance Event was started by Ishan Chaturvedi in 2013. The trained and creative team will help you convert your wedding into a lavish event.
At Radiance, you can opt for small & intimate weddings, a large-scale production, and an exotic destination wedding. They can plan a low-budget wedding with creative skills. So, plan a Nawabi style wedding in Lucknow with gorgeous locations and delicious cuisines.
Services Offered
Venue selection
selecting invitations
Dressing & makeup
Decorations & Catering
Transportation
Photographers
Security staff
Honeymoon package
Zions Wedding Planner
Zions Wedding Planner is a part of Zions Group, established in 2003. It is the most preferred wedding and event management company in India. By making them a partner in wedding planning, you can make your job easier. You will get the experience of a majestic and sophisticated wedding. They make sure you enjoy every bit of time at your wedding with family, friends, and relatives.
They are fully-in-charge of managing every little detail and creating extraordinary weddings from simple things. They don't have packages because the Zions Team crafts a perfect picture of a dream wedding after proper complimentary consultation.
Services Offered
Luxury destination weddings
Hospitality for wedding guests
Designed tours & sightseeing
Pre-wedding parties
Pre-wedding photoshoot
Entertainment, security
Gifts & invitations
Transportation
Pentagon Events
Pentagon Event was established in the year 2005 in Hazratganj. It is a top player in the list of event organizers in Lucknow. This Wedding Event planner is responsible for bringing your imagination to life. The Pentagon's dedicated team is the one to take your D-day to new heights.
The dedicated team weaves the perfect wedding set up with emotions, love, dreams, and responsibilities. Pentagon Event has made happy clients by fulfilling the desires of couples and families across the globe. After 15 years of experience, Pentagon Events is known as the most reputed event management company for providing the best solutions for the event.
Services Offered
Catering
Photography/ Videography
Styling & grooming
Decoration
DJ & entertainment
Guests transfers
`Hospitality & guests support
Invitations
Wedding cake
Band, Baja & Baraat
Trousseau Packing
Shehnai Wale The Wedding Planner

Shehnai Wale The Wedding Planner Enterprise was Founded in 2012 to plan and execute extravagant weddings and take charge of all your wedding worries. They plan a traditional celebration in balance with a contemporary touch.
Shehnai Wale has established a firm foothold as the complete wedding planning company in Lucknow, where you get a variety of services to win hearts at a minimal budget. You can count on a powerful team of professionals to create a unique ambience for your guests to have fun and have a life-lasting memory.
Services Offered
Theme Decor Planning and Execution
Multi-cuisine catering
Vendor Management
Event Management
Entertainment Design and choreography
Makeups and Salon services
Video and Photography
Wedding Chimes
Founder and owner Dheeraj Kumar Chaudhary started this premium wedding & event planner – Wedding Chimes, 2017. They can go above and beyond your expectations. They specialize in organizing and planning beautiful weddings. They aspire to craft weddings inspired by couple stories and decor with customized themes.
Their wedding planning team can go beyond to make arrangements such as adding innovative ideas, checking out venues, and managing your budget to provide an unforgettable experience.
Services Offered
Pre & post-wedding planning
Destination Wedding
Catering
Decoration planning
Trousseau Preparations
DJ/Music
Venue Booking
Photography Services
Honeymoon
Service Staff
Invitations
PR and Media Coverage
Celebrity Invites
Shagun Party and Wedding Planners
Shagun Wedding Planner is a well-known wedding company created by Abhijeet Saha in 2014. They do what they love to do, organizing the best event of a couple's life. The Shagun Party Planner sits for an initial meeting with the couple to determine the budget, type of wedding desired, understand the personality, taste, and style.
Years of experience, perfection, and creativity have made them one of the leading wedding planners in Lucknow. They break the monotony of planning traditional weddings and come with beautiful and modern ideas.
Services Offered
Wedding Decorations
Food and Beverages
Theme Decorations
Entertainment and DJ
Wedding Shoots
Honeymoon packages
Gifts Preparations
Blissful Weddings
If you want the best decorations for your Lucknowi Weddings, Blissful Wedding is the best decor company in Lucknow. It was founded in 2015 out of a passion for offering bespoke decor solutions to turn your venue and home into a glamorous hall. They offer strategically budget-friendly weddings and event planning.
They can curate floral designs to bring a fun and exquisite look to your wedding. Blissful Wedding offers you nothing less than an unforgettable event .The best venues are Fairfield Marriott, Vivanta Taj, Hyatt Regency, Grand Jbr, etc.
Services Offered
Ideation & design
Lighting & Decor
Pre-wedding PhotoShoots
Sound setup
Furniture
Signages and stationery for the event
On-site support staff
Venue decoration
Hamid Hussain Wedding Planner
Do you want an affordable option? Hamid Hussain is the most sought name in the list of wedding event planners in Lucknow who offer elegant and budget-friendly decorations, catering, and photography services. They work with professional, verified, and trusted vendors. Hamid Hussain Wedding Planning Company was founded by Mr. Hamid Hussain and his team.
At Hamid, they ensure that your wedding functions go off flawlessly and you enjoy this memorable moment with no hassle. They will deliver high-quality experiences. You can live your dream day with the best venues, decorations, cuisines, and so on.
Services Offered
Vendor management
Decor planning
Entertainment & Choreography
Food & beverages
Guests Management
Wedding Stationery
Styling
Dancers and DJs
Now you have the top wedding planner's name to fulfill your wedding wishes. So, choose one which you like to collaborate with to host the wedding in the city of Nawabs and surprise your guests with a memorable event.
Once you finalize the budget with your planner, you can apply for a wedding loan from LoanTap. All you need to do is visit the LoanTap website and fill in the online application. You will need to upload the following documents –
PAN Card
Aadhaar Card/Driving Licence/Passport
Salary slips of the last three months
Bank statement for the last six months
eNach mandate
The LoanTap team will evaluate your application.If everything is in order and your CIBIL score is decent, your loan will be approved and the cash credited to your mandated account. The entire process will take 24-36 hours.You can choose a flexible repayment plan from the choices available. If you foreclose the loan after six months, there is no prepayment penalty.LoanTap offers loans from Rs 50,000- Rs 10,00,000 for tenures ranging from six months to sixty months. Interest rates start from 18%.
Make your wedding a dream come true. For all your funding needs, LoanTap is just a few clicks away.