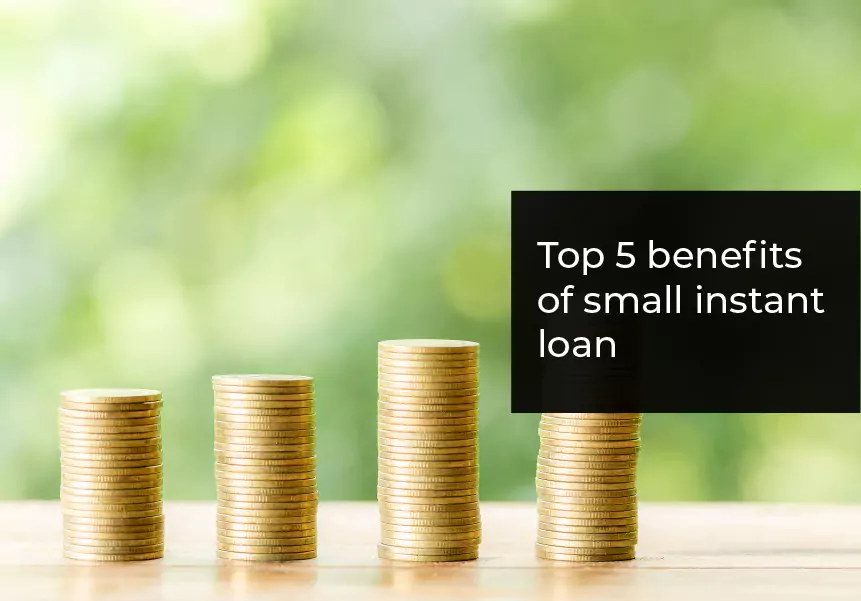 Published on : June 17, 2022
Life is full of uncertainties. Are you looking for instant cash to finance your urgent personal needs? Rather than spending all your savings or asking for financial help from family or friends, consider a small instant loan.
With digital platforms, it is easy to get a personal loan online. If you need urgent cash, small instant loans are the best option.
Simple instant loans are popular among salaried professionals and self-employed. It is a short-term loan that has no restrictions on end-use. It offers the best deals if you have any urgent financial requirements.
If you want to learn more about small loans, this blog is for you. Look at how a small instant loan works and how to apply for the loan online.
What is a Small Cash Loan?
A small personal loan is a financial product offered by LoanTap. It is an unsecured loan, where you can get any amount ranging from Rs. 25,000 and Rs. 10,00,000. It provides a credit line of the facility for salaried individuals who struggle with financial crunch. You can pay small cash loans in flexible repayments over a longer tenure. 
Borrowers can use the funds for various purposes. Since it has no limit on the end usage of loans, it attracts more millennials and the younger generation. It allows them to use the funds for expenses such as medical emergencies, home repair, travel trips, fees for an educational course, etc. A Small Personal Loan online is designed for salaried individuals with a steady income. It is a financial instrument to finance many necessities.
Five Benefits of Small Instant Loans in India
Banks and NBFCs may offer Small Instant Loans to customers.  Online lenders such as LoanTap offer this personal loan with lower interest rates (which may vary depending on your income and credit history.) However, make sure that all your documents are intact and your credit score is above 600. There are multiple features you can avail of if you take an instant personal loan.
Collateral-free loans: Personal Loans are collateral-free. You can get enough cash to pay for unexpected expenses by submitting no guarantor or asset. It is easier to get than a secured loan or credit card. Lenders will guarantee you the loan with no mortgage against the amount. It makes a personal loan more accessible for working professionals.
Affordable Interest Rates: Loan Repayment includes interest rates that borrowers need to decide before the disbursal process of personal loans. Short-term loans online reduce the burden of paying high-interest rates on the loan amount. If you have a decent credit score, the chances of getting a lower interest loan will be higher. Try to clear all your debts and maintain your credit score above average.
Flexible Loans: If you take a personal loan, you have the flexibility to use the amount and repay any way you want. NBFCs and banks don't ask ‌questions about where and why you want to borrow money. It is the best financing option to consolidate debt. 
Minimal Documentation: Borrowers can save their time from time hustling with paperwork to get a loan. LoanTap gives a mini cash loan with basic and minimal documentation. It comprises identity proof, address proof, and income proof.
Faster Process: Purchasing a personal loan from an online platform is way simpler now. LoanTap offers the fastest application process, where borrowers can get an instant mini-personal loan by completing the application within 15 to 20 minutes. However, the approval process may take a few hours.
Advantages of taking Small Loans from the LoanTap app
Borrowers can take any amount ranging from Rs 25,000 to Rs 10,00,000. You can repay the loan for tenure ranging from six months to sixty months. It will allow you to choose your tenure and fix your EMI as per your financial capacity. You will get several advantages, along with personal loans from LoanTap:
24/7 Availability: LoanTap offers 24/7 financial help. Borrowers can download apps from the Google play store / App Store to access personal loans anytime. You can consult to know which products suit you the best.
User Convenience: You can take a personal loan from anywhere in the world. It is easy to fill out loan applications from your home or office. No more waiting in a queue.
No Physical Submission: No need to visit any bank or branch when you apply for a loan online. Borrowers can submit all the required documents by uploading them from their smartphones.
Cheaper than credit cards: A small loan is cheaper than credit cards for basic needs. Personal loans don't charge interest rates of over 18% per annum, whereas credit cards charge 24%-36% on outstanding balances.
Improves credit score
Taking a personal loan and repaying it on time will help you improve your credit score. Short-term loans are easier to manage via EMIs. The likelihood of delayed EMIs is lower. It will help you take another personal loan in the future.
How do you apply for a small personal loan?
Availing a small personal loan is no more hustle. You can get personal loans for small goals from the LoanTap website. You can apply now for a personal loan in just a few steps. It will take some minutes to get the money in your bank account. Follow these steps for instant loan approval:
Install the LoanTap App by clicking on this link:
Click on apply now and enter your details.
Upload the following documents:
PAN Card
Aadhaar Card/Driving License/Passport
Salary slips for the last 3 months
Bank statements of the salary account for the last six months
Next, sit and relax till the LoanTap team evaluates your application for a small loan.
After verification of documents, the loan will be sanctioned and disbursed the amount in your account.
Summing Up!
These are the major five benefits of small instant personal loans. The LoanTap app can be a saviour in emergencies because of the speedy process and minimum documentation. It can get you out of crisis within a few hours if you have the required valid documents. You don't have to visit or deal with multiple people to get the money. 
What do you think? A personal loan is the right solution for you, isn't it? You can easily overcome a financial emergency. You don't need to call up your friends and family for the money. Our team is there to help you with tailored financial products that complete your needs. Take a moment and apply now!