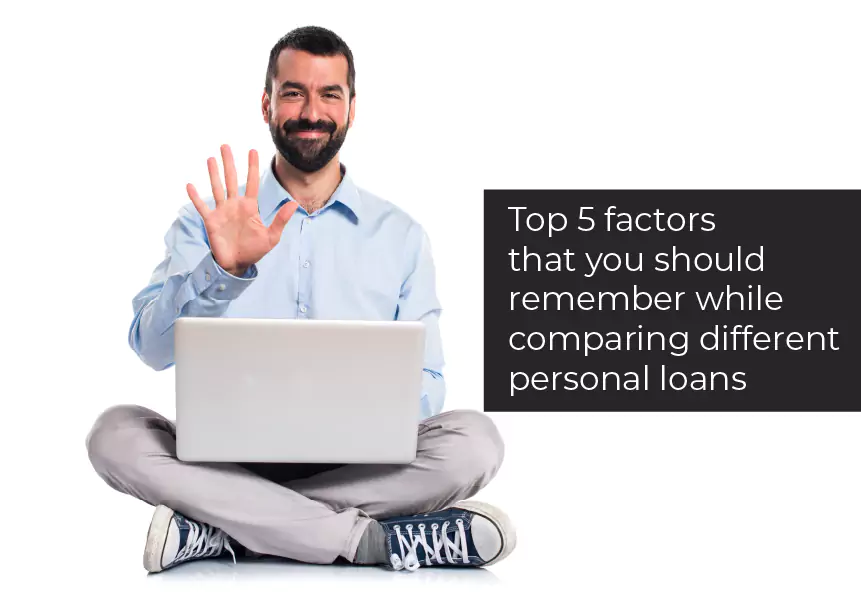 Published on : August 15, 2021
An emergency need for funds can crop up at any time. It could be triggered by a medical emergency, a big-ticket expense, a wedding, a home renovation plan, a deposit on a home, a dream vacation or anything else. The easiest solution would be to reach for a ubiquitous credit instrument. Or you could display some patience and scout around for the best personal loan available.
What is a personal loan?
A personal loan is an unsecured loan; yes, you read it right!. A personal loan does not need collateral. You can use a personal loan for any purpose without any restrictions. A personal loan is much cheaper than a credit card. A credit card charges 2-2.5% on the outstanding balance per month which ends up at 24-30% on an annual basis. Compare this to a personal loan which can charge anywhere between 11-24% depending on several factors. Personal loans could be as low as Rs 30,000 or as high as Rs 25,00,000.
What are the factors to check before you sign on the dotted line?
The top five factors that you need to consider before going for a personal loan are –
Interest Rate
Loan Repayment Period
Charges
Prepayment/Foreclosure
Processing Fee
In today's information-driven world, there is no excuse for ignorance. All the information you are looking for with regard to a personal loan is available at the click of a button.
Compare the different personal loans available on the above parameters and you can decide which one to go with. A little bit of homework can go a long way in helping you secure the best personal loan available.
Interest Rate
The interest rate is by far the most important factor that determines the affordability of a personal loan and the best lender to avail it from. You should check loan aggregator sites to find out the best rates available in the market. Interest rates could vary from 11-24% depending on the borrower's credit history, age, available disposable income, number of outstanding loans, the reputation of the employer etc.
Loan Repayment Period
The second factor that you need to consider is the period over which you will repay the loan. It could vary between 6 months and 5 years. Some lenders may even extend it to 7 years. While choosing the tenure, you need to see what kind of EMI you are comfortable with. At the same time, it is prudent to remember that a longer repayment period will lead to more interest outflow.
Charges involved
Make sure you read the fine print and understand all the terms and conditions involved. Lenders may levy a lot of charges by way of processing fees, repayment method swap charges, prepayment penalty, late payment charges, loan cancellation charges etc. Every rupee that you pay goes towards the cost of your loan. So, make sure you understand the total impact before signing on the dotted line.
Prepayment/Foreclosure
Most lenders have a prepayment/foreclosure clause in the personal loan agreement. A prepayment charge is levied when you repay the loan in full or in part before the tenure ends. However, some lenders waive this penalty off if you have serviced the loan for a minimum period of six months. Ensure that you check this clause before you avail of the loan to avoid heartaches in the future.
Processing Fee
All lenders levy a processing fee as a percentage of the loan amount. This is towards the cost of credit checks, administrative work etc. This amount varies from lender to lender. If you have a long-standing relationship with the lender, you may even get this waived. So, be sure you check this cost before going ahead as it may be a significant amount in the case of big-ticket loans.
Once you have considered the factors mentioned above, a simple comparison will reveal the best deal for you, keeping in mind your personal requirements.
The LoanTap Advantage
LoanTap strives to make your personal loan process a very delightful experience by keeping it simple and paperless. To avail of a personal loan from LoanTap, you need to be an Indian citizen or resident over the age of 21 and earning a net monthly income over Rs 30,000.
LoanTap provides tailored personal loans in the range of Rs 50,000 to Rs 10,00,000 for tenures ranging from 6 months to 5 years Interest rates start from 18%per annum.
You can choose a repayment plan that suits your convenience. You can prepay the loan in part or full without any prepayment penalty if you have serviced the loan for over 6 months. You can choose the repayment plan that suits you the most. There are no hidden charges.
What you need to do?
Step 1 – Fill up an online application form
Step 2 – Upload the following documents –
PAN Card
Aadhaar Card/ Driving Licence/Passport
Salary slips for the last 3 months
Bank Statement of the salary account for the last 6 months
Step 3 – Relax. The LoanTap team will assess your application. If they find your credit score to be decent and your documents are in order, your loan will be approved and the disbursement will be credited to your mandated account within 24-36 hours.
Voila. That's it. Getting a personal loan from LoanTap is as simple and quick as saying 1…2….3. If you don't believe it, you can check out the website https://loantap.in/ . You will get all the information you need about personal loans. Whenever you need a personal loan, think LoanTap. We are here to help and we are just a tap away!
Related article – Comparing Personal Loans? Here Are The 5 Parameters You Must Look For