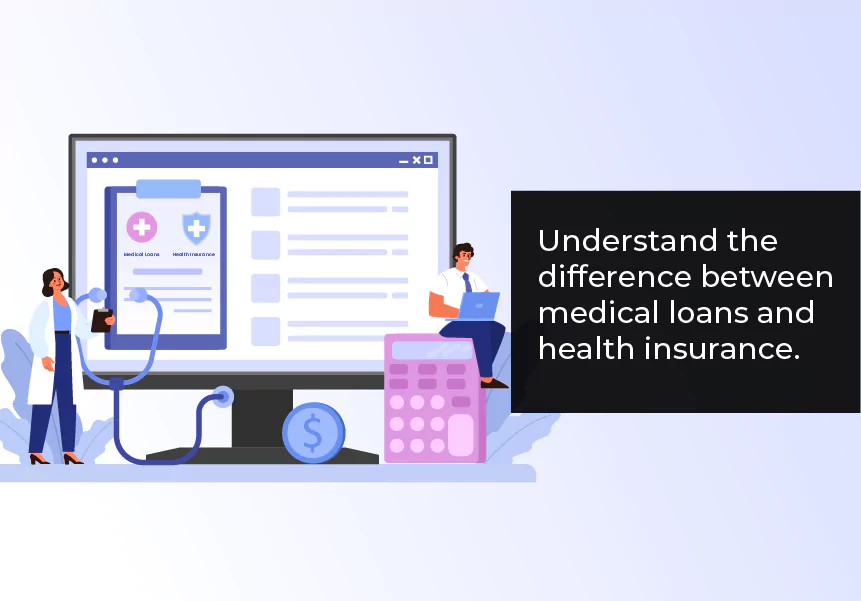 Published on : June 23, 2022
Aditya, a private company employee with a salary of 10 lakhs per annum, was living a comfortable lifestyle. Unfortunately, one day, he was diagnosed with an illness. The cost of treatment was over 20 lakhs. He had no health insurance policy to cover medical bills for treatment. In that situation, his family also had to go through emotional trauma.
While struggling with the illness, he had to arrange immediate cash to fund his medical expenses. They tried to get an instant medical loan for his treatment. After the Pandemic, there is an increase in medical expenses and lifestyle diseases. Health insurance becomes a significant component of our lives. It is a cost-effective solution to deal with growing healthcare expenses. Also, there is a rise in mental health issues which also requires a lot of effort and money to deal with.
When there is a financial crisis, it is difficult to overcome this situation. Salaried professionals sometimes can't afford to pay huge expenditures all at once. There are two options to cater to your medical needs – Health Insurance and Medical Loans. To know which one is better, here's a comparison guide between Health Insurance and Medical Loans.
What Is Health Insurance?
Health insurance guarantees the funds when there is an medical situation occurs. It covers all medical expenditures incurred, which are medical treatments, surgeries, doctor's fees, and other post hospitalisation payments.
It will protect your family from any medical problems. Taking health insurance with minimum requirements is practical and convenient. All a person has to do is qualify for an insurance policy. The amount insured will be cashless to save time and money in difficult times. Your money will be preserved and you can file a claim for high medical facility costs.
What Is A Medical Loan?
A medical loan is essentially a personal loan that disburses the funds in your account instantly. It is a better option to get financial help in need. Various banks and NBFCs offer medical loans. Borrowers can get the loan at affordable interest rates. Any medical reason is valid to make a transaction, and there is no limit on the amount. It is also known as emergency loans. 
This emergency medical loan is repayable after the specified period. You need to repay the total amount, including interest. However, the interest rate on the loan amount depends on your credit score and repayment history. The repayment option provides a longer time to pay off the loan amount and in flexible instalments with no hassle. 
Health Insurance Vs. Medical Loan
Medical Loans and Health Insurance differ from each other. There ‌are ways to combat medical situations and take care of medical expenses. Salaried professionals and self-employed individuals can take medical loans. You can avail health insurance if you haven't suffered from certain illnesses like heart attack or cancer. Now, look at other differences between health insurance and medical loans –
Immediate Cash – Medical loan provides immediate financial help when you are hospitalized. There is no need to deal with documents' verification, identification, bank verification, credit score, and so on. With health insurance, you need to complete the complete application process to get instant cash. Also, Health insurance needs borrowers to choose a hospital close to your home and admit there for treatment.
Maximum Coverage: Health insurance policy may not be able to cover all the medical expenditures. You may struggle with paying for your treatment. At the end, you need to take money out of the pocket. With medical loans, you will not face any lack of funds. It helps you to pay for everything, including therapy and medications.
Network Hospitals – To get treatment using health insurance, you only have to go to network hospitals. Medical loans allow you to cover many medical conditions, regardless of which hospital you choose. Hospital insurance works only when you choose any network hospital.
Eligibility: You need to meet strict eligibility requirement for buying Health Insurance plans. If you have a record of reguslar illnesses, it will be hard to get health insurance coverage. You may ‌get health insurance, but the premiums will be high. For medical loans, eligibility requirements include age, income, credit score, etc. No health criteria apply to medical loans.
Repayments: You can pay Healthcare insurance premium in EMIs and it doesn't affect the credit score of the borrower. However, medical loans need to repay in the fixed EMIs, which depend on tenure, the loan amount, and interest rates.
Waiting Period: Health Insurance premiums cover certain illnesses after ‌2-3 years. It may not cover critical illness, such as kidney failure, diabetes, etc. In contrast, there is no waiting period or limitation on taking a medical loan. Any medical condition can be treated immediately with the loan amount.
Renew to Use: If you have health insurance, you need to renew it every year, irrespective of whether or not you claim it. Medical loans are only taken out if there is a medical emergency.
End-Usage: If you buy a health insurance policy, you must pay the premium, regardless of whether you use the benefits. If you need money, you can get a medical loan. You can use medical loans at any hospital for any treatment.
Advantages of taking Medical Loans in India
Quick Loans Approvals: Medical problems are easy to get approved and disbursed. You can immediately get the fund if your credit score and documents are good. Instant medical loans will be sanctioned within 24-36 hours.
No Physical Documentation: Getting a medical loan online with just minimal documentation. There is no need to fill papers to avail of a medical loan. The basic documentation includes a PAN Card, Aadhar Card, bank statements, etc.
Reduce Expenses: Medical bills can add extra expenses to your monthly budget. Personal loans offer a 40% reduction in monthly outflows if you choose interest only EMI option. It allows you to manage your bank balance without compromising your monthly payments.
Customized Repayments: Borrowers can choose any repayment option depending on your financial capacity. They offer different methods to make easy repayments.
Loan EMI Calculator: EMI calculator will help you estimate the monthly payments and decide on a suitable loan tenure. Medical bills are enormous and paying them takes a lot of time and money. Calculating EMIs will further handle the repayments and choose as per your convenience. 
End Notes
Getting health insurance may not suit everyone, especially among the younger generation. You can go for a medical loan in times of emergencies. NBFCs such as LoanTap provide medical loans online for emergencies, with interest rates starting as low as 18% p.a. You will get the loan amount instantly. Our financial institute offers you the best lending platform to get loans that suits your needs. Get a medical loan in a few minutes by applying now via LoanTap website.