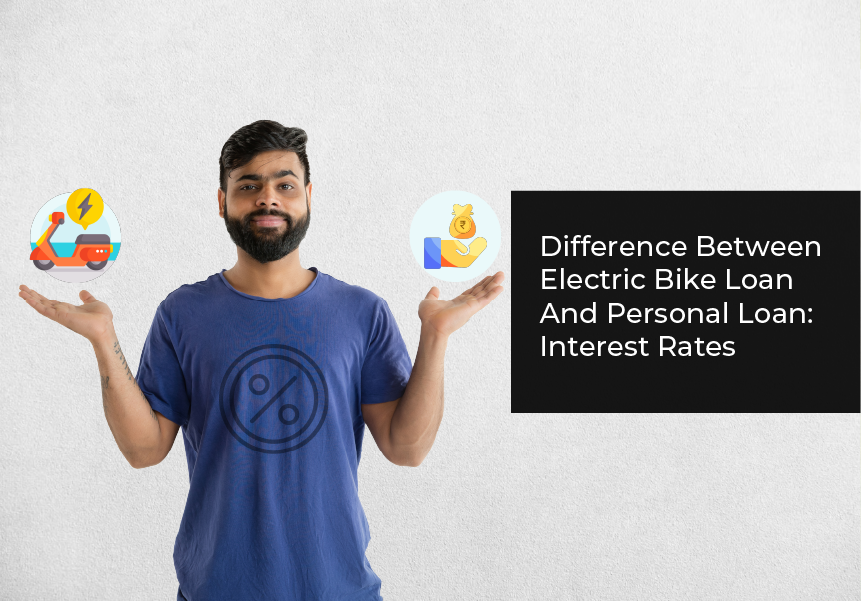 Published on : February 22, 2023
Electric bikes are the new form of mobility for an environmentally aware generation of youngsters. The government is keen on promoting electric vehicles as it needs to drastically reduce carbon emissions to meet its sustainable development goals as a nation. To this end, the central and state governments have offered various incentives and tax breaks to motivate people to buy electric vehicles.
Electric bikes in India are being offered by various manufacturers like Bajaj, Ampere, Hero Electric, Revolt, Ather etc. There are multiple options available so you can choose one according to the features you need and of course, your budget. You focus on selecting the right electric bike and leave the financing to LoanTap.
LoanTap Electric Bike Loan features
LoanTap offers electric bike loans from INR 20,000 to INR 2,00,000 for tenures ranging from 12-36 months. Interest rates range from 13 to 15% p.a. You can get up to 80% of the on-road price of the bike as a loan.
Compare this to a personal loan where interest rates range from 18% to 24% p.a. Credit cards charge anywhere between 30-36% annually on outstanding balances. Electric bike loans from LoanTap come at a much better rate.
Eligibility for an electric bike loan
If you are an Indian citizen or a resident over the age of 21 years and earn a monthly net income of INR 10000, you are eligible to apply for an electric bike loan. It is preferable that your credit score is more than 630. If you clear these conditions, you can safely apply for a loan from LoanTap.
How to apply for an electric bike loan
The loan application process is very simple and can be easily complied with. Here is a list of steps to be followed –
Step 1 – Download the LoanTap app on your smartphone.
Step 2 – Fill out an online application with the requisite details.
Step 3 – Upload the mandatory documents like –
PAN Card
Aadhaar Card
Bank Statement for the last three months
Salary slip for the last month
Step 4 – The system will verify the documents and ensure their authenticity. Once this is confirmed, your loan application will be approved.
Step 5 – The loan amount will be credited to your mandated bank account.
You can repay the electric bike loan over the agreed loan tenure in equated monthly installments. You can choose to foreclose the loan after six months without any prepayment penalty.
Enjoy the LoanTap advantage
LoanTap understands your need to have eco-friendly mobility and wishes to contribute to this national effort to switch to electric vehicles on a country-wide basis. To this end, LoanTap has created an online marketplace where you can search for the most suitable electric bike model from the various options available. Once you make your choice, you can apply for an electric bike loan from LoanTap and complete the purchase.
Check out the benefits of availing of an electric bike loan from LoanTap-
Loans are disbursed within 24 hours, unlike traditional loans which can even take a week.
Loans can be applied for at any time during the week irrespective of working hours, weekends or holidays. This gives immense flexibility to borrowers.
The loan process involves no paperwork except for a single online application. Say goodbye to the endless forms you are used to filling out for a traditional loan.
You are not required to submit multiple documents. Uploading the basic documents will do.
These loans work out cheaper compared to credit cards which is a great advantage to borrowers as they can plan their big-ticket expenses better.
The process is seamless and convenient as it is completely digital. There is no need to move from your chair throughout the process from start to finish. There is no need to pay multiple visits to the lender for loan approval.
Conclusion
LoanTap offers you a great customer experience from start to finish. You can apply for the loan digitally and get the cash within 24 hours to give wings to your aspirations. Drive away your own electric bike and contribute to a clean environment. Let the shortage of funds not become a roadblock. Make the most of the easy financing option provided by LoanTap at 13-15% p.a and enjoy a clean and green ride that will make the planet a better place to live in for future generations.