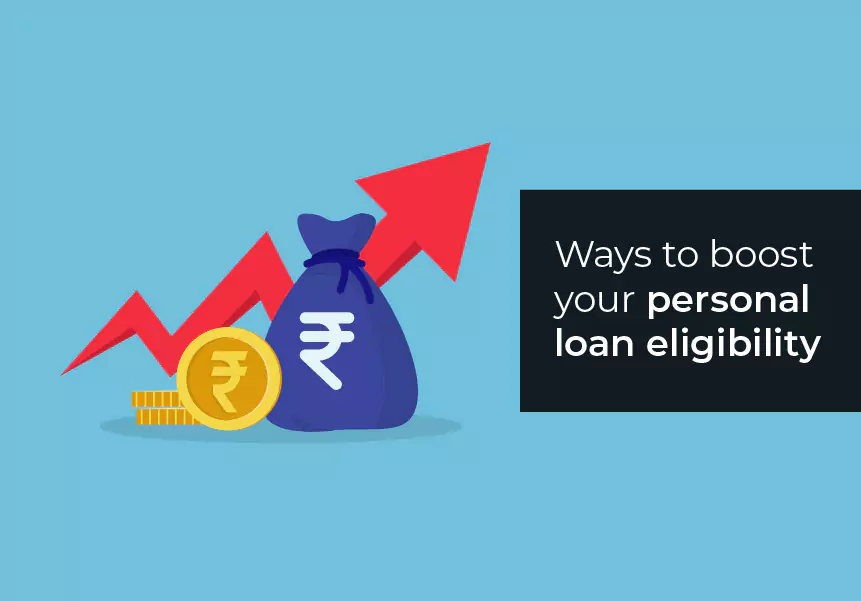 Published on : August 22, 2021
Whether you need a personal loan today or not, it is good to know how to increase your chances of getting one when the need arises. A personal loan has become a very popular product for short term financing in recent years especially among the younger generation.
What makes a personal loan a go-to option?
Personal loans are attractive for several reasons some of which are –
No collateral: Personal loans are unsecured loans; so you need not pledge any asset.
Can be borrowed for any purpose: Personal loans are not tied to a specific purpose. They can be availed of for any reason.
Cheaper than credit cards: While credit cards charge 24-36% interest annually, personal loans are cheaper ranging from 11-24%.
Quick processing: Personal loans are approved and disbursed quickly. You can get the amount credited to your account within 24-36 hours of filling an online application.
Minimal paperwork: Personal loans have limited paperwork involved. Everything happens online and you need to upload minimal documents.
Flexible repayment options: Personal loans allow you the flexibility to choose your repayment options like step-up, interest-only EMI, Overdraft and term.
No prepayment penalty after 6 months: You can prepay your loan after 6 months without any prepayment penalty.
Now that you have seen the benefits of a personal loan, let us understand what you should do to increase your chances of getting one.
Basic eligibility criteria for Personal Loan application
If you are an Indian citizen or resident over the age of 21 years and earning more than Rs 30,000 on a monthly basis you are eligible to apply for personal loan.
What are the other factors that can boost your chances?
You can boost your Personal loan eligibility chances by keeping in mind the following factors –
Check your credit score: Since personal loans are unsecured, the lenders use your credit score as the basic parameter to assess your creditworthiness. A CIBIL score is a numerical summary of your credit history. It is a number between 300 to 900 where 300 is the lowest and 900 is the highest. Usually, a credit score above 750 is considered very good and over 95% of such applications get approved. If you have no debts or you pay them on time, your credit score will reflect that. You should try and maintain a high credit score before applying for a personal loan.
Avoid multiple applications: Lenders pull your credit data from the same database. If you apply to multiple lenders, it could seem that you are desperate to get a loan. This may go against you and lenders may not be interested in proceeding further for fear of losing out to a competitor. You are better off applying to only one lender at a time.
Do not spend more than 50% of your net income on EMI: As a thumb rule, you should not, under any circumstances, use more than 50% of your net income to pay EMI on your debts. It is a dangerous situation to be in and should be avoided at all costs. Looking at your bank statement, a lender will not be willing to extend a loan if the total EMI crosses 50%. Do not borrow unless absolutely needed. Pay off your credit card on the due date. Do not carry debt burdens for frivolous expenses. This will help you to have a healthy Debt-Income ratio that will help you to get a personal loan.
Keep a reasonable time gap between two loan applications: It is advisable to keep a gap of at least 6 months between two loan applications to avoid rejection. Do not apply for a loan unless it is absolutely necessary. If your need is not very urgent, put off the application for a few months for a better chance of success.
Always compare the options available: Do not rush to the first lender available. Make sure you do your homework and check all the options available in the market. Do read the fine print and make sure you understand all the costs involved before signing the agreement. You are borrowing for a particular need so your focus should be on getting the loan on the best terms possible. Do not fall into a permanent debt trap.
The reputation of your employer: The reputation of your employer can work to your advantage when you apply for a personal loan. In general, employees of public-sector and blue-chip companies are viewed favorably by lenders. So if you have a job with these reputed companies, you have a better chance of getting a personal loan on more favorable terms as the lender believes in your repayment capacity.
What is the LoanTap advantage?
At LoanTap, we believe in providing customized solutions for all your personal loan needs. No matter what your situation, we will try to find a best-fit solution for you. LoanTap offers personal loans between Rs 50,000- Rs 10,00,000 for tenures ranging from 6 months to 60 months. Annual Interest rates start at 18%. You have flexible repayment options and there is no prepayment penalty after 6 months. There are no hidden costs and what you see on the website is what you will get.
All you need to do is to fill up an online application and upload the following documents-
PAN Card
Aadhaar Card
Salary slips for the last 3 months
Bank statement of the salary account for the last 6 months
The LoanTap team will evaluate your application. If your credit score is good and your documents are in order, your loan application is approved and the amount disbursed to your account within 24-36 hours.
If you exercise financial prudence and watch your discretionary expenses, you will be able to make better decisions. In times of emergencies, your creditworthiness will stand you in good stead and you will be able to get a personal loan at better rates. A personal loan is a powerful financing tool if used wisely. For all your personal loan related queries, do visit the LoanTap website and we will be happy to assist you. After all we are just a few clicks away!