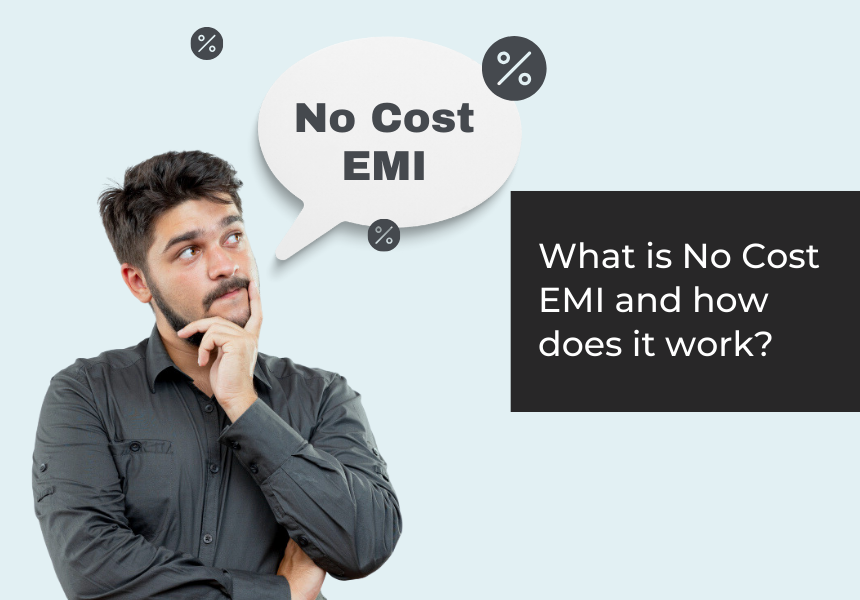 Published on : October 10, 2023
No Cost EMI is a popular and consumer-friendly financing option that has gained significant popularity in recent years. It allows individuals to make purchases without incurring any interest charges or processing fees, spreading the cost of a product over several months. This financial mechanism has revolutionised the way people shop for high-value items, such as electronics, appliances, or even travel packages. Here, we'll get into the details ofand explore how it works, shedding light on its benefits and eligibility criteria. Understanding No Cost EMI can help you make more informed financial decisions.
What is No Cost EMI?
No Cost EMI is a financing option that allows consumers to distribute the cost of a purchase over several months without incurring any additional interest charges or processing fees. It is a common offering by retailers and financial institutions, making high-value items more affordable for buyers. Under this scheme, the total cost is divided into equal monthly payments, making budgeting easier. However, it's important to note that the term "No Cost" can be slightly misleading, as the product's price might be slightly higher to cover the interest cost absorbed by the seller or lender. This approach has become popular for its convenience and flexibility, enabling individuals to make significant purchases without a substantial upfront payment.
How Does No Cost EMI Work?
The no-cost EMI scheme enables borrowers to repay their personal loans through equal instalments over a predetermined period, all without incurring any interest charges. To access this scheme, the borrower may be required to make an initial payment, which can be settled either as a one-time lump sum during the application process or as part of the monthly instalment payments.
There exist two primary categories of no-cost EMIs:
When we talk about no-cost EMIs, there are two major categories that is explained below.
Equating Discount to Interest on EMI
In this approach, the vendor removes any discount component from the product's price for those opting for the no-cost EMI. For instance, if a product is offered at a discounted rate to regular customers, no-cost EMI applicants will purchase it at its standard price.
Instalments with Built-In Interest
This version of the no-cost EMI allows customers to distribute the interest amount across their EMIs in equal instalments over the loan's duration. Banks, non-banking financial companies (NBFCs), and various financial institutions extend this type of discount to simplify the borrowing process for their customers.
Benefits of No-Cost EMIs
Interest payments are not a direct obligation for users who avail of this service.
Typically, the fees related to processing or documentation are very nominal.
This service is easily accessible to many lenders.
Opting for a limited number of smaller, no-cost loans has the potential to enhance your credit rating as long as you meet your repayment obligations punctually.
Cons of No-Cost EMIs
As mentioned previously, experts concur that the majority of so-called no-cost EMI schemes are misleading since the interest component is often covertly embedded within the EMI, typically within the processing fee.
In the event that customers fail to meet their monthly obligations, they may find themselves paying more than the initially agreed-upon amount due to late charges and taxes.
Customers are often unaware of the precise charges their credit card will incur until after the purchase, potentially resulting in unwelcome surprises on their credit card statements.
Factors To Consider While Opting For No-Cost EMI
Hidden Processing Fees
The attractive no-cost EMI scheme, widely offered by numerous banks, comes with concealed costs. Customers may encounter a processing fee, which can amount to as much as Rs. 500. This fee often remains unmentioned in the offer and may catch customers by surprise.
Temporary Credit Limit Reduction
A prerequisite for availing a no-cost EMI is a minimum credit score of 700. Additionally, individuals must ensure they possess the necessary funds to meet their monthly repayment commitments. Understanding the ideal loan tenure is crucial, as outstanding payments could influence future credit accessibility.
The Peril of Indebtedness
The ease of access to financing options has increased impulsive spending for many. It's impossible to recognise the potential factors that might lead to a cycle of debt. A general guideline is that if your cumulative EMI payments surpass 50% of your income, it's advisable to pause and reassess your financial situation.
Punctuality in Repayments
Timely EMI payments are of paramount importance for every buyer. If you aren't making timely payments, it can negatively impact your credit score, which is important when looking for personal loans. Moreover, late fees may be imposed for failing to adhere to EMI deadlines.
Conclusion
The concept of No Cost EMI has redefined the way individuals make significant purchases, offering a flexible and accessible financing option. While it promises to be interest-free, it's important to remain vigilant about hidden costs, such as processing fees, that may be included. Additionally, the impact on credit scores and the potential for impulsive spending should be carefully considered. No Cost EMI schemes can be a valuable tool for responsible and informed shoppers, helping them spread the financial burden of their purchases without the burden of exorbitant interest charges. To make the most of this financing option, consumers should conduct due diligence, manage their repayments diligently, and assess its compatibility with their financial goals.