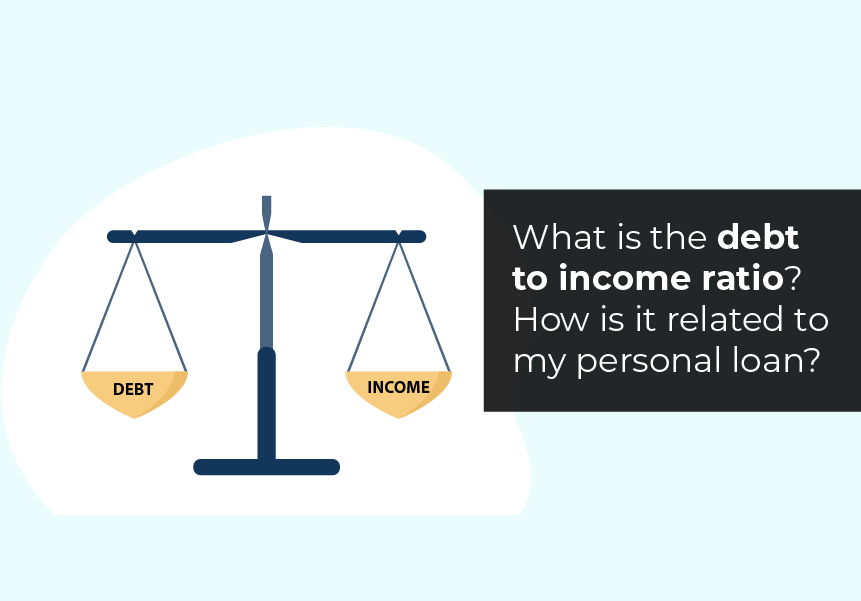 Published on : September 25, 2021
There could be several situations in life when you are short of funds and need help from an external source. It could be the purchase of something important or an educational loan or a medical emergency. If the matter cannot be deferred, you are compelled to look at an alternate source of financing. This is where a personal loan comes to the rescue.
Personal loans are unsecured loans that can be taken without specifying the end purpose. The absence of collateral makes it popular among the younger generation.
Who can take a personal loan?
If you are an Indian citizen or resident over the age of 21 years and earning a net monthly income of over Rs 30,000, you can apply for personal loan.
What is the debt to income ratio?
The debt to income ratio is the ratio of your total monthly debt to your gross monthly income. For example, if you have a gross monthly income (income before taxes) of Rs 50,000 and your total monthly debt payments including credit card payments, home loan, vehicle loan etc is Rs 25,000 then your debt to income ratio is
25000 / 50000 x 100 = 50%
How is it related to a personal loan?
The debt to income ratio is a good indicator of the repayment capacity of a borrower. Since personal loans are unsecured loans, lenders have to be extra careful to ensure that the borrower will pay the EMIs without any default. Lenders therefore prefer borrowers with a good credit score so that the probability of default is less.
When they check the bank statements, they take a look at the debt to income ratio. An ideal debt to income ratio is 20-35% if you wish to apply for a fresh loan.
If the debt to income ratio is in excess of 50% it is highly likely that the personal loan application will be rejected.
A high debt to income ratio is a clear indicator that the borrower will struggle to repay the loan and defaults are imminent. No lender would like to take the risk especially when the loan is unsecured. So, it is in the borrower's best interest to manage the monthly budget and keep the debt low.
What can you do to reduce the debt to income ratio?
Since increasing the denominator or the gross monthly income is out of your control, you will have to focus on lowering the numerator which is the monthly debt.
Monitor the debt to income ratio on a monthly basis.
If you are planning to apply for a personal loan, you should try and keep your credit card expenses in check.
You should not apply for any other loan at the same time.
You should clear out old debts wherever possible.
These steps will help you to improve your debt to income ratio as well as your chances of getting your personal loan application approved.
How do I apply for a personal loan?
If you fulfil the personal loan eligibility criteria and have a decent debt to income ratio you can safely apply for a personal loan at LoanTap. All you need to do is to visit their website and fill in the online application form. You will need to upload the following documents –
PAN Card
Aadhaar Card
Salary slips for the last three months
Bank statement of the salary account for the last six months
The LoanTap team will evaluate the application. If everything is in order, the loan application will be approved and the amount will be credited to your account within 24-36 hours.
Loan Tap offers personal loans from Rs 50,000- Rs 10,00,000 for tenures ranging from six months to five years. Interest rates start at 18% p.a. After you service the loan for six months, you can foreclose the loan without any prepayment penalty. You can choose from a range of flexible repayment options. Pick a tenure that will optimise your EMI.
Personal loans are a convenient short term financing tool. They are easy to avail of with minimum paperwork and quick disbursement. However, you need to ensure that you meet the eligibility criteria, have a reasonable credit score and a low debt to income ratio to get a quick disbursement.
When your documents are in order, you can get a personal loan that is tailored to your requirement in no time at all from LoanTap. Whatever be your need, we are just a few clicks away!
Related articles – What is Debt to Income Ratio (DTI)? How Does it Factor in your Loan Eligibility?