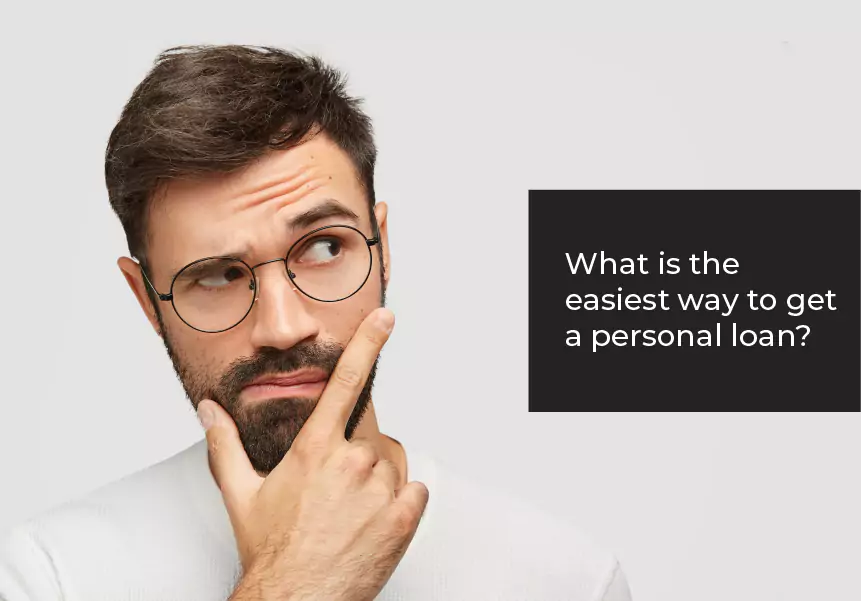 Published on : April 10, 2021
Need money to fund your wedding? Some medical emergency? A foreign holiday? Get a personal loan and pay back in convenient EMIs. Personal loans have become the go-to form of credit in today's world, for instant financing. So what makes a personal loan different from other loans? Why are personal loans a more preferred option ?
It is important to understand the concept of personal loans. Compare them to the exorbitant rates charged by traditional local moneylenders.. Imagine the tier 2 cities and small towns where people are still dependent on the local moneylender who never misses a chance to fleece them in times of need. With personal loans, you have a convenient option to tide over your financial crisis at reasonable rates through an approved secure mechanism.
Personal loans can be a lifeline for people in times of an emergency or cash crunch. It is good to understand how personal loans for salaried professionals work and why they are an attractive proposition.
Well, Personal loans come at lower rates of interest than credit cards… The Personal loan route is taken to meet sudden big-ticket expenses. If available at an attractive rate, it can also be used to pay off other high-interest accumulated debts.
So, what are the factors that can help you get the best personal loan online at the best rates?
Having a fixed uninterrupted income
Having a good credit score
Comparing rates offered by lenders
Watching out for promotional offers
Having a fixed uninterrupted income
Personal loans for salaried professionals are easily available. If you have a secure job in a reputed organisation, your financial condition is considered stable. The lender will conclude that you are in a position to make the monthly payments and will not hesitate to extend you a personal loan. You can use this trump card to get on the "approved customers" list.
Having a good credit score
Having a good credit score makes the path easier when you need to get a personal loan. If your CIBIL score is above 750, it is considered good for getting a loan. The credit score is arrived at by taking into account the following factors-
Credit History
Credit utilization
Length of your credit history
Credit Mix
Latest credit enquiries
You can obtain your credit score by checking out any credit bureau website like CIBIL for instance. A good credit score reassures the lender that you will make your repayments promptly. The best way to ensure that you never forget a repayment is to put the loan on auto-debit. This ensures that payments are never delayed and the credit score is not impaired.
Comparing rates offered by lenders
The rate of interest offered by different lenders is the biggest differentiator when you are seeking a personal loan. It is extremely prudent to check out the rate offered by all lenders and go with the one offering the most competitive rates. Even a small variation in rate can make a lot of difference. In today's data-based world, all the information you seek is just a click away. So, make sure you check the rates of Banks, NBFCs and Fintech lenders before taking that loan.
Watching out for seasonal offers
In today's competitive world, lenders are always looking for opportunities to provide the best of the offers to their customers, especially during festive seasons. Keeping an eye out for such promotional offers may help you to save some money by locking in a better rate. Lenders often send such offers via SMS or email. They are mostly limited period offers when you transact online during festive seasons. In case you need a personal loan, it would make sense to check if any offers are live in the market before making the decision.
Easy Personal Loans from LoanTap
If you want to get the best personal loans online, look no further than LoanTap.Getting a personal loan from LoanTap is so easy, it will seem like relishing a cup of tea . If you know the amount you need, your personal loan is just a few clicks away. Let us look at who is eligible for a personal loan at LoanTap-
Individuals with a net minimum income of Rs 30000 pm
Indian citizens/Residents who are 21 years or older
And guess what?! You can get flexible instalment options too. When you know the amount of loan you want you can go for a term loan with fixed EMI or you can choose from other interest only payment options like Step Up or EMI free .
How can I apply for a Personal loan?
Apply online and upload basic documents
You must complete the KYC and Verification process Post this, your loan will be disbursed
The time taken to complete the entire process is 24-36 working hours. The basic documents needed to process the loan request would include
PAN Card
Address Proof
Payslips for last 3 months
Salary account bank statement for last 6 months
e-NACH mandate form for automatic debits
You can avail of a Personal loan of Rs 50000- 10,00,000 depending on your eligibility and credit profile. The processing fee is 2%+taxes on the gross loan amount sanctioned. You can foreclose the loan after 6 months without any charges.
LoanTap offers personal loans in Bangalore, Hyderabad, Chennai, Coimbatore, Mumbai, Pune, Ahmedabad, Vadodara, Raipur, Bhopal, Indore, Chandigarh, Jaipur and Delhi – NCR.
In conclusion, we can say that a personal loan is a quick, convenient and efficient financing option to meet emergency requirements. You can even choose a personal loan to close high-interest debts. Getting a personal loan is easy but making the monthly repayments is a responsibility. It is important to ensure that the credit score is maintained to keep lines of credit open. Keep in mind the factors discussed above that need to be taken into consideration while applying for a personal loan.
Go ahead, get that best personal loan online and tide over your financial need. Getting a personal loan has never been easier or more convenient isn't it ?!