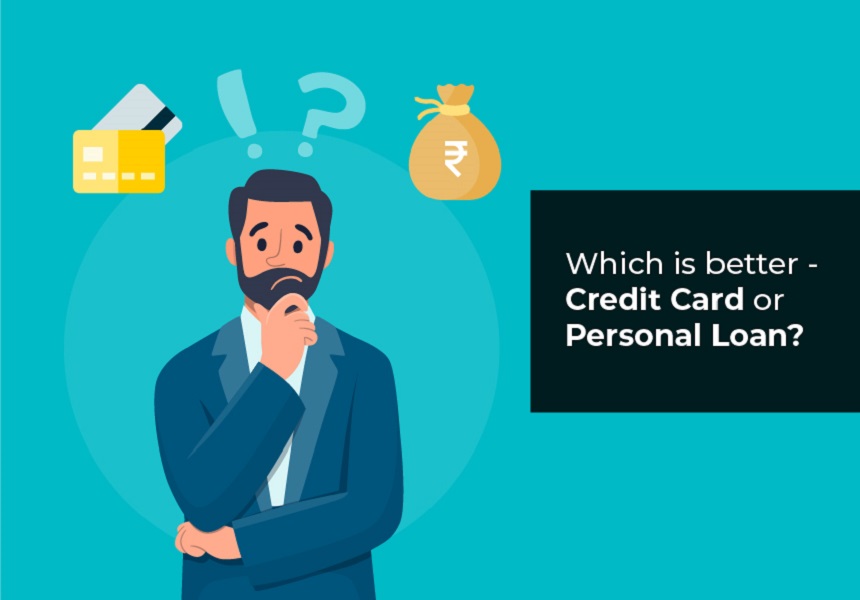 Published on : March 09, 2021
While credit instruments are plenty in the market, we look for the ones that are fueled with convenience, speed and flexibility. Speaking of that, credit cards are probably the most handy debt instruments available in the market today. The option to swipe whenever you need and 'buy now pay later' are the features that precisely justify the convenience, speed and flexibility factor. What if you were told that you are paying a heavy price for it?
Both Personal loans and credit cards are credit instruments extended to a borrower by a lender. These instruments come handy when any financial shortcoming arises or for meeting sudden, planned or unexpected expenses. However, which one out of this is the affordable option?
This article is going to help you understand various features of credit cards and personal loans so that you can be certain of which debt instrument to pick when in times of need.
Personal Loan vs Credit cards
To understand both these debt instruments better, take a look at the table below –
| | | |
| --- | --- | --- |
| | Credit cards | Personal Loan |
| Annual Interest Rates | 24 to 36% | 18 to 24% |
| Charges Involved | Processing Fees and Maintenance Fee | Processing Fee |
| Maintenance Charges | Annually | NIL |
| Amount / Limit | Lower Limit at disposal | Higher amount at disposal |
| Repayment Tenure | 45-50 days | 30 days – 5 years |
| Rewards | Cashbacks and annual rewards | NIL |
Let's take it up one at a time. You will see that credit cards demand a much higher interest rate as that compared to personal loans. While processing fees being a common fee charged for availing either of the two debt instruments, you may be liable to pay a maintenance fee for servicing a credit card. Lenders usually offer higher amounts if you avail a personal loan whereas, a limit offered on a credit card is usually lower as compared to a loan. The upper hand that a credit card holder gets is an 'interest free' period and rewards. When your outstanding bill is generated, you can pay your dues post 45 to 50 days of bill generation (which is the interest free period). Also, a credit card holder may choose to not clear off the entire outstanding amount in one go. There is a minimum payment that he needs to make and the rest will be carried over to the next billing cycle. So you can keep swiping and spread out the payments over the years to come.
Is that like the coolest thing any borrower could expect?
Well let's find out !
Let's get to the crux of both the concepts and understand which one is our best bet!
Personal loans
A lender extends a loan to a borrower for the amount he desires to avail and for the tenure he requires the funds. The borrower then pays off the loan in the form of fixed Equated Monthly Installments (EMIs) according to the repayment schedule agreed upon by the borrower and the lender. Lenders often offer flexible repayment options against the extended personal loan. This way the loan is serviced across the tenure and if one wishes to close the loan before the loan tenure then that certainty can be done.
Let's take a look at the pros and cons of taking a Personal loan –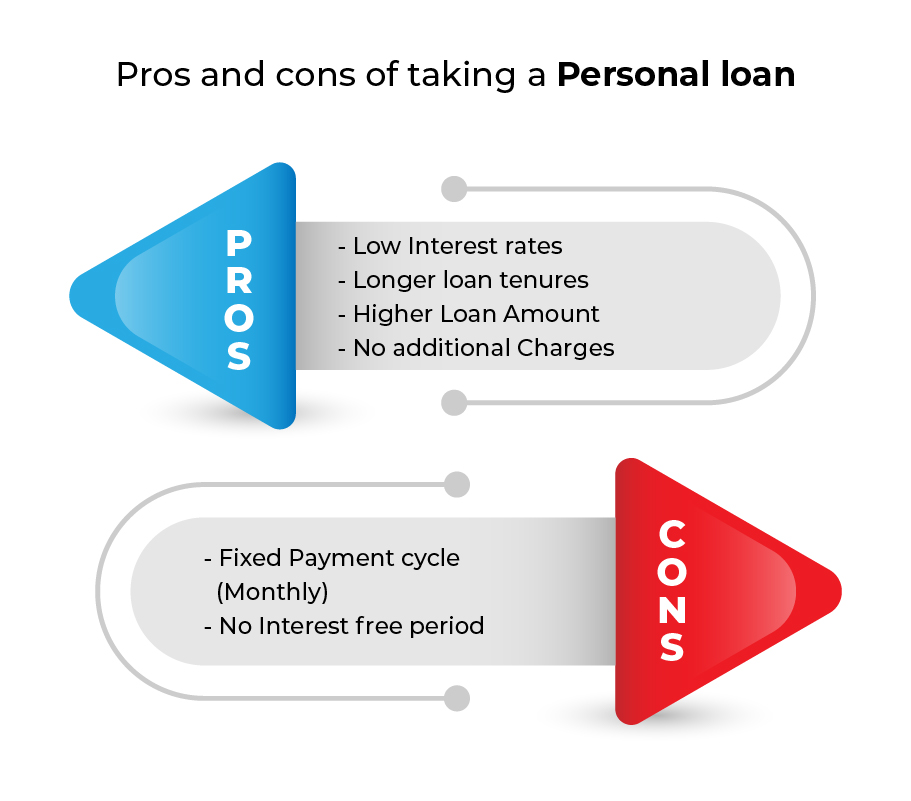 Credit cards
When a credit card is issued to an individual the lender extends a credit limit to the card holder. The borrower can use the amount from the limit and can carry out cashless transactions. All the transactions are recorded on a monthly basis. Borrowers are liable to pay the amount due as per the due date. Another benefit being, the borrower can pay only the minimum amount due and the remaining amount will be carried over to the next billing cycle.
Let's take a look at the pros and cons of using a Credit Card –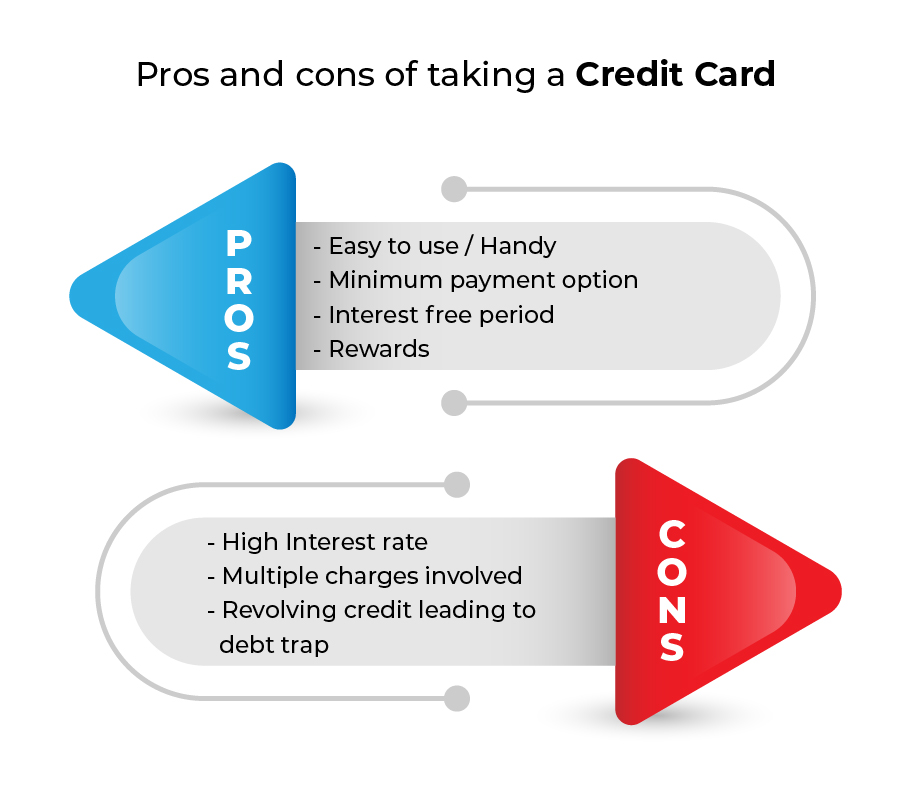 Though there is an interest free period of 45-50 days post which the minimum amount due can be paid, the borrower is charged interest on the outstanding amount. If this payment pattern continues for over months then there is a higher possibility of the borrower being in a pile of credit and may even default. Also, there are various additional charges associated with servicing a credit card like late payment penalty and maintenance fees which add up to the bills. This certainly makes the debt instrument way too expensive.
On the other hand, a Personal loan helps borrowers be disciplined in their payments and minimises the chances of defaulting on EMIs. Certain lenders also offer flexible repayment plans that help lower the EMIs further making the loan more affordable to service.
But what if you were told that you can enjoy the affordability of a Personal loan along with convenience of credit cards, that too with better terms of service?!!
Yes you got that right !! If you wish to opt for a personal loan but also want to enjoy credit card-like services at lower interest rates you can choose an Overdraft facility.
In an Overdraft facility, the lender extends a certain amount of funds to the borrower. The borrower has the flexibility of withdrawing as and when in need of funds. Also, the borrower is liable to pay interest only on the withdrawn amount and not on the entire sanctioned amount.
For instance, you have an overdraft facility of ₹1,00,000 and use only ₹25,000 for 15 days; then, your interest would be calculated on ₹25,000 for a period of 15days.
The interest rates being lower as that compared to credit cards makes this debt instrument more affordable.