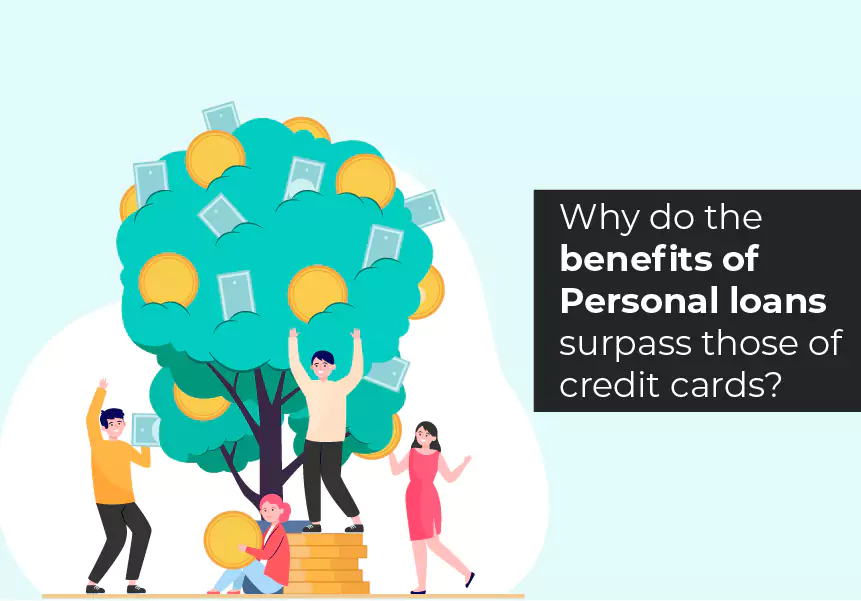 Published on : June 21, 2021
There are many expenses that arise out of a living and we use various modes to pay for them- cash, digital wallets, cheques, bank transfer, debit cards, credit cards etc. Apart from credit cards, the other modes of payment work only if you have the necessary funds available. Credit cards, on the other hand, can be used to make a payment even when you do not have the funds available in the bank.
What is a credit card?
A credit card is a line of credit extended to you by a financial institution that allows you to make purchases while settling the bills later. It is an accepted mode of payment in most establishments, both brick and mortar and online stores.
A credit card has a preset credit limit based on your salary and other details. You can spend within the given credit limit until exhausted. The only catch is that you need to pay on or before the said due date Which is usually around forty-five days. The issue arises if you miss the due date or cannot pay the entire amount in the prescribed time.
In such a case the interest meter starts ticking at a minimum of 2.5% per month. You can pay the minimum amount and the rest will get carried forward to the next month. However, the interest amount keeps mounting till the entire amount is paid in full. To avoid such situations people often use one credit card to pay off the debt of another. However, this doesn't solve the issue, it rather pushes people towards a debt trap kind of a situation.
What is a personal loan?
A personal loan is a collateral-free loan that can be availed to meet any cash requirements.. You can use it for virtually any expense and pay it in EMIs over the agreed tenure.
If you have a sudden expense coming up, you can choose the option of a personal loan. You can get an amount ranging from Rs 50,000 to Rs 10,00,000 at LoanTap for a period of six months to sixty months.
The loan is processed within 24 – 36 hours of application which makes it extremely reliable in times of emergencies.
The basic eligibility criteria are very simple. If you are an Indian citizen or resident over the age of 21 and earning a monthly salary of over Rs 30,000, you are eligible for a personal loan.
All you need to do is fill up an online application form and upload the following documents-
PAN card
Aadhar Card/Driving Licence/Passport for proof of address
Salary slip for last three months
Bank statement of Salary account for last six months
How is a personal loan superior to a credit card?
A personal loan is superior to a credit card on several counts. We can explore the same in detail under the following heads-
Better planning
Lower interest rates
Convenient tenure of choice
Pocket friendly
Convenience of prepayment
Quick processing
Better Planning
A credit card encourages impulsive purchases where you spend first and pay later. On the other hand, a personal loan forces you to think in advance. Once the expense is identified and you need to go ahead, a personal loan is a far better option than a credit card. You have to decide on the amount of loan, the interest rate and the tenure, check out the offers available online and then choose the one that best fits your monthly cash outflows. This encourages better financial planning and beats a credit card any day.
Lower Interest Rates
Credit cards are useful only as long as you pay off the entire balance on or before the due date. That is the safest way to ensure that you incur no interest cost. Credit cards charge a minimum of 2.5% interest per month on the unpaid balance that is a whopping 30%+ per annum. A personal loan on the other hand from LoanTap comes at around 18% per annum. As long as you use the credit card only to keep a clutter-free wallet and have enough cash in the bank, a credit card is convenient. A debit card would serve the same purpose. If you do not want to incur debt or treat the credit card as an extension of your paycheck, a personal loan is a better option.
For planned expenses where you have a day or two to spare, a personal loan can easily be availed of, no matter what your purpose. When you can get your finance at cost effective terms, why go for a credit card? Go for a personal loan instead.
Convenient Tenure of choice
A personal loan can be availed for a tenure of six months to sixty months and paid off in equal monthly instalments across the tenure. You can decide the tenure of your choice. You can use a personal loan EMI calculator to decide the optimum loan amount and the tenure and pick the best interest rate available in the market. This ensures that the EMI is affordable for you.
A credit card bill should ideally be paid off in forty-five days which is the normal credit period. Anything left unpaid over this period attracts interest. Delaying the inevitable by paying only the minimum amount due only ends up adding the interest amount. Before you realise it, the debt snowballs into something larger than you planned for. Shifting the burden to the next month doesn't help. It is better to know your financial commitment in advance and be prepared for it.
Pocket friendly
Since the tenure of a personal loan is in your hands, you can decide what the amount of EMI should be. This will ensure that the EMI gets accomodated in your monthly budget and can be paid on a fixed day every month. This is much better than juggling multiple credit card bills that fall due for different amounts on different dates. Since you are aware of the monthly fixed outgo, you can be better prepared to deal with it and make the necessary adjustments.
A credit card bill is ambiguous and varies from month to month. If you are the kind who uses multiple credit cards, then the problem gets compounded. A personal loan is way better than a credit card to instil financial discipline.
Convenience of prepayment
Once you have delayed a credit card payment, the interest starts building up and there is no escape unless you clear the amount in full. In the case of a personal loan, you have the flexibility to choose the longest tenure at the start to keep the EMI low. After you have serviced the loan for six months, you have the choice of prepaying a part/whole loan without any penalty charges. This is completely your choice as you have the flexibility to foreclose the loan. This can give you considerable relief from the hassle of handling credit card debts.
Quick processing
A personal loan can be processed in 24-36 hours which is excellent if you know what you are planning to do with the money. A credit card is a source of instant credit which is its USP but is its bane too. It encourages rash and impulsive spending behaviour which can lead to treating the plastic as an extension of your paycheck. This can lead to sufficient mental and financial stress in the future. On the other hand, a personal loan is a prudent way of handling an additional expense that needs to be undertaken without any additional pressure.
In conclusion, we can safely say that a personal loan beats a credit card hands down in terms of cost, ease, convenience and financial prudence. So the next time you need to raise finance for an expense, do visit the LoanTap website and we will be happy to guide you.