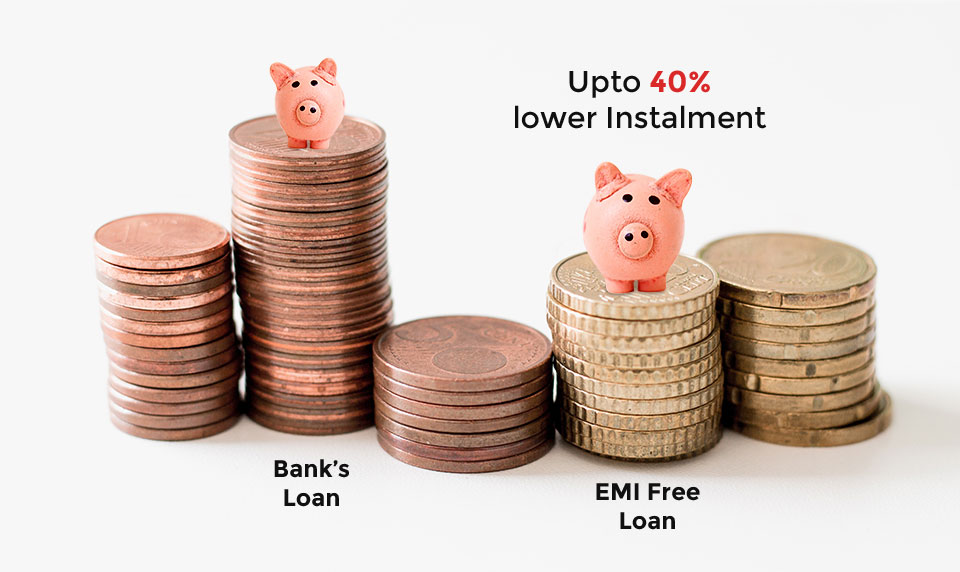 Published on : June 28, 2019
What if you were told that there is a way out of escaping the monthly EMI burden? That's impossible?  Or is it a gimmick?
That means you never heard of EMI Free Loan.
As the name suggests, by availing an EMI Free Loan, one serves only interest payments on the loan amount every month. The principal amount remains constant until a bullet payment is made every six months. Each bullet payment reduces the total outstanding loan amount. Thus, the subsequent interest charges are lower.
The EMI Free Loan offered by LoanTap are better than loans offered by your current banks because of the following features:
Flexibility:
One needs to pay only interest for first five months and can make bullet payment towards the Principal every 6 months. Part-pay more, lower your monthly interest cash outflow on this loan from next month onwards. One can suitably enhance the principal repayment after 6 months of servicing the loan.
This decreases the outflow burden further.
Foreclosure:
Who would want to be living with debt for a long time? There is no foreclosure charge post six months of loan servicing. This may not be possible in instant loan facilities from your salary account holder bank. Also, you can enjoy the convenience of prepayments, unlike your own bank. Apart from that, there are no hidden charges or other terms and conditions. Thus, there are no shocks after taking the loan.
Transparent Process:
Know your eligibility and instalment amounts upfront by clicking on Check My Rate. All necessary details are mentioned on the site as well as LoanTap Mobile Application. There are no hidden fees. A smooth and transparent process is enabled by technology and friendly staff which is much appreciated by the current customers.
How EMI Free Loan beats your regular bank?
Bank's instant loans, as they claim it, may not come at consumer-friendly terms.
From the table below, it is evident that EMI Free Loan from LoanTap is a complete winner:
| | | |
| --- | --- | --- |
| | Your Regular Bank Loan | EMI Free loan from LoanTap |
| Loan amount | Rs 1,00,000 | Rs 1,00,000 |
| Monthly Instalment / Minimum Payment | Rs 2327 | Rs 1500 |
| Tenure | 36-48 months | up to 5 years |
| Lock-in Period | 12 months | none |
| Foreclosure Charges | 4% after the lock-in | zero after six months |
| Part Payment | Not allowed | After 6 months- Any value |
Table: A fair comparison from HDFC Bank Jumbo Loan/ other personal loan, ICICI Bank Loan or Citibank Loan or Axis Bank Loan 
In conclusion, EMI Free Loans from LoanTap truly mirror the millennial mindset – flexible, smart and carefree. The features it offers beat those of your regular bank loans by wide margins.
If you need a loan instantly, make a prudent choice and apply at LoanTap to get an EMI Free Loan.
Download our Instant Loan App to Apply Now: Google Playstore / Apple App Store