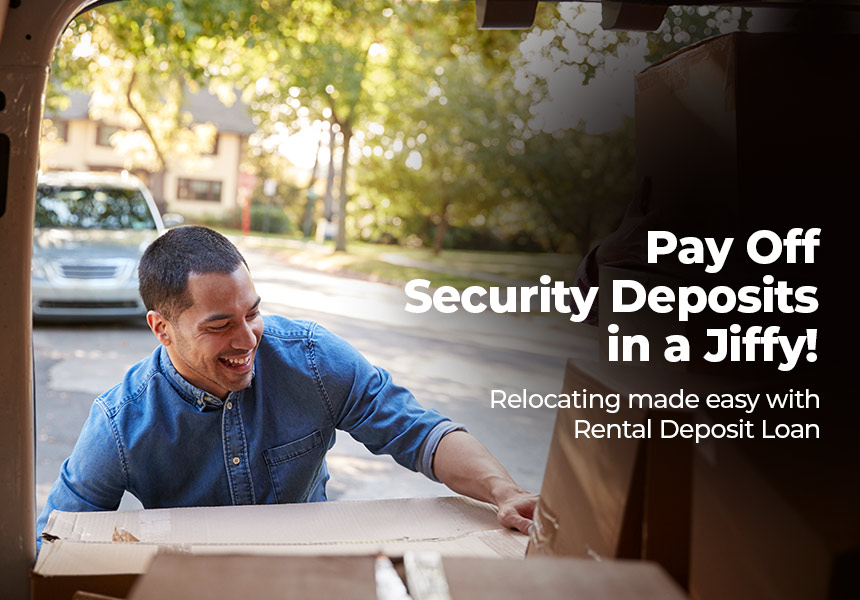 Published on : November 19, 2019
Many online lending institutions are now offering loan for rent deposit that helps borrower clear security deposit while renting a new home or flat. In this article, we will discuss the benefits of rental deposit loan scheme and how it is better than exhausting your saving.
Jacob is a digital marketing professional working with an international organization in Mumbai. Since Jacob is not originally from Mumbai, he took a 2 BHK apartment on rent for comfortable living when he shifted. However, at the time, he was oblivious of the fact that it can take him 2 hours just in commute, from and to office.
Jacob, like any other individual, would like to have a better lifestyle such as spending more time with friends and family, enjoy an evening stroll, or go for an activity sports in the morning. However, due to exorbitant rent along with high security deposits, Jacob felt he had no choice. Security deposit, an amount that tenant pays to the landlord and it is usually a sum of 6-12 months' rent, was a bigger deterrent in renting a new apartment for him as compared to monthly rentals.
Is it possible to arrange such a big amount without having enough saving or if Jacob has the savings, should he use it towards rental deposit?
Let's find out.
What is Rental Deposit Loan? How Does it Work?
For some of the working professionals managing rental deposit may still be simple. But for those who have one or more than one dependent, the situation can become more complicated.
Digging into the savings and blocking a sum of INR 1-3 lakhs for the security deposit may not be the best thing to do as long as there's an option of choosing a Rental Deposit Loan.
A Rental Deposit Loan amount ranges from INR 50,000 to INR 5,00,000 and the tenure is usually 11 months to 33 months. However, both loan amount and tenure depend upon the lease agreement of the apartment and the lending organization. The security deposit is directly given to the landlord which upon termination of lease, is returned back to the lender. The tenant pays interest towards the principal amount, i.e., security deposit, which is 40% lower than EMI based personal loan. Once the lease is completed or the borrower vacates the home, the principal amount is returned. However, in this case, the landlord is expected to offer a declaration for the complete procedure.
How a Rental Deposit Loan Can Help You?
The rental deposit loan is extremely beneficial particularly in following cases –
If you have recently shifted to a new city and you don't have enough savings
If you have to dependant parents or other family member and you would not like to disturb your emergency funds
If you have only a portion of funds available for the deposit
Rental Deposit Loans provide flexibility and convenience to the borrower by improving the expense management structure. Additional advantages of Rental Deposit Loan are
1. Ease on pocket:
In many cities, it is easier to pay the security deposit without hampering the expense management or savings. However, most of the metro-cities demand a high security deposit of at least one year, which can amount up to INR 1 Lakh or more.
A Rental Deposit Loan can help pay your security deposit at a nominal interest rate of 1.5% per month.Since it is interest only repayment, the monthly cash outflow is reduced up to 40% as compared to EMI based regular personal loans
2. Financial ease while shifting:
When you are moving your home, it is highly likely that you need additional funding for setup. There are multiple tasks such as purchasing the furniture, utilizing plumbing services, etc. Clearing all these ancillary costs can be a huge burden and most of the time savings are exhausted to meet these necessities.
If you are taking a rental deposit loan, you can include these expenses in the loan amount itself.
Why Using Rental Deposit is Better than Exhausting Savings?
| | | |
| --- | --- | --- |
| Differentiating Factor | Rental Deposit Loan | Savings |
| High Value | Up to INR 5 Lakhs | Depends upon savings |
| Disbursal Time | Within 24-36 hours | May Take Longer, Depending on the savings instrument |
| Online Process | Available | May require multiple visits / applications |
| Processing Fee | 2% plus taxes | Exit-Loads or Early Withdrawl Penalties May Be Applied Depending on type of saving instrument |
| Interest Rate | 1.5% per month | You will lose interest which would earn on your savings |
Also, it should be noted that, in most of the cases, it is easier to repay minimum interest of rental deposit loan in instalments. But, it is not possible to create a similar saving fund in less time without external financial help. Once you exhaust your savings, you would have no funds to utilize in case of emergency.
The convenience of Rental Deposit Loans
Rental Deposit loan is a type of instant personal loan designed to ease the process of relocating within the city or across other cities. Taking a rental deposit loan online is a convenient option for individuals of all ages. All you have to do is visit LoanTap's website, check the details, and apply for the loan online. Within 24 to 36 hours, the required amount will be transferred . So, if you are considering to relocate, Rental Deposit Loan is the best option to pay off high security deposits in a jiffy!