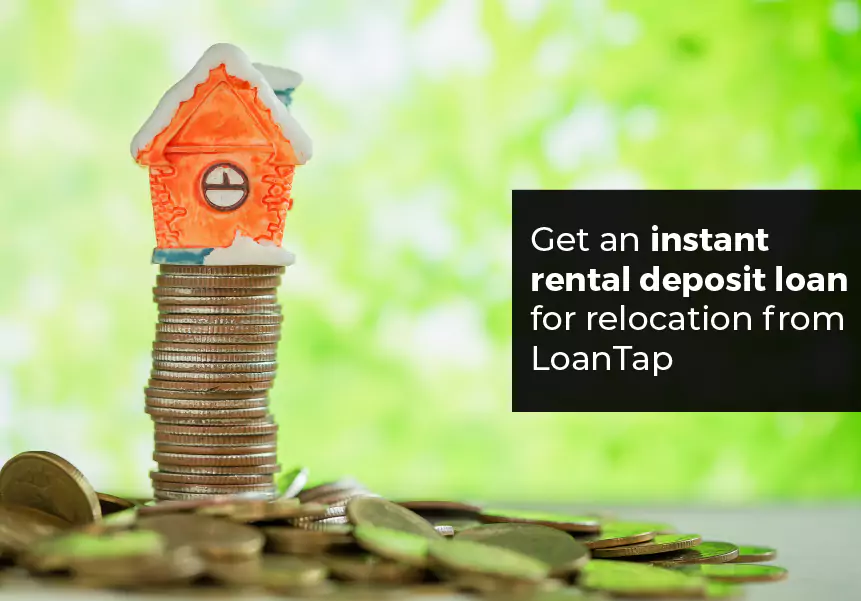 Published on : May 31, 2022
During the Pandemic, all companies switched their work from office to home. For the last two years, employees of all Private companies and institutions have been working from home. Currently, companies are calling their employees back to work as the rate of Corona cases is at an all-time low.
You may know that moving to a new location or city is exciting and tiring at the same time. You need to look out for the perfect place, set up everything from scratch, and bear the expenses.
Also, paying the rental deposit can be hectic for you – as a salaried professional. Because of location and city, the house rent might be double. The metropolitan cities such as Bangalore, Delhi, Mumbai, Chennai, and more, are expensive to live in.
A rental deposit or a security deposit for a home is hefty, even if you have savings. It can burn a hole in your pocket. You may require financial help to cover all the moving and rental costs.However, a rental deposit loan can provide the funds to gain financial stability.
By the way, what is a Rental Deposit?
When you rent a flat or house, the landlord demands an advance amount to keep as a security deposit. Usually, the amount is the sum of 2 to 11 months' rent. It can be used for maintenance ‌or other security measures during your stay.
The security deposit will be refunded in full when the renter moves out. But, make sure that the apartment should be clean and tidy before you leave. Getting a rental deposit loan will help you avoid shifting hassles and unnecessary delays.
What is Rental Deposit Loan?
House rent contracts are usually made for 11/22/33 months. A rental deposit for 3-12 months is taken by the landlord as a security deposit against the lease of the property. The Rental Deposit Loan offered by LoanTap pays this amount of security deposit directly to the landlord. The interest amount needs to be paid by the borrower on a monthly basis. At the end of the contract, the security deposit is refunded to LoanTap directly by the landlord. So, the borrower is free from the burden of paying off the principal amount on a monthly basis. The borrower needs to focus only on paying the interest amount as monthly EMI without default.
Advantages and Disadvantages of Rental Deposit Loan
Rental Deposit loans assist tenants in handling their security deposits. This type of personal loan can help with immediate funds in emergencies. Getting a Rent Loan is easy, thanks to digital platforms like LoanTap. Here are the advantages and disadvantages to consider before you apply for this security deposit loan:
Advantages:
100% Online Process: You can apply for this instant rental loan from your mobile phone or laptop. There is only one prerequisite: a good internet connection.
Cheaper than Credit Cards: No need to pay any principal on each monthly installment. It gives them the freedom to manage their monthly expenses.
Flexible Installments: Borrowers can pay back installments over a certain period‌. LoanTap will give you a choice to choose the number of payments.
Higher Loan Amount: You can choose the loan amount as per your needs. The loan amount ranges from INR 50,000 to INR 10,00,000, but it may also vary based on your financial conditions.
Lower Interest Rates: There are no hidden charges on the principal outstanding. Your interest rate will be determined by how much you borrow, your credit score, and how long you take to repay the loan.
Disadvantages:
Charge Late Fees: Borrowers who delay or fail to pay their loans on time will be charged late fees.
Need Rent Agreement: As a renter, you need to have an agreement with the landlord. It can help negotiate the loan amount and disbursed within 24 hours.
Low Credit Score: You will not get the loan if your credit score is poor. A credit score reflects your repayment history and the debts you have. Being financially unstable can cause a delay in getting the rental deposit loan approval.
How to get Rental Deposit Loan Online?
Rental loan online acts as an instant personal loan for the security deposit. You can repay it over a tenure of 11/22/33 months. This should be based on the rental agreement with the landlord. Also, this loan is beneficial for both landlord and renter. Here are the steps to apply for the rental deposit loan in India:
LoanTap offers a simple online loan application process. The first step to applying for personal loans is to meet all the eligibility criteria. So, check whether you are eligible.
Your age should be above 21 years or below 60 years.
You are an Indian citizen or resident
Your net monthly salary should be over INR 30,000/-
You must be a full-time salaried employee.
Your credit score must be 580-630 or above.
Examine your Financial Status:
After qualifying for the Rental Loan, ‌proceed further with examining your financial status. Is your monthly EMI less than 50% of your salary? Is your salary sufficient to cover the monthly payment? Did you repay all the debts? When was the last time you took a loan?
Get the Required Documents:
After meeting all the financial requirements, the next is to collect all the basic documents that are necessary for the KYC. Ensure that all the following documents are valid and updated. Otherwise, any defect in documentation can cause the rejection of your loan application.
PAN Card
Salary slips for the last three months
Bank statements of the last six months.
Residential Proof: Aadhar Card and Electricity Bill
Set the amount and tenure
Your financial status and income are good to get the loan. Also, you have collected all the documents. It is time to apply for an online security deposit loan. Go to the LoanTap website to fill out the loan amount. Your details must be accurate, as any mistake can delay the loan processing.
You can set the loan amount as much as your urgent financial needs. Next, select the repayment tenure to pay back the loan comfortably. Before applying, you can use LoanTap's Personal Loan EMI calculator to know the monthly instalments.
While filling out the application, you need to upload the document for KYC verification. The documentation should be original. Wait till the verification process is done.
We will disburse the loan within 24 hours of completing the KYC. As soon as the loan credit amount to your bank account, there is no limit to how many transactions you can make.
Wrapping Up!
A rental deposit loan is useful when you need money to pay a broker or a landlord as a security deposit. The tenant requires it before renting an apartment. It is a very useful product, especially in expensive cities where the rental deposit is over 6 months of rent. It can pinch the pockets of young professionals and this is where a rental deposit loan from LoanTap comes in handy. Download the app today!