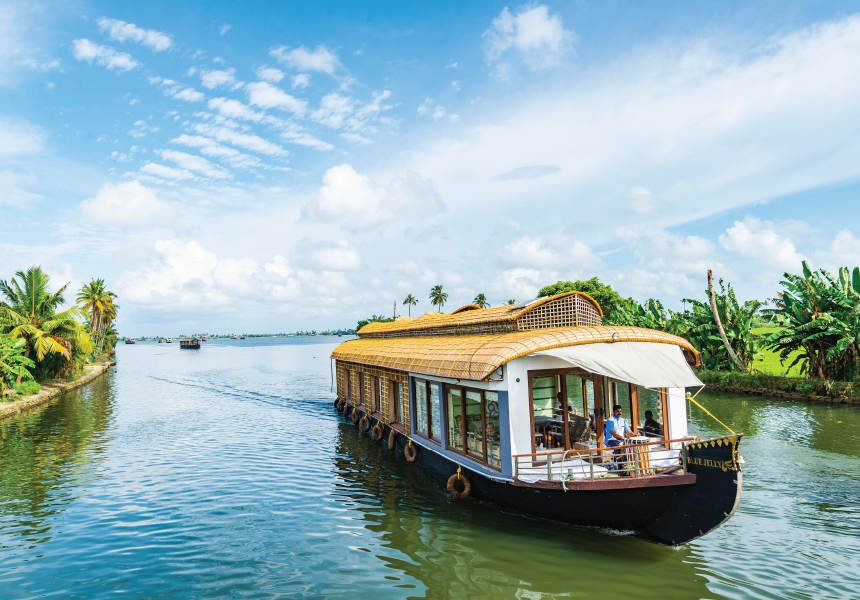 If you are a nature lover, Kerala is the perfect destination for your holiday trip. Famously known as the Spice Capital of India, Kerala has been the top tourist destination in India for couples and families. It is also a perfect place for solo travellers to spend alone time. This trip will offer you a unique and indigenous experience to cherish for a lifetime.
Kids will love to have a glimpse of the wildlife of Kerala and play on the beautiful beaches. This charismatic land will make you want to stay forever. Before packing your bags, take a look at the list of the Best tourist places to visit in Kerala.
Just go ahead and pack your bags. Book your tickets without a second thought. You think funds may be an issue. Don't worry, LoanTap will cover your expenses. LoanTap offers tailored personal loans for vacations. They are very simple to avail of. In fact, you can just download the LoanTap app on your mobile and get the loan approved in a few clicks. LoanTap offers personal loans from Rs 50,000-Rs 10,00,000 for periods ranging from six months to sixty months. Interest rates start from 18%.
What are you waiting for? Scroll on to read more about Kerala and book your tickets. LoanTap will take care of the rest.
Thekkady
Thekkady is a beautiful place in Kerala which boasts rich flora and fauna. It has the country's largest tiger reserve, known as Periyar National Park. This wildlife park is the best tourist place in Kerala and is safe to visit with kids. It offers a pleasant nature for tourists to enjoy a vacation there. Thekkady has beautiful scenic landscapes packed with cardamom, tea, and coffee plantations. You can enjoy activities like bird watching, jeep safaris, rafting, and trekking. It is also well-known for south Indian spices that add vibrant flavours to the culture of Kerala.
Best time to visit: November to May
Popular Attractions: Elephant Camp( for kids), Periyar Lake, Mullaperiyar Dam, Chellarkovil.
Alleppey
The most popular destination Alleppey is also called the ' Venice of the east. It is a hub of backwaters where you find the houseboats. In the old days, these houseboats or 'Kettuvallam' were used to carry tons of spices and rice. The modern houseboats are well-equipped with all facilities to provide a safe and comfortable stay for tourists. At Alappuzha Beach, you will witness a 140-year-old pier extending into the sea. Also, the marine products and coir industry make Alleppey stand out among all tourist places in Kerala.
Best time to visit: September to May
Popular Attractions: Alleppey Beach, Krishnapuram Palace, Punnamade lake.
Kovalam Beaches
Come and swim in the blue waters of the Arabian Sea. Kovalam beaches welcome tourists with a clean and incredible coastline. This beach town has preserved three pristine beaches, namely Lighthouse, Samudra, and Hawah. It is a home to beach resorts that provides a comfortable and enthralling stay experience. Kovalam is a beach town with a great historical story. That gained popularity back in 1970 when hippies came from Ceylon to Kerala. It is a perfectly suitable place to visit in Kerala with kids.
Best time to visit: September to May
Popular Attractions: Halcyon Castle, Rock-cut cave temple, Vizhinjam Sea Port.
Munnar
Munnar is the chilly hill station of Kerala, situated on the western coast of Kerala. It was used as the summer resort for the British during colonization. This incredible destination is best suited for families seeking a peaceful holiday time. It is the homeland of tea plantations and a spectacular spot with lush green valleys, mountains, and exotic flora & fauna. For couples, there's a beautiful pristine waterfall between the hills of Munnar, popularly known as Atukkad Waterfall.
Best time to visit: March to September
Popular Attractions: Salim Ali Bird Sanctuary, Nilgiri Tahr Sanctuary, Eravikulam National Park ( for kids), Lakkam Waterfalls, and Echo point.
Wayanad
Wayanad is referred to as a heaven on Earth. It is a breathtaking destination covered in untouched woods, misty mountains, and lush green plantations. It is famously known as the Spice Garden of India, where you witness the different spice plantations, including cardamom, black pepper, fenugreek, black cumin, and much more. Wayanad is famous for trekking, mountaineering, trekking, and rock climbing. This finest city offers you a chance to explore the rich heritage and scenic landscapes.
Best time to visit: October to May
Popular Attractions: Banasura Dam, Edakkal Caves, Chembra Peak, Thirunelli Temple, and Karinthandan Temple.
Kochi
Kochi ( also known as Cochin) was built in the 19th century by the British Raj for foreign trading. It is one of the top three destinations to visit in India for a relaxing holiday vacation. It boasts ancient temples, a Kathakali centre, art galleries, and the finest dining restaurants. You can experience both the traditional and modern vibes of the city. Kochi beaches soothe the nerves of the backpackers sailing with the cool winds from the sea. With kids, you must visit Wonderla Amusement Park in Kochi.
Best time to visit: October to May
Popular Attractions: Fort Kochi, Mattancherry Palace, Chinese Fishing Nets.
Vagamon
Vagamon is the offbeat hill station for people seeking peace and serenity. It is one of the best places to visit in Kerala in January, where you can spend your weekend away from any hustle and bustle. This human-made town offers you a chance to experience the beautiful green valleys and gardens. You can release the stress by walking through the dense Pine forest in Vagamon.
Best time to visit: August to May
Popular Attractions: Vagamon Lake, Thangal Hill, Murugan Hill
Kuttanad
Kuttanad is farmland cited as 'God's own country' in Kerala. This scenic place is situated at the heart of the Alappuzha District in Kerala and is famously known for its lush green paddy fields. If you want to explore the rural culture of Kerala, take a stroll down to the beautiful villages of Kuttanad. Four rivers of the Kuttanad, including Pampa, Meenachil, Achankovil, and Manimala, are attractions for both locals and outsiders.
Best time to visit: October to May
Popular Attractions: Punnamada Backwaters, Thottappally Spillway Dam
Kozhikode
Kozhikode is popular amongst tourists because of its renowned history. There's an interesting tale about this majestic destination where Vasco da Gama first landed on this land and explored Kozhikode to map the origins of the spice route. Its attractive and grandiose architecture showcases that Dutch and British ruled here. You can taste the authentic flavours of Malabar cuisine and learn about different spices.
Best time to visit: September to May
Popular Attractions: Dolphins point, Matri Dei Cathedral, Hilite Mall, The Lions Park, and Mananchira Temple
Idukki
Idukki is one of the unique places to visit in Kerala. This beautiful land had tall cliffs, lush greenery, tranquil rivers, lagoons, and cascading waterfalls that hypnotize the tourists. Indeed, it is a magnificent beauty created to refresh and rejuvenate the energy during the trip. You can stay with your family to experience a serene lifestyle away from all the hassle of city life. Idukki has three water rivers, namely Thodupuzhayar, Periyar, and Thalayar for irrigation and habitat.
Best time to visit: June to August
Popular Attractions: Idukki Arch Dam, Poonchira, Painavu, and Kulamavu Dam.
Kasargod
Kasaragod is located in the famed Western Ghats and invites you to visit unspoiled beaches. It boasts historical structures, religious sites, ritual worship like Theyyam, and art forms like Yakshagana and Gombeyaata. It is a famous tourist place for nature lovers. Explore the mesmerizing and untouched beauty for an unforgettable experience. There's no pleasing and soothing place like Kasargod.
Best time to visit: June to November
Popular Attractions: Bekal Fort, Ananthapura Lake Temple, and Madhur Temple.
Kollam
Kollam is a gem of Kerala with a rich history and unique culture. It has one of the oldest ports on the southwest coast bordering the Arabian sea. There's a story that tells how Arabs, British, Portuguese, and Dutch people tried their luck trading spices and cashews from Kollam. You will be mesmerized by the charm of Kollam that has cashew plantations, coconut palms, and a calm seashore.
Best time to visit: October to February
Popular Attractions: Aryankavu, Punalur, Karunagapally, Mayyanad, Amritapuri, Pathanapuram, Palaruvi Waterfalls, Shenduruny Wildlife Sanctuary, and Ashtamudi Lake.
Many popular tourist places in Kerala that you shouldn't miss. Kerala is the heaven on earth with a rich ecosystem, lush greens, and traditions. Now, you want to enjoy Kerala sightseeings and have fun with family or friends. Check out the budget-friendly packages to plan your Kerala trip.
Best Kerala Packages for Family/Friends Trip
| | | | |
| --- | --- | --- | --- |
| Trip Packages | Duration | Inclusions | Price( per adult) |
| Gateway to Kerala Family Package | 3 Night/4 Days | Accommodation, sightseeing, meals, and transfers. | INR 9,990 |
| Weekend Special Package | 2 Nights/ 3 Days | Accommodation, meals, sightseeing, flights, transfers. | INR 12,450 |
| Kerala Luxurious Package | 4 nights/ 5 days | Accommodation, flights, cab transfer, sightseeing, meals. | INR 15,990 |
| Kerala Houseboat Stay Package | 4 days/ 5 Nights | Hotels, sightseeing, meals, and transfers, | INR 21,500 |
| Kerala Family Tour Package | 5 nights/6 Days | Accommodation, flights, cab transfer, sightseeing, meals. | INR 14,300 |
Once you finalise your Kerala tour package, you should book your tickets. Youmay consider applying for a LoanTap Holiday loan.
Who is eligible for a personal loan?
Anybody who is an Indian citizen or resident over the age of 21 years and earning a net monthly income of over Rs 30,000 is eligible to apply for a personal loan at LoanTap.
What is the procedure to apply for a personal loan?
You can visit the LoanTap website or download the application on your mobile. You will need to fill in the online application with the required information and upload the following documents –
PAN Card
Aadhaar Card
Salary slips of the last three months
Bank statements of the last six months
The LoanTap team will evaluate your application. If you have a decent credit score and meet the other parameters, your loan will be approved and cash will be credited to your account. The entire process can be completed in 24 hours.
You can use the Personal Loan EMI calculator to decide on the ideal EMI by adjusting the tenure. If you come into surplus finds you can even foreclose the loan after six months without any prepayment penalty.
LoanTap encourages you to make your dreams a reality. With LoanTap personal loans, you need not defer your plans to the future. You can enjoy everything you want in the present. Whatever your financial need, LoanTap is just a few clicks away.
instant holiday loan, holiday travel loan
Are you planning a fun trip to Kerala? Do you want to enjoy a month-long break with family, relax on the beaches, or enjoy the ayurvedic massages and spas? Are you worried about how to foot the cost of the vacation?
Don't be pulled down by the costs of the vacation. There is no need to dip into your savings or liquidate your investments. You can just avail of an instant holiday loan and enjoy your vacation.
LoanTap offers holiday travel loans from Rs 50,000- Rs 10,00,000 for periods ranging from six months to five years with an wiinterest rates starting from 18%. It works out cheaper than plastic which charges 30-36% annually.
You can pay off the loan in convenient instalments over the agreed tenure and can even foreclose the loan after six months without any prepayment penalty.
If you are over 21 years of age, earn a net monthly income of over Rs 30000 and have a credit score of 680-730, you can apply for a holiday travel loan from LoanTap.
All you need to do is download the LoanTap app and fill out an online application. You will need to upload the supporting documents or hand over the documents to the LoanTap representatives.LoanTap provides loans in several cities in India including Delhi, Mumbai, Chennai, Bangalore, Pune, Kolkata, Noida, Vadodara, Coimbatore, Bhopal, Jaipur, Lucknow, Ahmedabad, Bhubaneswar, Indore and more.
Getting out of the vicious cycle of a monotonous routine is important for everyone. Don't put it off for another day. Go off to Kerala for a rejuvenating vacation and you will come back reenergized.
LoanTap can be your best buddy if you ever need a holiday travel loan. It will make life simpler as you don't need to use up your savings or contingency fund.
Go ahead, take an instant holiday loan and fund your vacation to Kerala, God's own country. Your family will love you for it.