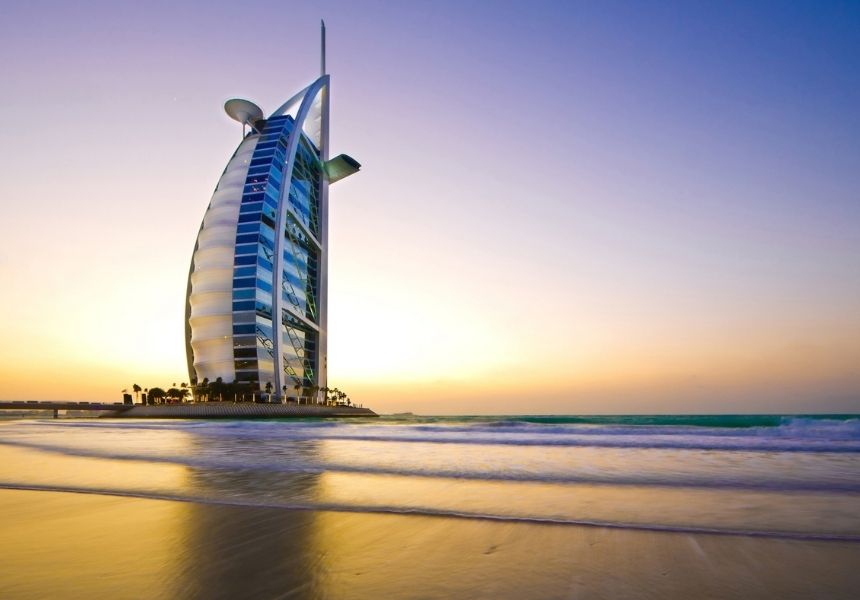 Are you planning to go to Dubai to experience the glitz and glamour? But, your Dubai trip is still on your wishlist. If you do not have much financial scope to enjoy the luxurious tour to Dubai, never lose hope. Loantap brings you a way to live your dream by giving a loan in 24 hours for an exotic Dubai trip. You will also get the best holiday packages at the lowest interest rates. Before going on your first trip to Dubai, you should know about Dubai and the best things you can do there.
About Dubai
Dubai is most famous for leisure and business, a world-class destination packed with skyscrapers and shopping malls. In Dubai, you will get the best of everything. It is the perfect example of modernity and tradition. The main attraction is the spectacular desert around the shimmering oasis. It is the best destination to taste the multi-cuisines, both sweet and spicy, from the street stalls and side restaurants. To know what you can do during your Dubai holiday trip, we have put together the top 15 things to do in Dubai.
Best things to do in Dubai
Dubai Mall
Dubai Mall is the largest shopping mall in the whole world. It attracts almost hundreds of millions of people every year. It is so easy to lose a full day in checking out the 1200 stores and entertainment facilities such as movie theatres, kid-friendly arcades, Ice rings, etc. After all, it is a perfect place to beat the heat of Dubai and ogle at the imported and middle-eastern items.
Jumeirah Beach
If you are looking for laid-back vibes in Dubai, go to Jumeirah Public Beach. Here, people come to enjoy sunbathing on this lively shoreline and take part in water sports to have fun in the calm and turquoise waves of the Persian Gulf. Jumeirah Beach is always packed with people from different parts of the world, where they enjoy the neat and clean white sand, children play with sand, and some come for barbecue picnics. During hot summer, you can cool down in the cafes and feel refreshed.
Ski Dubai ( Activity)
Even though Dubai city is sizzling with high temperatures, this massive indoor wonderland remains Ice cold throughout the year. Indoor Ski is the third largest indoor ski center with a freestyle snowboard zone, ski runs, a room for toboggan runs, and entertainment with snowball fights. You can have fun and enjoy the rides by visiting the penguin colony.
Burj Khalifa
Burj Khalifa is the attractive gem of Dubai that holds the record of the tallest building in the world. You can go to the top floor of the tallest free-standing structure to take a breathtaking view of the entire city. There are special telescopes available to see the city through the different points in time and experience the thrill from the topmost 160th floor. It does cost you some money for pre-booking to be on top of the world.
Gold and Spice Souks
If you are curious about how Dubai commerce land looks like, take a stroll in the city's traditional souks or bazaars. If you are interested in gold, you should see the Gold souk located on Dubai Creek's South Bank. These bazaars are filled with glamorous and glittering jewelry on the displays. These Souks also sell diamonds, silver, and platinum items. On the other side of the creek, the spice souks lie where traders and vendors come from around the globe to get spices at lower prices.
Dubai Museum
Experience the history of Dubai by visiting the Dubai Museum sitting near the Bastakiya Quarter. It offers a glimpse of what this monumental city used to look like and how it changed in a couple of decades. This museum has been built to surprise the world with Dubai's history, culture, and geographical facts.
Jumeirah Mosque
Jumeirah Mosque was made beautifully as a white facade that graces the 500-dirham note, and also its architecture mimics the medieval Fatimid period. Here, Non-muslims tourists are invited to visit the marvelous look of mosque decor, featured with detailed painted panels against blue and yellow backgrounds. But, you should be in modest dress – like long sleeves pants, and shirts to enter the Mosque.
Global Village
A massive theme park in Dubai, well-known as Global Village, features all the world's best attractions and tourist places. It is a kid-friendly theme park where you can go riding, dining, and sometimes concerts, all happening between November and May. It is built on the outskirts of Dubai for entertainment and to do global shopping. On your Dubai trip, Global Village is worth a visit.
Wali Wadi Waterpark
The Wali Wadi Waterpark is modeled after Juha inspired by a character mostly referred to in Arabian folklore. It has a collection of 30 water rides and play areas designed especially for all ages. If you are looking for a thriller, go for tantrum alley or Burj Surj. If you want to relax, go and glide down into the lazy river. It will stimulate the fun in your holiday trip.
Burj AL Arab
Burj AL Arab is a stunning building, standing tall on the shoreline, between Jumeirah Beach and the Palm Islands. Carved from glass and modeled as a world-class hotel built on a man-made island. This 600 feet high building is one of the tallest hotels in the world. It includes amenities like revolving beds in suites, a helipad, and complimentary Rolls Royce service.
Skydive Dubai
If you are a thrill-seeker traveller not afraid of heights, skydiving is the best activity for you to do. You will have the experience of free-falling at the speed of 120 miles per hour. Beginners can jump in tandem with professional and experienced skydivers. But licensed divers can go solo.
Desert Safari in Dubai
Try out the most popular Desert Safari in Dubai – Evening Desert Safari for enjoying the desert and witnessing the beautiful sunset. With this, you get the chance to be part of the Arabian entertainment show with a barbecue dinner. You can go for an overnight desert safari to spend the night under the stars and get the whole starlight camping experience.
Flying Falcons by Balloon
Looking for a private adventure, flying with Falcons is perfect for you. There will only be two people in the balloon, one is you, and the other is the pilot, a balloonist and falcon handler. The aerial views of the golden desert will overwhelm you and become an unforgettable memory for the rest of your life. It can be a romantic tour with a loved one.
Dubai Creek Ride
Try to ride an abra or traditional wooden boat to experience the life of Dubai in the most low-key way. These boats are available on either side of the Dubai Creek and can carry 20 people at a time. Even locals use the boats to avoid the traffic. It is a cheap way to enjoy the night view of Dubai.
Dubai offers beautiful beaches and endless options to have fun. It is also home to the best hotels in the world. Here, You can check a few Dubai tour packages that include exciting sightseeing trips at reasonable prices.
Best Holiday Packages for Dubai
| | | | |
| --- | --- | --- | --- |
| Package Name | Duration | Inclusion | Price ( per adult) |
| Dazzling Dubai | 3 Nights/4days | Meals, hotels, transfers, sightseeing | Starting Price – INR 25,990/- |
| Dubai holiday | 4 Nights/ 5 days | Meals, hotels, transfers, sightseeing | Starting Price – INR 31,000/- |
| Dubai with Abu Dhabi | 5 nights/ 6 days | Meals, hotels, transfers, sightseeing | Starting Price- INR 45,500 |
| Dubai family special | 6 days/5 nights | Meals, hotels, transfers, sightseeing | Starting Price, INR 63,415 |
| Dubai Luxury Package | 4 days/3 nights | Meals, up to 5-star hotels, transfers, sightseeing | Starting Price, INR 72,000 |
Now that your mind's made up on taking that dream trip to Dubai, let a shortage of funds not put a spanner in the works.
You can always get an instant personal loan from LoanTap.
What is a personal loan?
A personal loan is an unsecured loan that can be taken for any purpose without collateral.
How to get personal loan?
The first step is to confirm your eligibility to get a personal loan. If you are an Indian citizen or resident over the age of 21 years and earning a net personal income of over Rs 30000 per month, you can get a personal loan.
What should I do for personal loan application?
You need to visit the LoanTap website and fill in a personal loan application form. You will need to upload the following documents-
PAN Card
Aadhaar Card
Salary slips for the last three months
Bank statements for the last six months
Now you can wait while the LoanTap team evaluates your personal loan application.If you have a decent credit score and your papers meet the requirements, your loan will be approved and cash credited to your account within 24 hours.
You can choose a convenient repayment option to pay your EMIs. LoanTap offers Rs 50000- Rs 10,00,000 for time frames from six months to five years. Interest rates start from 18%p.a.
You can select the tenure of your quick holiday personal loan to make sure your EMI is comfortable for you. If you repay your loan after six months, you don't need to pay any prepayment penalty.
LoanTap understands your dreams and aspirations and helps you to make them a reality. Go ahead, book your tickets and get ready for your dream vacation in Dubai. Whenever you need funds, remember LoanTap is just a few clicks away.
The restrictions have been lifted and you want to finally get away from it all with your family. You are planning a fortnight-long holiday trip to Dubai. There is a catch. You look at the total cost of the trip and get blown away. You don't want to use up all your savings but you don't want to defer your trip either. What do you do?
Here is where LoanTap can jump in and be our savior and offer you a holiday loan. You can get an instant holiday loan within 24 hours that will fund your trip and you can repay the amount in convenient installments over the agreed tenure.
Sounds good, doesn't it? It is far better than swiping your piece of plastic and paying interest at 2.5-3% per month. Holiday Loans from LoanTap start at a more sedate 18% per annum. You can get a loan from Rs 50,000 – Rs 10,00,000 for tenures ranging from 6 months to 5 years.
You can download the LoanTap app and fill out an online application. You will need to upload the mandatory supporting documents. LoanTap provides loans in several cities in India including Delhi, Mumbai, Chennai, Bangalore, Pune, Kolkata, Noida, Vadodara, Coimbatore, Bhopal, Jaipur, Lucknow, Ahmedabad, Bhubaneswar, Indore and more. So, they can send representatives to collect the documents from your place.
If you are over 21, have a net monthly income of over Rs 30,000 and a credit score of at least between 680-730, you can just reach out to LoanTap and solve your funding issues in a jiffy. You can foreclose the loan after 6 months without any prepayment penalty.
So what are you waiting for? Just go ahead and apply for the instant holiday loan and get away from the madness of routine life.