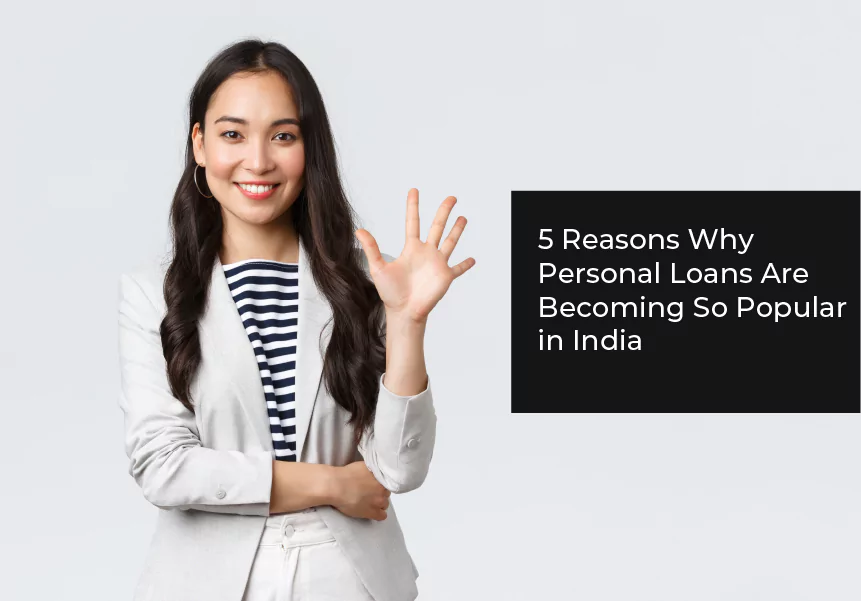 Published on : July 13, 2022
Leading a comfortable lifestyle is a struggle for salaried individuals with rising costs. Managing aspirations without burning a hole in the savings becomes a growing challenge. Instant personal loans offered by Fintech come to the rescue under such circumstances as they help to bridge fund shortage needs in the short run. Being quick, efficient and collateral-free, personal loans have become a hit with the population as it helps in fast resolution of immediate financial needs.
A personal loan is the best way to get the immediate funds to cover expenses, such as weddings, medical emergencies, trips, expensive gifts, etc. Online lenders offer borrowers the loan amount with minimal documentation. In determining your eligibility for a personal loan, you must consider your income, credit score, and repayment history.
Millennials are seeking personal loans to finance their needs. During the past few years, the no. of loan applicants has increased. As a result, digital lenders have made personal loans more accessible for borrowers. They are collateral-free options to get the funding hassle-free.
Are you also wondering why so many people choose to avail a personal loan online? Here is the list of the top 5 reasons personal loans are becoming popular in India. Let us have a look at them.
Top 5 Reasons Why Personal Loans are popular!
Hassle-free Loan Process
In the past, getting a personal loan was a hectic task. Borrowers can go through a long process to get the loan application approval. Indian banks and lenders were also slow to provide loans. After multiple visit and long wait, the amount would be disbursed.
Using advanced technology, online lenders like LoanTap have created a platform from which borrowers can get a loan in just a few hours. Once you submit the required documents, you can complete the loan application online in five minutes. Once your loan is approved, the amount will be instantly credited to your bank account. The whole loan process is online. As a result, there is no need to visit a bank or lender. It takes care of your urgent needs as well.
Flexible Tenure
A personal loan offers you a sufficient amount to fulfil your financial needs. At LoanTap, the loan amount ranges from INR 50,000 to INR 10,00,000 with a flexible repayment period. Typically, the loan repayment tenure for instant personal loans ranges from 6 months to 60 months. You can choose flexible repayment tenure that best suits your needs.
Personal loans can be repaid comfortably with a tenure longer than 6 months without any charges. Moreover, customers can get quick personal loans at flexible terms and lower EMI to pay. The longer the tenure, the higher the interest outgo, or vice versa. Additionally, taking personal loans and making EMI repayments on schedule will improve your credit score. A longer loan tenure results in lower EMI however, demands a higher interest outgo. So, pick the repayment option carefully, as per your preferences.
Paperless Documentation
Personal loans are generally unsecured loans. So, you do not have to pledge any collateral to avail of the loan. You no longer have to go through a lot of paperwork for a loan. A personal loan is so popular because it requires only basic documentation.
Check the list of documents required to apply for a personal loan from LoanTap:
PAN card
Aadhar card / Voter ID/ Driving License as an identity proof
Bank statements for the latest six months
Pay slips for the last three months.
Affordable Interest Rates
One of the major reasons why people prefer personal loans over any other form of credit is the affordable interest rates. As a result, they do not feel burdened by higher interest rates. Currently, non-financial banking companies, such as LoanTap, provide lower interest rates start from 18% per annum.
For working professionals, it is the best financial option to get when they face any financial emergency.
No Limitations on Usage
Borrowers can use the fund for various reasons. Unlike home loan or vehicle loans, personal loans do not restrict your usage. You can fill out the personal loan application form online for any expenses, such as house renovation, vacation, higher education, buying an expensive gift, etc.
Also, no Bank or NBFC will investigate where you have spent the money and for what purpose. There are no restrictions on usage and transactions of the loan amount. Make sure that purpose of your borrowing is legitimate.
Why choose LoanTap for Personal Loans?
Many lenders and banks promise to provide personal loans with a lot of advantages. However, there is no guarantee that you will get the best deals and interest rates. LoanTap offers personal loans with interest rates starting at 18% per annum.
LoanTap makes personal loans accessible through the website or app. So, you can apply for a loan at your fingertips. All you need to do is go to the website, click the Apply Now button, and enter your details. After that, you can upload the required documents for the KYC process. The loan will be disbursed within 24-36 hours seamlessly. Also, you can set the loan amount and tenure according to your financial capacity. Calculate your monthly payment using the Personal Loan EMI calculator if you are unsure of what tenure to choose.
End Notes
Personal loans become a preferred financial product for millennials during a financial crisis. With the growing needs of an average citizen, we must cater to the customer expectations and requirements. Don't wait any longer to get the loan? Check your eligibility here and get the most popular loan in India. For more details, you can click on this link: https://loantap.in/personal-loan/.