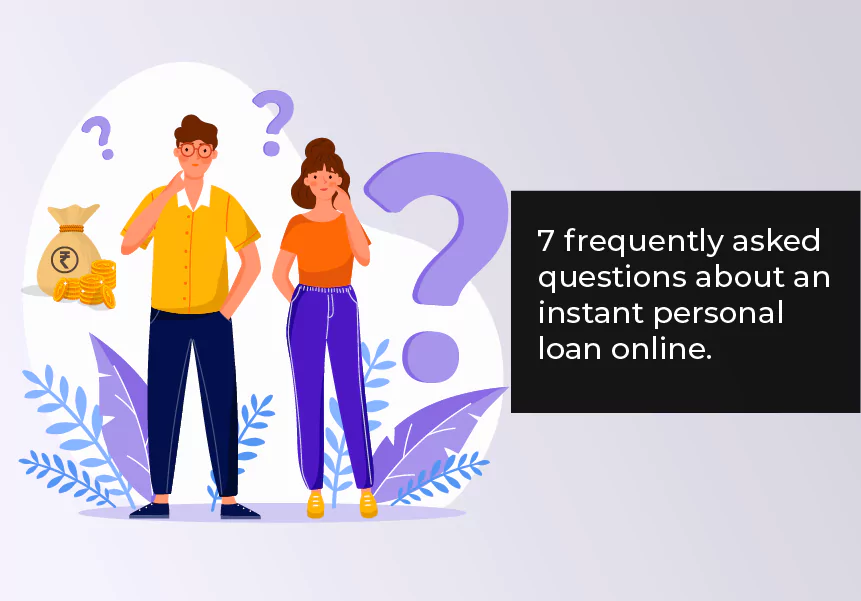 Published on : June 24, 2022
A personal loan can be a saviour when need emergency funds. It is an affordable way for working professionals, self-employed, freelancers, and business owners to cover their expenses. Personal Loans will provide you with instant cash in your hands. It is a convenient way to avail of funds pledging no security against the loan amount.
Taking a loan is also an easier task to do. With digitalization, banks and NBFCs are offering personal loans online hassle-free. Borrowers can get the immediate loan amount in just a few hours. The process can be completed from the comfort of your home. You need a few basic documents to get the approval for the loan instantly.
Now, you understand that a quick personal loan can be the right financial product to choose in emergencies. Every expense becomes easier to tackle for individuals. However, before applying for a personal loan, ask these seven questions about an instant personal online loan.
7 Questions to Ask before taking an Instant Personal Loan
1. What is the loan amount I can avail?
The loan amount depends on your needs, income, and credibility. So, it is important to determine how much amount you require to assess your financial need. Whatever amount you are looking for, make sure that you can comfortably repay with your monthly income. The lesser amount you borrow, the faster and more easily you pay off. You must borrow what you need while arranging the rest from own sources. You can use an EMI calculator to work out the optimum EMI for you.
2. Am I eligible to get a personal loan online?
Now, the whole loan application process is completely online. You believe that getting a personal loan in India is an inexpensive option. But, you must meet the standard requirements to be an eligible borrower.
So, check the eligibility criteria based on age, income, citizenship, and employment. Borrowers need to meet all the eligibility requirements to get instant loan disbursal.
LoanTap offers loan products to salaried Indian residents with a minimum net monthly income of Rs. 30,000. To avail of a personal loan, it also requires bank statements for the last six months and your salary slips for the last three months.
3. What do I require in order to apply for an easy personal loan?
You need proper documents while filling out the loan application. One of the biggest advantages is that a personal loan from LoanTap requires minimal documentation. So, it creates a seamless experience for borrowers and lenders. For instance, a personal loan requires the following documents, including a PAN Card, Aadhar Card, Residential Proof, and Payslips for the last three months, to verify the loan application. Click here to know the required documents for personal loans.
4. Do I have a good credit score?
It is an essential factor to get faster disbursal. Mostly, borrowers forget to maintain their credit score, which further affects the loan approval process. Why is a credit score important for loan approval? It reflects the ability of an individual to repay the loan. A decent credit score ensures ‌you get the fastest approval for the personal loan. You can work to improve your credit status if it doesn't meet the lender's standard. At LoanTap, you should have at least a 580-630 CIBIL score to be considered for an instant personal loan.
5. Can a personal loan affect a credit score?
Personal Loans with lower interest rates help to improve your credit score. If you take a loan, it becomes essential to make repayments on time over the decided tenure. It may affect your credit score if you cannot repay the loan amount on the set repayment schedule. So, apply for personal loans when you are confident to make payments on a timely basis. LoanTap offers flexible repayment options so that borrowers do not miss a payment. Also, individuals can select a tenure period as per their financial capacity.
6. How much interest do I have to pay on the loan?
Interest rates for an urgent personal loan vary depending on your credit score. If you have a high credit score, interest rates will be lower. With LoanTap, you will get quick business loans at reasonable interest rates. That's why interest rates are the most critical factor in deciding the affordability of a personal loan with EMI.
7. How much EMI can I afford?
The loan tenures and installments affect your monthly budget. So, select the EMI or monthly installments based on your salary and eligibility. EMI is the sum of interest rate and principal outstanding. Higher EMI can add extra to your monthly expenses. Be sure that it should not exceed 50% of your net monthly income. You can use an EMI calculator to find out the monthly instalments.
Why Should You Choose LoanTap as your Loan Provider?
LoanTap understands customers' requirements and provides financial solutions suitable to their goals. There are several benefits of choosing LoanTap as your loan provider. Go through the list of advantages to consider:
Interest Rates: LoanTap can help you save your money. We provide urgent loans at an annual interest rate starting at 18%. It may vary slightly as per your credit history.
Processing Fee – We will charge no hidden fee or cost while processing the loan. Only a small fee of 2% with GST applies to the loan amount of Rs. 50,000 or above.
Loan Amount- Borrowers can choose any amount between INR 50,000 – INR 10,00,000. Enter any amount to cover unplanned expenses, including medical bills, weddings, travel, etc.
Tax Benefit: Personal loans are short-term loans. So, borrowers will get charged no taxes on the loan amount. You can get tax benefits if you take a personal loan for home renovation.
Guide to getting a Personal Loan from LoanTap
Your loan application is processed efficiently, quickly, and seamlessly through LoanTap. A good internet connection and a smart phone can help you ‌get the loan in just a few minutes. Follow this step-by-step process for getting a loan:
Step 1: Log in to the website or download the LoanTap app. Complete the application with your personal, financial, and employment information.
Step 2: Select a loan amount and a tenure based on your income and ability to repay the monthly instalments.
Step 3: Submit the required documents online or to LoanTap's representative via email.
Step 4: Your bank account will receive the funds within 24 – 36 hours after we have approved your loan application.
After getting the loan, you can spend the money wherever you want. There is no limit or charge on transactions. But, make sure that you repay the loan on the decided repayment date. It can help improve your credit score and also maintain your financial portfolio.
Final Thoughts
Keep in mind all these questions while choosing any lender or LoanTap as your lender. We will serve you with the best financial solutions. In the end, the purpose of a personal loan is to fulfil your needs. If you have ‌other queries regarding personal loans that haven't been addressed above, please mention them in the comment section.