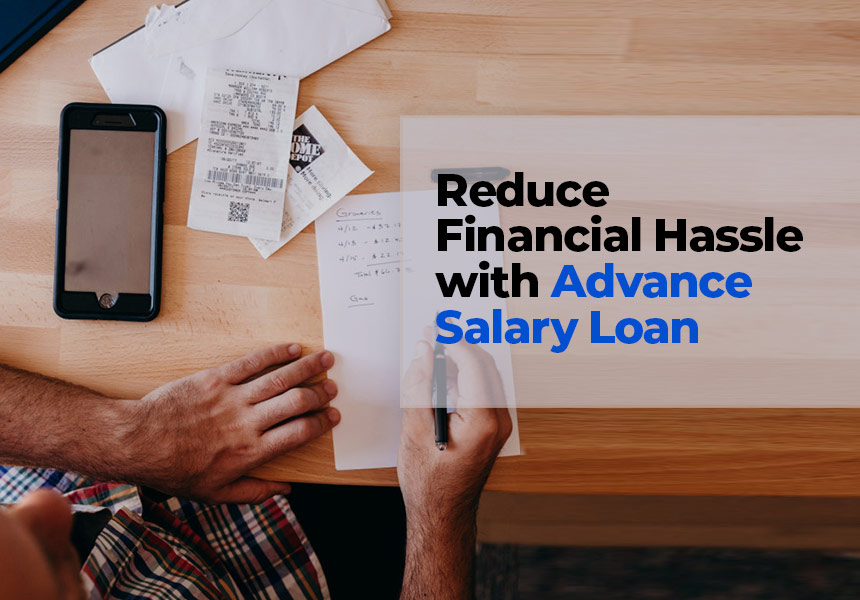 Published on : November 16, 2019
With sky-rocketing costs of commodities and essential supplies, in most of the cases, it is difficult to manage unforeseen expenses at end of the month. Especially for professionals who work in a city different than their hometown have general household expense, pay rent and have multiple facets to take care of, in addition to expenses related to personal lifestyle choices. They may come across many such situations wherein they need cash for short term – and hence, may choose to take help from family or friends or altogether take a different route and apply for a personal loan from the bank. This loan is often a long-term loan with not so favourable terms, while the requirement could be short-term. So, how to handle a situation like this?
Advance salary loans are simple unsecured personal loans taken for a shorter duration. You can pay the amount back in fixed instalments from your salary in a short duration. The credit assessment process for such loans are faster and hence, loan is disbursed within few hours. In addition, application procedure is hassle-free, online and is specially offered by digital NBFCs or lenders.
In What Situations Can You Utilize an Advance Salary Loan?
Personal loans and advance salary loans have several use-cases. We have explained some below. Analyse to understand when can you take an advance salary loan and how a general personal loan differs from salary advance loan.
1. Medical Expenses
If you have a lot of medical expenses due to some emergency or health condition, Advance Salary Loan can help you clear the dues instantly. You can repay the loan amount in EMI next 3 to 12 months' instalments.
2. Home/Car Repair
When you are facing trouble during emergency home repair, an Advance Salary Loan can instantly offer help. For example, if you have recently discovered extensive termite damage, leaking roof, or damage to the car that insurance does not cover, you got to fix it quickly. When you don't have enough funds to complete these repairs, you can take Advance Salary Loan for the short span.
3. Academic expense / School fees
Most Educational institutes demand payment of school fees on a quarterly or half yearly basis. Along with the school fees comes the expenses of books, canteen fees, uniforms, coaching fees and so on. This can get very straining on the pockets especially when you have your monthly expenses and fixed obligations lined up. With a Salary Advance you can meet the academic requirements of your children without straining your pockets! 
4. New Gadgets / Upgrades
Sometimes, we know we need to save first to buy an expensive product such as an expensive wrist watch or the car accessory that we are eyeing for long. How long would one like to wait when one can receive 2.5 times their salary and repay in form of EMIs from next 3-6 month's salary.
In situations like these, you may take an advance salary loan to meet your instant money requirements. You can adjust the loan amount and structure according to your requirements and monthly salary/income. The major difference between an EMI based Personal Loan or Advance Salary Loan is that of duration of loan and the overall loan amount.
Why Choose Advance Salary Loan From LoanTap
LoanTap offers customer friendly Advance Salary Loans. Let's see how you can receive an excellent deal with LoanTap.
1. Instant Cash Loan – 2.5 Times Your Monthly Salary
You can receive a salary advance of the amount 2.5 times your monthly salary ranging from Rs 25,000-Rs 1,00,000. You can take this loan for the duration of 3 – 12 months.
2. Quick Disbursal
Since our paperwork is minimal, you can get the loan amount in your account in 24 hours. You don't have to pay us multiple visits or go through a lot of hassle. We make this experience seamless through our personal loan app for you.
3. Transparent Process
We upfront state all details of the procedure, which also means that the entire process is transparent. Nothing stays hidden from the customer – no hidden charges and terms.
4. Low Interest Rate
You may be wondering that since we offer loans for short duration, our interest rates may be high. However, we charge a nominal rate of 2.5% every month. This rate is fixed and factors like credit history, salary or loan amount has no impact on this interest rate.
5. Customer Service
Our customer service helps our customer through right choice of product, understanding of processes and thereby, be aware of all steps post their loan application.
Hence, Salary Advance helps you with a quick short term loan and with online application, minimum paperwork and reliable terms of the loan, you can rely on LoanTap for all your emergency financial needs.