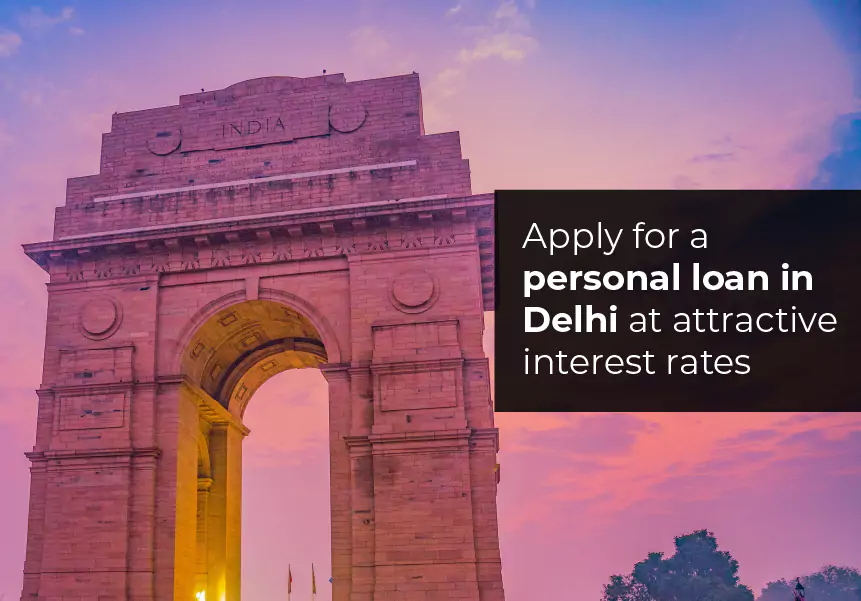 Published on : September 18, 2021
Delhi, being the national capital of India, is a high priced city to live in. As a young professional in Delhi, you may have several expenses to cope with. It could be an electric vehicle, a home rental deposit, a down payment for a home or a hair transplant.
Any of these expenses can burn a hole in your pocket. However, that doesn't mean you stop dreaming or spending! No, not at all. You just find the most convenient and prudent way to do it.
You may be very tempted to swipe your piece of plastic but you should put it away since credit card outstanding balances carry interest as high as 36% on an annualized basis.
Instead, you should explore the world of personal loans, a product designed and tailored to suit the needs of young salaried professionals or upcoming entrepreneurs. A financial need can be easily covered through a personal loan.
What is a personal loan?
A personal loan is essentially an unsecured loan that can be used for a variety of purposes as long as they are legal. This means that you do not have to pledge any assets to get the loan. This feature makes this product extremely popular among youngsters who are just starting out and have not accumulated assets.
How can I avail a personal loan in Delhi?
Getting a personal loan in Delhi is very simple. Before you apply for a personal loan, you need to check if you are eligible for it. You are considered eligible to apply for personal loan if you are
An Indian citizen or resident
Over 21 years of age
Earning over Rs 30,000 per month
What is the LoanTap advantage?
LoanTap offers a very easy and convenient way to get personal loans online. They offer tailored personal loans from Rs 50,000- Rs 10,00,000 for tenures ranging from six months to five years. Interest loans start from 18% per annum. You can choose from a range of convenient repayment options. You can choose from an interest-only EMI or a step-up EMI or term or other flexible repayment option. After you service the personal loan for six months, you are free to prepay the loan without any penalty. What are you waiting for? Let us figure out how to apply for a personal loan in Delhi.
What is the procedure to apply for a personal loan in Delhi?
Step 1 – Visit the Loan ap website and identify the personal loan that best suits your requirements
Step 2 – Fill up the online application and upload the following documents –
PAN Card
Aadhaar Card/Passport/Driving Licence
Salary slips or Income statements for the last three months
Bank statement of the salary /income account for the last six months
Step 3- The LoanTap team will assess your application based on your documents and the details provided. Your credit score will be evaluated. If everything is in order, your loan application will be approved. The loan will be disbursed and credited to your account within 24-36 hours.
What are the favourable factors for getting a personal loan in Delhi?
Good credit score
Good job stability
Reputation of employer
No other existing debts
Good credit score
Your credit history starts getting generated once you have generated six months of activity. Your credit score is a numerical summary of your credit history. Your credit utilisation should not be in excess of 30% of your available limit. It is a number in the range of 300-900 with 300 being the lowest and 900 the highest. A score of 750 is considered extremely good and can help you get your loan approved in 95% of cases.
Good job stability
If you are holding a good, stable job, you stand a better chance of getting your personal loan approved. The lender evaluates your repayment capacity and a good job will be a plus in your favour.
Reputation of employer
Lenders attach value to the reputation of your employer when they gauge your debt repayment capacity. An employee of a government organisation or a blue-chip company has a higher chance of getting a personal loan approved compared to an employee of a little known company. Working in a reputed company improves your odds of getting a personal loan. Since a personal loan is an unsecured loan, you cannot blame the lender for exercising caution and going with safe and known names.
No other existing debts
If you are already servicing other debts as reflected in your bank statement, you may find it difficult to get a personal loan except for debt consolidation. You cannot spend more than 50% of your net salary on your EMIs and the lender will definitely take this point into account while evaluating your loan application.
If you are a salaried employee or a budding entrepreneur living in Delhi and looking for a quick and easy personal loan to meet a dream expense or handle an emergency, LoanTap should be your preferred destination. Do not give up your dreams. Give wings to them with LoanTap.