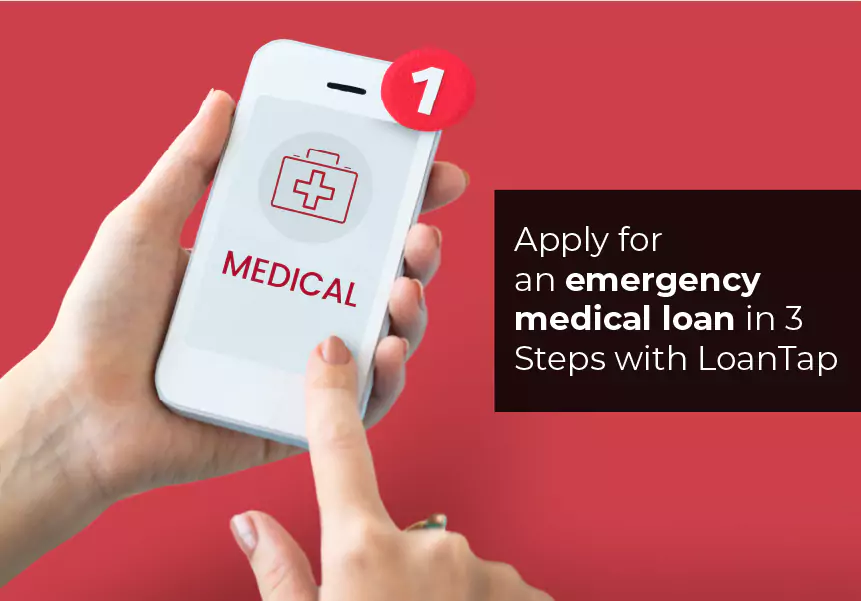 Published on : September 14, 2021
The Covid-19 pandemic has shown how emergency situations can arise when you least expect it. It leaves everyone wondering as to how to deal with emergencies. Not everyone is prudent enough to have an insurance policy that would cover the expenses or lucky enough to have an employer who covers all medical expenses. People depended on their savings, their relatives and friends to bail them out. This pandemic was an eye opener for many youngsters. They realised the importance of being prepared for a crisis by way of funds as well as by way of awareness about the best financing options available at short notice.
This is where the personal loan option comes in as the knight in shining armour. Let us understand how a personal loan can help in a medical emergency. Before that, let us understand the features of a personal loan.
What is a personal loan?
A personal loan is a versatile unsecured loan that can be availed of for any legal purpose. Since it requires no collateral, it can be really useful in case of an emergency like a medical need. This is one of the reasons why personal loans have become very popular among youngsters.
What are the features of a personal loan from LoanTap?
LoanTap offers personal loans in the range of Rs 50,000- Rs 10,00,000 for durations ranging from six months to 60 months. Annual interest rates start at 18%.
No collateral needed – You do not need to provide any collateral for availing of the loan.
Quick processing – Personal loans are processed within 24-36 hours of filling the online application.
Minimum paperwork required – Since the process is completely online, you need to fill the form and upload the documents. There is no need for any manual paperwork.
No prepayment penalty after 6 months – If you choose to foreclose the loan after servicing it for 6 months, you do not need to pay any prepayment penalty.
Flexible repayment plans – Various repayment plans are available for ease of repayment through convenient EMIs. For an emergency medical loan you can get an interest-only EMI option for the first three months after which the normal EMIs start.
How can you take an emergency medical loan from Loan Tap in 1….2…..3…steps?
Step 1 – Check eligibility for loan – You are eligible for a personal loan from LoanTap if you are an Indian citizen or resident over the age of 21 years and earning a monthly income of over Rs 30,000.
Step 2 – Visit the LoanTap website and fill in the online application
Step 3 – Upload the following documents –
PAN Card
Aadhaar Card
Salary slips of last three months
Bank Statement of Salary account for the last six months
Congratulations! You have successfully applied for a personal loan at LoanTap. Now the team checks your application and processes it on priority. Your mandated account will be credited within 24 hours.
LoanTap offers certain benefits when you apply for medical loan. We understand your need for funds during an emergency. LoanTap allows you to pay interest only EMIs for the first three months till things settle down. After that, you can start paying the normal EMIs. Emergency medical loans are processed on priority and disbursed within 24 hours. If you prepay the loan after 6 months, no prepayment penalty will be levied.
LoanTap is empathetic to the needs of individuals who face a fund crisis during a medical emergency. Instead of using a credit card to pay the bills and getting stuck with an expensive loan that charges 24-36% annually, you are better off being aware of personal loans and placing an application immediately. Your funds will be released within 24 hours.
So, next time you are faced with a medical emergency and fall short of funds, don't be stressed out. All you need to do is visit the LoanTap website and fill up an online application and upload the documents. The rest will happen in a jiffy and you will get access to funds within 24 hours. When you are in need, LoanTap will be a friend indeed. For all your personal loan requirements, do visit our website and we will be glad to assist you.
Related articles – How personal loans can help you fight financially against covid treatment costs?