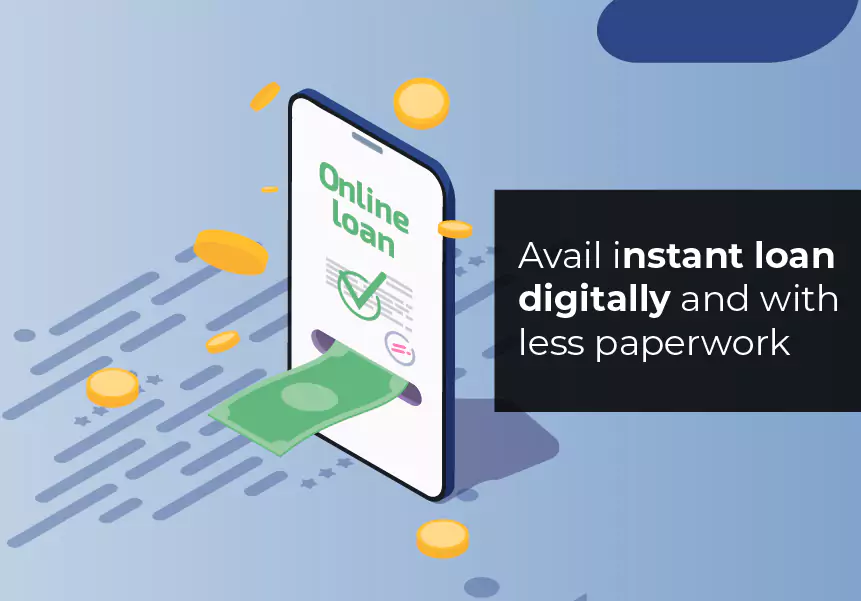 Published on : September 08, 2021
When you want funds to buy something you really want, you want a solution that is quick, convenient and easy. If you want to buy a dream gadget that is on sale and you find that the loan process involves a load of paperwork, you would probably put off the spending for later. Paperwork always deters borrowers in general and the younger generation in particular. If you have experienced the traditional loan process in a bank or NBFC in India till a couple of years ago, nobody can blame you for feeling that way. Who doesn't want an instant solution to their problems? When you are faced with a need for funds, you want it resolved as soon as possible.
Of late with fintech lenders entering the sector, the status quo has been disrupted. The rules that were applicable earlier no longer appear so daunting. Getting a loan has become as simple as buying any other product. Borrowers find getting a personal loan an extremely delightful experience. Let us understand what a personal loan is and how you can avail of it.
What is a personal loan?
A personal loan is a short term unsecured loan that can be borrowed for any legal purpose. Since it is an unsecured loan, no collateral is required. This feature makes it popular and accessible to a majority of the young population who have just started their careers and need temporary financial support during an emergency.
What is the process of getting a personal loan? Is it really that simple?
Let us look at the example of the loan taking process at LoanTap and you can decide whether it is simple or complicated.
Step 1
First of all, let us look at the eligibility criteria for application. You can apply for personal loan if –
You are an Indian citizen or resident
You are over 21 years of age
You earn a net monthly income of over Rs 30,000
If you fulfil the above criteria, congratulations! You have passed the first stage with flying colours. Now, let us look at the process of actual application. After all, the devil lies in the details.
Step 2
Now, you need to visit the LoanTap website and fill up the online application form specifying details link your name, address, the loan you want to avail, the purpose if you have decided what you want it for, the amount of loan, your employer details etc.
Step 3
This is the step that would require mountains of paperwork in a traditional loan application. Nothing of the sort at LoanTap. You just need to upload the following documents –
PAN Card
Aadhaar Card
Salary Slips for the last three months
Bank Statement for the Salary Account for last six months
Step 4
Now relax and let the LoanTap team take over. The friendly folks at LoanTap will evaluate your application, confirm your credit score and go through your documents. If you fulfil all the loan approval parameters and have a good credit score, you have a very high chance of having your loan application approved. Once the green signal is received, your loan amount is disbursed to your mandated account.
Step 5
Voila ! Within 24-36 hours of filling an online application, your loan amount is credited to your bank account. As you have observed there is no cumbersome paperwork. Only a few mandatory documents are submitted online.
LoanTap offers personal loans in the range of Rs 50,000- Rs 10,00,000 for tenures ranging from 6 months to 5 years. Annual Interest rates start at 18%. You can select a flexible repayment plan according to your convenience. You can use a personal loan EMI calculator to work out the optimum tenure which will make the EMIs affordable for you. After you service the loan for six months, you have the flexibility to prepay or foreclose all or part of the loan with no prepayment penalty.
Why are personal loans so popular?
Personal loans are popular because of a variety of reasons –
No collateral
The absence of collateral makes personal loans attractive and accessible to the younger generations when they face a sudden requirement of funds.
Cheaper than credit cards
Personal loans at 11-24% are cheaper than credit cards that charge 24-36% on the outstanding balance. Considering that personal loans are processed quickly, it makes financial sense to opt for a personal loan instead of swiping the plastic at the first sight of a crisis.
Quick processing
Personal loans are processed very quickly. You can get the loan credited within 24-36 hours of application which is rather quick and useful in an emergency situation.
Minimum paperwork
The absence of paperwork and minimum electronic documentation is perhaps one of the biggest advantages of a personal loan. Dealing with a humongous amount of paperwork when you are struggling with an emergency can be nerve-racking. By reducing it to the minimum and that too in electronic form, personal loans have endeared themselves to the millennial generation.
No prepayment penalty after 6 months
You have the flexibility to opt for a long tenure initially to get a low EMI. After servicing the loan for 6 months, you are free to pay off the loan if you can afford to, without any prepayment penalty.
Flexible repayment plans
At LoanTap, you can get flexible repayment options to pay off your EMIs. You can choose from interest-only EMI with bullet payments of principal, step up EMI etc depending on your situation.
In conclusion, you can see for yourself how simple it is to avail of an instant personal loan with little or no paperwork. So whenever the need arises for some financial help, do not hesitate. Just visit the LoanTap website and we will be glad to help you with whatever you need. We are only a few clicks away and you have an almost instant solution to your financial problem. When you are in need of money for any expense or emergency, remember our personal loan is just a LoanTap away.