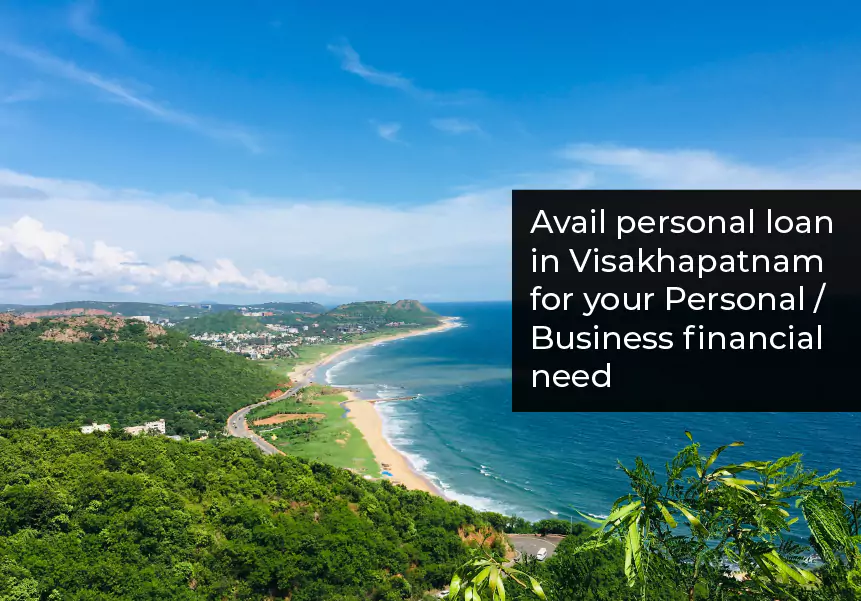 Published on : May 04, 2022
Visakhapatnam is the largest city in Andhra Pradesh. It is also famously known as the state's executive capital. The 'Jewel of the East Coast' attracts a lot of tourists all over the year. This city is surrounded by scenic beauty, as it lies between the Eastern Ghats and the coast of the Bay of Bengal. Commonly known as Vizag, it is also a hub of Buddhist sites like Pavuralakonda, Sankaram, and Bavikonda.
In recent years, there has been a massive growth in the city's IT industry. So, the cost of living in Visakhapatnam has also risen. With economic growth, it is challenging for people to live a comfortable lifestyle with a low monthly income. An individual living in Visakhapatnam can use personal loans to finance child education fees, medical bills, etc.
Personal Loan – What Is It?
A personal loan offers you financial help to cover your bills and unexpected expenses. It is common to take personal loans to meet financial needs. LoanTap provides the best financial products to cover short-term monetary goals. It will spare your savings from getting exhausted. Whether salaried professionals or self-employed, this short-term loan can help you by providing immediate funds with no collateral.
So, How Does It work?
This online personal loan is an inexpensive solution for instant cash to cover all your unplanned expenses. At LoanTap, borrowers are welcome to get any type of personal loan. The loan application process is easy and 100% online. So, you don't have to stand in the queue at the bank and fill out countless papers for a loan.
Any salaried person can avail of the personal loans in Visakhapatnam by visiting the website. It offers a great deal with a high loan amount of up to 10 lacs. You can repay the funds in EMIs after six months of disbursal. Choosing the right repayment option may help in reducing monthly outflow.
Features of Personal Loans Online in Visakhapatnam
A personal loan is the best financing option for small business owners, who need funds to expand their business. It is easy to repay and manage with other monthly expenses. There are other features of online personal loans that clear all your doubts. Individuals applying for the loan for the first time should read the key features to learn more.
From Small to High Loan: Borrowers can apply for a loan amount between Rs.50,000 to 10,00,000. It can be easily approved with a decent credit score. You can get a small amount to tackle your credit card bills, rental, and holiday vacation. In case of medical emergencies, you can go for the highest amount of INR 10,00,000 to reduce the burden of medical bills.
Collateral Free: Instant personal loans do not need any collateral like a mortgage against the loan. It is an unsecured loan where there is no requirement of submitting a guarantor to any bank or NBFC. This collateral-free personal loan is a perfect solution for getting speedy finance in times of emergency.
Paperless Documentation: Getting a loan has become a simple process. It saves a considerable amount of time because of its digital KYC verification process and submit income proof in a paperless format online. Borrowers are also no longer required to fill out many forms to avail of personal loans online in India.
Instant Approval and Disbursal: As we have mentioned before, it is an online loan where you don't have to wait to get instant cash. It provides an easy loan process to credit the loan amount within 24-36 hours. To get the same-day approval, you need to upload the correct documents and your repayment history must be decent.
Term Loan: Borrowers are mainly afraid of paying huge payments every month to pay off the loan. But, LoanTap offers a personal loan at affordable interest rates, where you only have to repay in the fixed monthly instalments. You can choose the right tenure to arrive at the optimum EMI. It is ideal when you know the loan amount required and your income is stable.
Longer Loan Tenure: You will get enough time to repay the loan. An instant personal loan allows you to choose longer loan tenure from 6 months to 60 months. You can make EMIs in an affordable way and with full flexibility. Also, you don't need to struggle with the monthly budget, as it reduces the amount of monthly repayment.
So, are you Eligible for Personal Loans?
At LoanTap, you can apply for a loan online to get a fast disbursal. You have to submit some documents and complete your profile with the required details. Before that, you need to check your eligibility and verify to get fast approval. Keep in mind this list of conditions to qualify while applying for the loan:
1. You should be an Indian citizen or a resident.
2. Applicants need to submit a six months bank statement and salary slips of three months as income proof.
3. Age of an applicant should be between 21-58 years.
4. Salaried, self-employed, or business owners should have a steady net monthly income of INR 30,000/-.
5. You should be employed or running a business
6. Your credit history should be decent and your CIBIL score must be 630-750 or above.
Documents Required to Avail Personal Loan
The need for taking a personal loan is unavoidable. In any medical situation or family emergency, you may feel like having more cash to survive without hassle. When you apply for a personal loan, you will go through a paperless verification procedure. So, keep handy the following documents to upload on the LoanTap website:
Valid Proof of Identity: PAN Card /Aadhaar Card / Driving License/ Ration Card (NREGA) / Valid Job Card
Proof of Residence: Rental Agreement / Driver's License / Passport / Ration Card/ Aadhaar Card or Water/Electricity/Telephone Bill
Three months salary slip/Six months bank statements or recent bank transaction slip to check the stability of your current income and ability to repay.
Self-employed should submit recent IT returns, P&L accounts, and Balance sheets.
Tips to Keep in Mind while getting a Personal Loan
There are a few things that you need to take care of while applying for an online quick loan. Here are some handy tips that you can keep in mind when looking for a personal loan.
Evaluate your need for taking a loan. The loan should be a productive purpose. Otherwise, you will get a huge pile of debt. So, ensure that you will use loan money productively.
A higher credit score will easily get you instant disbursal of the loan. As it shows the repayment capacity of the borrower. A credit score of 750 and above will give you a personal loan with a lower interest rate.
If you have a low credit score, you might get the loan amount lesser than you requested. However, a low credit score shows bad repayment history. If you get the loan approval, you have to pay a relatively higher rate of interest.
Taking several loans in a short period can have adverse effects on your credit score. A poor credit score will automatically cause lenders to think that you are desperate for funds. You are also not fit to repay the loan.
A credit score report verifies your credibility. So make sure you have thoroughly gone through the details in your credit report. An error in the calculation of your credit score can harm your score.
It is recommended to wait at least 6 months before applying for a loan again if your loan application has been rejected by the lender.
Closing Words
LoanTap can help you with the best financial solutions and assist you completely. Our team comprehends the needs and circumstances of the customers. Don't wait! Go and apply now for a quick personal loan and fill out the application to get instant approval.