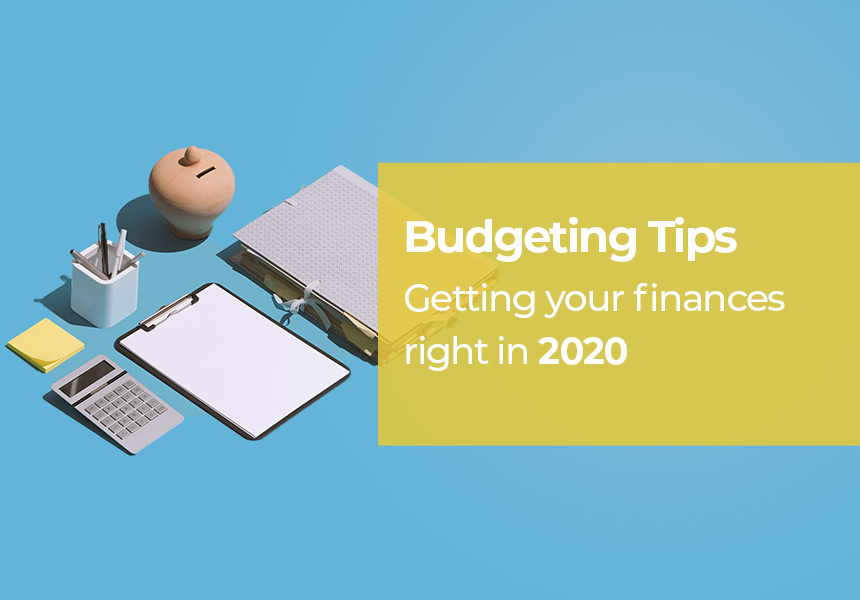 Published on : January 12, 2020
With the new year, come new resolutions. Better money management is one of the most common goals for most people, and setting a sensible budget is an extremely common new year resolution that people make as January 1 dawns.
Budgeting is an important part of daily life, with the aim being the right mix of saving, spending, and splurging. Today, it is all about living in the now, and unlike our parents and grandparents, we do not believe in waiting till retirement (or till most of your financial responsibilities are fulfilled) to fulfil our dreams, particularly the more expensive ones. This could be owning a new house, buying a fancy car, or going on an international vacation. And in order to cater to today's millennials and their spending needs, several personal loan products have been designed and are available in the market.
Budgeting Tips for Fulfilling your Financial Goals
Setting goals and tracking them are very important for good financial health. Sometimes, we give in to temptations and at other times, unforeseen or sudden expenses may distract us from our goals. Use these tips the next time you see your bank balance deviating from your goal amount:
Goals should be Realistic
It's always good to be positive and aim for the best. But it is very important to be practical and set realistic goals. When the goals are simple and achievable, you are encouraged to work toward fulfilling them. If the goals are unrealistic, you will only stress over it. You already have a fixed set of expenses, such as insurance, house rent, and/or car loan. Take those into consideration while setting your goals.
Evaluation of Previous Budget
Evaluation is very important for tracking your progress. If you were unable to stick to your last budget, it is time to make some necessary changes. An evaluation of your previous budget will help you understand when and why you deviated from your plan; use this information to make a more feasible plan for the future. Taking stock of your previous performance will help you analyze the reasons for your deviation. For instance, a quick look at your previous year's spending will clearly show you that festivals and special occasions tend to bump up your expenses.
So, in the next year, you can plan ahead and set aside enough money for these times so that you have enough money for such expenses, while continuing your regular savings.
Emergency Funds
It is believed that you must have at least three months' income or six months' expenses as your emergency funds. You must put aside this amount in order to deal with emergencies like a sudden job change or job loss, medical bills or unforeseen repairs . We can never predict an emergency. Therefore, be prepared by setting aside a separate fund.
Invest Based on your Goals
There are long-term goals, such as children's education or retirement and then there are short-term goals such as car purchase or international vacations. Each financial goal requires investment in separate financial instruments.
For long-term goal, you may opt for debt funds and for instant cash you may opt for equity funds. If you prefer putting aside the amount in a savings account, use a separate account for accumulating these funds.
Stay Focused and Accountable
We tend to get diverted from our financial goals easily. Make it a habit to track your progress regularly. Share your goals and your progress with your family so that they can help you stay focused. You are accountable for your actions. Revise your goals if you think they are not achievable and set more realistic goals.
Maintain a Healthy Credit Score
Your spending and repayment habits affect your credit history. This in turn affects your credit score. A good credit score can help you get financial help such as home loans and personal loans when you need it. Therefore, make sure that if you avail a loan or a credit card then you make timely payments for them.
Read More About Improving Credit Score
How can various debt instruments help you achieve your financial goals?
We have just discussed some general budgeting tips that may assist you with your financial decision making. Now we will talk about how you can use the various forms of debt such as loans to achieve your financial goals.
Personal Loans
Personal loans are financial instruments that help you manage your planned as well as unplanned financial needs. They may be the most favorable credit product for your emergency needs. Personal loans are the best option when you want to spread your expenses over a fixed tenure.
These are easily available loans that you can use as and how you want. The rate of interest varies from lender to lender and ranges from 12%-24%. You can opt for a loan tenure of up to 5 years. The repayment of personal loan needs to be done in the form of EMI (equated monthly installments). You can avail up to INR 10,00,000 based on your eligibility. You also get an option to pre-pay the loan post 6 months of disbursement without any additional fee.
To meet the specific demands of individual customers, lenders have designed innovative loans to suit the specific needs of people. These are all personal loans that you can use for dedicated purpose. For instance, in the new year, you decide to take a foreign trip but have not budgeted it, you could opt for travel loan. Similarly, there are wedding loans, super bike loans etc. to help you follow your passions without being restricted by your budget.
Explore LoanTap's ⚡Instant Personal Loan
Debt Consolidation
Debt consolidation is a financial tactic wherein you merge multiple loans, credit card debt, and/or other outstanding payments. You then use a single personal loan to repay this consolidated debt. The main advantage of debt consolidation is that it helps you simplify payments; instead of keeping track of several card or other payment due dates, you only need to pay off one loan (personal loan) over a longer tenure.
Also, personal loans have a lower interest rate than most credit cards and other credit facilities; so, by opting for debt consolidation, you will end up paying a lower amount as interest on your debt.
If you have a substantial debt that has been outstanding for a long time and wish to make good of it in the new year, debt consolidation can help. A high credit card bill or other debts can be overwhelming and the inability to make timely payments can take a toll. In such cases, a carefully curated personal loan for debt consolidation offers a way to jump start timely payments with a lower interest rate and a more streamlined payment schedule.
Personal loan balance transfer
Initially, the concept of balance transfer was restricted to credit card balance transfer. But it is now extended to all kinds of debt facilities, such as home loans, car loans, education loans and personal loans. In this process, you are merely transferring your debts and not repaying it. You can transfer your ongoing loan from one lender to another lender who is offering the same loan at a lower rate of interest. Personal loan balance transfer does not require any collateral. It may come with foreclosure charges from the existing lender. The new lender may charge stamp duty or any processing fee if deemed necessary.
This could work in your favor in the new year if you have been paying higher interest rate on your current loan/loans. Evaluating your budget helps you decide whether a switch of loan(s) is required or not.
Learn more with our Complete Guide on Debt Consolidation.
Credit Card Takeover Loan (CCT)
Sometimes, large expenses over a couple of months can result in a big credit card debt. Credit card takeover loans are specifically designed to rescue people buried under credit card debts. This is a kind of personal loan that will help you settle your credit card dues. The advantage of taking this loan is that the interest rates on this loan are lower than the credit card interest rates. A credit card charges interest anywhere from 24-36%, while CCTs charge about 16%-20% interest. This customized personal loan helps you clear all your credit card debts in one go, thus improving your credit score.
A healthy credit score is very important if you are planning on taking out a new loan in the upcoming year. Before taking a fresh loan, try paying off the old ones that are charging a high interest rate.
Explore Credit Card Takeover Loan from LoanTap
Refinancing
Refinancing means replacing an existing debt with a new debt that has more favorable terms in form of lower interest rates or monthly payments. People usually opt for refinancing when a competitor is offering a similar loan at a lower rate of interest. This would reduce your EMI amount. If your monthly income has increased and you want to pay off your liability faster, then you can opt for a refinancing with shorter repayment tenure. This will help you get out of debt faster.
Conclusion
Budgeting is an ongoing process. It is not something you can achieve overnight. You need not be stressed over getting the budgeting 100% right. You can seek the help of the instruments that we have discussed in order to manage your finances as well as fund your dreams. Changes are bound to happen but with constant monitoring it is possible to achieve your financial goals.
---
LoanTap is a one stop solution to all your financial needs. Download our Personal Loan App: Google Playstore / Apple App Store