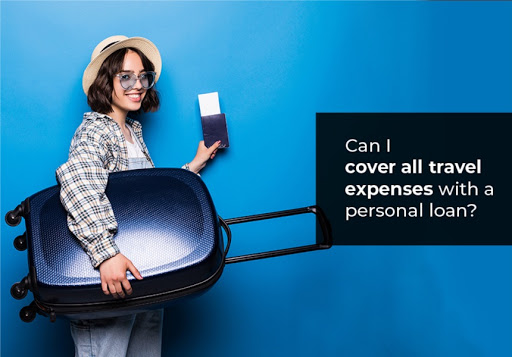 Published on : March 30, 2021
Travel tops the "must-do" lists for most of us today. That is our only getaway from our daily mundane lives. I am sure this happens to you as well – When you spend those long hours at work trying to earn a living, a thought crosses your mind that 'I need to take a trip' !
Taking a holiday is always enticing. Travelling rejuvenates us and gives that little break from our hectic schedules. However, while planning a dream vacation or a trip for work or leisure, there are many expenses that you incur. While your monthly budgets may be e in place, how often do you find space to squeeze a one time expense for travel?? Or do you prefer dipping into your savings for this purpose ??
While a budget bound trip may not be ideal when you have been awaiting a vacation for a while now and dipping into your emergency funds does not sound too promising either.
So, In such situations, a travel loan can be a go to solution where you do not have to compromise on your budgets and can still pursue your dream vacation.
Let's understand further as to how a travel loan works and what all expenses can be covered with the help of a travel loan
What is a Travel loan?
Travel Loan is a type of personal loan designed to conveniently cover all expenses arising out of travel. You can avail a travel loan for both domestic and international travel and holidays. A holiday loan covers any or all expenses like flight fares, accommodation, commute, sightseeing, local activities, shopping and so on.
Travel loans are easily available with online lenders. These loans demand basic eligibility just like any other personal loan does. You do not need to pledge a collateral for availing these loans. However, the amount of loan extended to you would majorly depend on your credit worthiness.
When should I opt for a Travel loan?
Travel can take place in various forms. While some of us prefer a leisure trip where one can relax others may prefer an adventurous trip. Everyone's got their tastes and styles when it comes to travelling! So, here's precisely when you can/should opt for a personal loan for Travel.
Road Trips
One of the most adventurous kinds of travel is taking a road trip! Our country is well connected with highways and good transport infrastructure. Taking the roadways is always an aesthetic experience as you get to explore natural landscapes and beautiful sceneries especially while you're traveling through the mountains or past water bodies. It is the best way to explore the natural beauty that lies within the country.
Workcations
Workcations have become popular among those millennials who have a work from home schedule or are freelancing. Luxury home rental companies and many other smaller resorts are proving to be ideal for the concept of 'working from anywhere'. They have made provisions for f designated work areas, high speed Wi-Fi and the need for a private, secure space. What could be better than working by a scenic view?!
Honeymoon
Honeymoons are one of the most important and looked forward to experiences for brides and grooms. If you are a newlywed couple you certainly want to celebrate your union at the most exotic destinations in the world. As honeymoons happen only once ( in most cases 😉 ), there should be no reason to refrain from making it the best trip of your lives!
Family vacation
Ever since we were kids, family vacations were due either in the summer vacations or the winter. Cut to today, we still plan our family holidays depending on our children's holidays as it is the most awaited trip for them. As these trips involve more members of the family and are pursued during peak seasons, these trips can be a little expensive. No reasons to fret here! Choose the destination of your choice and we have you covered!
World tour
There are a number of packages available online that cover multiple destinations in various countries across the globe. If you wish to travel the globe and explore destinations, you needn't worry about the expenses, instead explore and live your dream! Estimate your expenses in advance and get a personal loan for travel for your choice of tenure.
Staycations
This new trend has emerged where you spend a vacation at a holiday home or a rented home set up in another city. If your priority is spending quality, leisure time with your family then staycations are an ideal option. It's good to feel at home and still enjoy the benefits of a vacation, isn't it ?!
A Travel loan helps you cover expenses arising from any/every kind of travel regardless of the purpose. You can avail a personal loan, cover all expenses and pay in easy payouts for the desired loan tenure. If you further wish to lower the payouts, we've got you covered. Avail Personal loan for Travel from LoanTap and enjoy interest only payments for the initial 3 months followed by fixed EMIs. This is known as a Step-up repayment plan. LoanTap offers various other repayment plans to choose from that can help you avail a loan with EMIs that best fit your monthly cash flows.
Bon voyage Amigos ! 😎
Related articles – Travel 2.0 – Revenge travel
Guide to Travel Loan : Fuel your Travel Aspirations