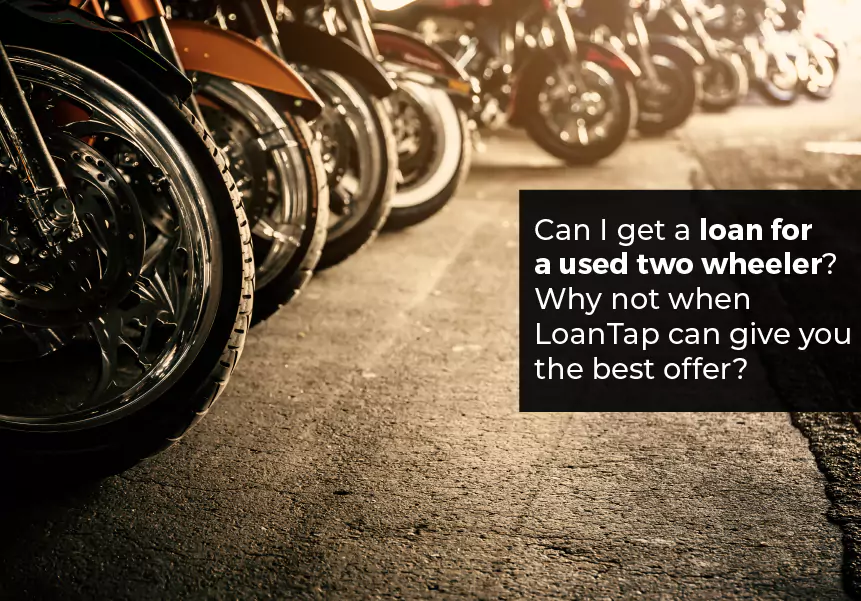 Published on : January 28, 2022
Two-wheelers are the perfect commuting solution for middle-class people in India. Bikes or scooters are the best for passing through narrow roads, potholes, gullies, and overcrowded markets in our country. Are you looking for commuting options in cities? Used Bikes are more affordable solutions than depending on autos and buses. Having your vehicle gives you more freedom to go here and there. Buying used bikes is a cheaper option for millennials than purchasing a new one.
Technology has made everything so easy to get through online platforms. You can also get a loan for a used two-wheeler. If you are looking for a pre-owned two-wheeler to commute daily, apply for used bike loans and pay them in monthly installments.
How does Used Bike Loans work?
Used Bike Loans will make it even easier to buy two-wheelers with a budget. It can be an ideal option to spend less money to get desirable bikes and scooters. With the used two-wheeler loan, you can choose the model of your choice to ease your commutations. Anyone can easily purchase any two-wheeler up to 1,00,000 under the Used two-wheeler Term Loan from LoanTap. You can repay in Fixed EMIs, where interest rates are applied only on the remaining amount of the original loan and recalculate interest to pay off every month. If you know the exact loan amount and have a steady income, this loan is best suited for you.
Features of Used Bike Loans from LoanTap
No Collateral Required: There would be no need to submit any collateral for a second-hand bike loan. It is risky to pledge your legal assets if there's a possibility of missing some payments. At LoanTap, they don't take security to give you a used bike loan online.
Quick Approval: Some fintech lenders guarantee you a loan within a week. However, at LoanTap you can avail of the Used Two-wheeler Loan Online in less than 24 hours. After verifying the documents, the loan will get disbursed and the entire amount credited to your bank account.
Minimal Documentation: To get a used two-wheeler loan, you don't need to do any paperwork. The basic minimum documents are required to be approved for getting any personal loan with fixed EMIs. There is no requirement to go to any bank to submit the papers. All you have to do is upload all the needed documents on the website of LoanTap while applying.
Convenient Repayments: You can pay in Fixed Equated Monthly Repayments. There's also an option to choose how quickly you want to repay your easy bike loans. The EMI option is the best when you decide to pay throughout the year.
No Hidden Charges: You will get the loan without any hidden/undisclosed charges. The entire process is transparent. You can complete the loan process online quickly with proper documents. There is no prepayment penalty if you repay the loan after 6 months.
Advantages of taking Used Vehicle Loans
Cost-effective: You may spend a big chunk purchasing a two-wheeler from your bank savings. On top of that, buying a new one costs more than a pre-owned one. You can save yourself from using up your savings by taking a used two-wheeler loan. Salaried professionals can enjoy cost-effectiveness by applying for a loan.
Maintain liquidity: If you buy a vehicle on one-time payment, it can consume all your savings. As a young professional, you need to have liquidity. So, it is better to finance a second-hand bike to reduce the burden of burning the whole month's salary. It also ensures that you have a sufficient amount in your hands for emergencies.
No additional fees and taxes: A used two-wheeler will help you to avoid the government taxes like road tax, green tax, and more. If you go for a new two-wheeler, you have to complete all these tax compliances during the purchase.
Get Value for Money: By choosing an old vehicle, you will get more value for your money. A new bike loses its value up to 20% per year. If you use a pre-owned one, it will do the same job as a new two-wheeler. Hence, going for an inexpensive used two-wheeler is far better than going for a new branded vehicle.
Improve Credibility: Your CIBIL score is more important in getting any personal loan. It decides whether you are eligible to get a pre-owned bike loan or not. Your credibility will also get verified by the LoanTap team or any lender. If you get any loan or have debt, try to repay on time to improve your creditworthiness. This way, you can easily get any business, home, or car loan in the future.
Eligibility Criteria for Applying for Used Two Wheeler Loan
Pre-owned two-wheeler loans are popular for salaried professional and self-employed individuals. You need to qualify for some conditions to apply for the loan. As, If you don't fulfil the below-mentioned eligibility criteria, you will face problems in getting used bike loans in India.
Applicants should have a minimum income of Rs. 10,000.
Applicants should be 21 years or above.
You must be an Indian Resident or Citizen.
Applicants must have a constant income source.
If you are eligible for a two-wheeler loan, don't wait for the right time. Before applying, you should prepare the required documents to upload on the LoanTap website. Here are the following documents needed for a Used Bike Loan :
PAN Card
Salary Slips of the last three months
Bank Statement of the latest six months
Address Proof such as Electricity bill, Voter ID card, etc.
If you have all these documents, make sure they are valid and updated. You should submit all your documentation on the LoanTap website. After successful uploading, wait for the response patiently.
Steps to Get Used 2 Wheeler Loans in 24-36 hours
Get used to bike Loans by following a quick and simple process online. LoanTap provides the loan in just a few steps. Here are the following steps to fill out the application form and verify your details for the instant disbursal online.
Step 1: Visit the LoanTap website to fill out the application form with your personal and professional details. You can also choose the KYC verification online process. You can also complete the online process by installing the LoanTap app from Google Play Store.
Step 2: Once you have filled out the application form, you should upload the required documents after proper verification.
Step 3: If you match all the parameters, your loan will be approved and the amount credited to your bank account.
If your credit score is decent and fulfils all the criteria, the entire process will not take more than 24-36 hours. Also, it offers the facility to decide the tenure for the fixed repayments. You can pay off the entire loan after six months without any prepayment charges.
Getting a Used Bike Loan from LoanTap is a smart decision. The benefits of taking any loan are too many. But the primary reason is to avoid any financial dependency on family and friends. LoanTap brings you a structured platform to get a digital loan for your needs and personal expenses. For all further information regarding loans for used bikes, please visit LoanTap. It's time to take action to get yourself a two-wheeler. Hopefully, this article was insightful. Keep reading!