With one generation paving way for the next, a new aspirational framework has started to evolve. More and more people are beginning to nurture dreams that are not constrained by the limitations of income, needs and ambitions. In fact, the mindset which relies on cutting expenses and waiting for the monthly disbursal of salary does not seem to be relevant anymore. Instead, a new wave of millennials has emerged whose primary purpose in life is to make the most of what they have today!
These changing lifestyle needs of the 7.4 billion global millennials have been highlighted in the chart below: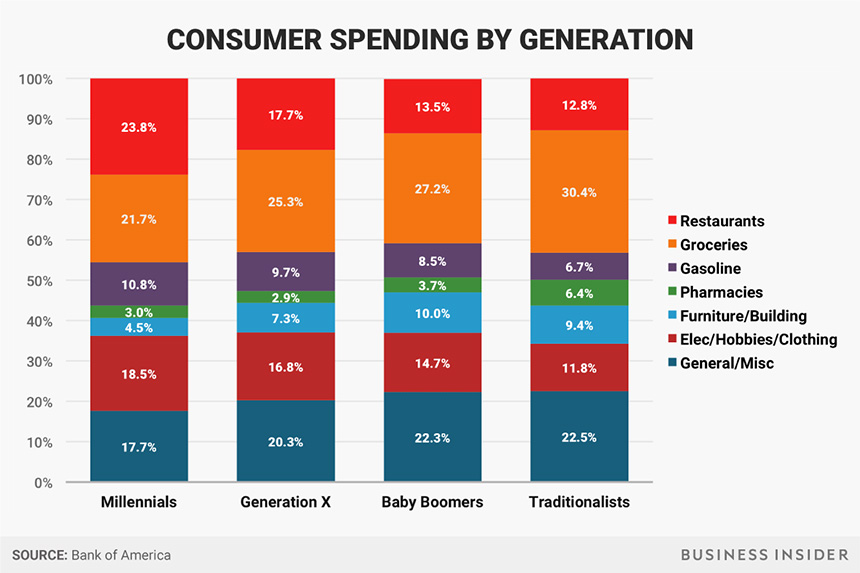 (Chart Courtesy : Business Insider)
As per this data, while the older, traditional generations preferred saving up for miscellaneous or unforeseen expenditures, the millennials have taken an entirely different route. They are opting to spend money for fulfilling more instant requirements like restaurants, clothing, traveling and hobbies.
These changing lifestyle needs have also led to a complete transformation in the financial habits of millennials. They are now looking for easy-to-use, collateral-free and pocket-friendly new age loans. It is precisely to cater to such reoriented demands that lenders – especially digital lending platforms – have started coming up with different varieties of low EMI, modest interest rate and quick loans. These special loans have the potential of providing millennials with the unique opportunity to give wings to their dreams without facing any hassle, struggle or stress.
Listed here are all loan products which have been specifically designed to fuel the aspirations of modern, Indian millennials –
Advance Salary
Holiday Loan
Wedding Loan
Premium Bike Loan
Rental Deposit Loan

Satyam Kumar is banking industry veteran with enriched experience of more than 20 years. Apart from founding LoanTap and
FinTech Association of Consumer Empowerment,
he is an avid traveler and holds keen interest in Blogging. He has amassed profound knowledge in FinTech trends, banking, consumer trends, food and mythology which he loves sharing with others.