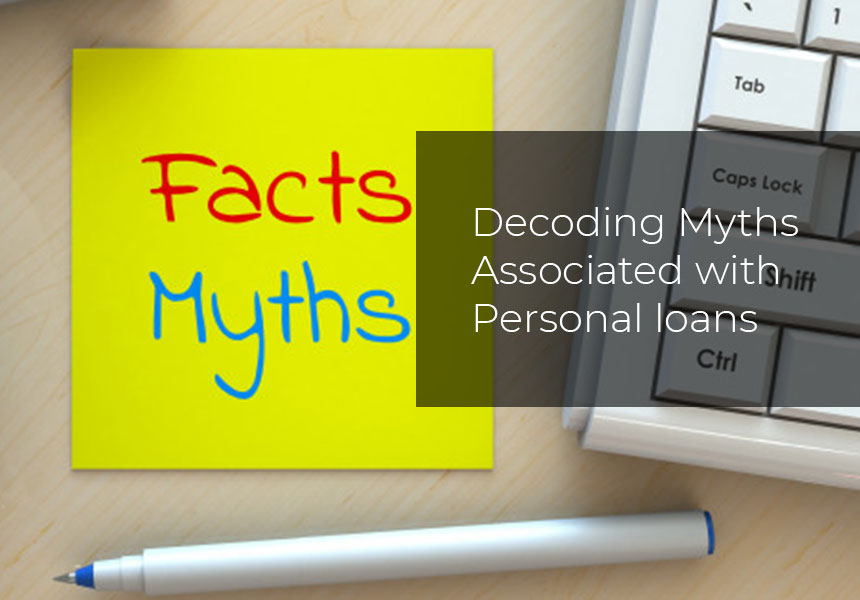 Published on : August 31, 2020
Haven't we all at least once in our lifetime been skeptical about availing a personal loan to meet financial shortcomings? Yes, Certainly! This is because personal loan may be misconceived as an expensive debt instrument. As far as possible, we try to use credit cards to fill the gaps created in an unmanaged budget. But did you know, credit cards are actually more expensive than personal loans!

Many misconceptions like these become deterrents for availing these debt instruments! This article aims at decoding various deceiving notions that are associated with a Personal loan.

1. It takes a long time to apply and get a personal loan

With the advent of new age digital lenders, personal loans are made available online. Right from application to disbursal process, all can be carried out online from the comfort of your home. All you are required to do is – Download the lender's personal loan app, fill in the application form and upload the necessary documents. If all the documents are found sufficient and authentic, your loan disbursal is carried out in less than 24 hours post verification. At LoanTap, we offer instant approval and disbursal facility, so that you have the funds within a day's time!

2. A high credit score is the only parameter responsible for Personal loan Approval
Credit score is undoubtedly one of the primary parameters considered while processing a personal loan application for approval. However, there are a plethora of parameters that impact the decision of a lender, in terms of Approval or rejection of a personal loan application. Lenders evaluate various factors such as Credit utilization ratio, Debt to Income Ratio and Fixed Obligation to Income Ratio while assessing the credit worthiness of an applicant. Age, Authenticity of documents submitted, Income criteria are few other components that factor in the personal loan eligibility of applicants. Thus, these factors collectively form the basis of personal loan approval and not just the credit score.
3. Personal loans are only offered by banks
Traditionally, personal loans were only offered by banks. However, with the boom in technology, you can approach Non-Banking Financial Companies (NBFCs) and Financial Institutions for personal loans. Though the terms of service may differ from lender to lender, the overall functionality remains the same. Infact, Banks often have rigid structures and repayment plans for the loans they offer. On the contrary, digital lenders or fintech firms offer flexibility and customer friendly terms of service. Many lenders provide personal loans on online platforms such as websites or personal loan apps. Thus, it is safe to approach these institutions to avail a personal loan.

4. Personal loan demands a high interest rate
Personal loan is a loan without collateral, thus, the risk involved in lending money to an individual borrower is comparatively high against the risk involved in a secured loan. Thus, unsecured personal loans may demand a slightly higher interest rate. However, as compared to debt instruments like credit cards, personal loans demand a much lower interest rate. Interest rate on personal loans is generally anywhere between 16% to 24%.

5. You can avail only one loan at a time
No that ain't true! If you have a good credit score and have serviced your past and existing credit accounts prudently, then lenders will be open to extend another loan to you. However, the lender will certainly carry out all the necessary credit checks and Fixed Obligation to Income Ratio tests before taking a decision about approving the personal loan application.

At LoanTap, we provide customized personal loan offerings to both salaried as well as business professionals. Our personal loans are fit to pocket and come with flexible repayment plans. However, individuals must qualify under the personal loan eligibility criteria before availing a personal loan with us!