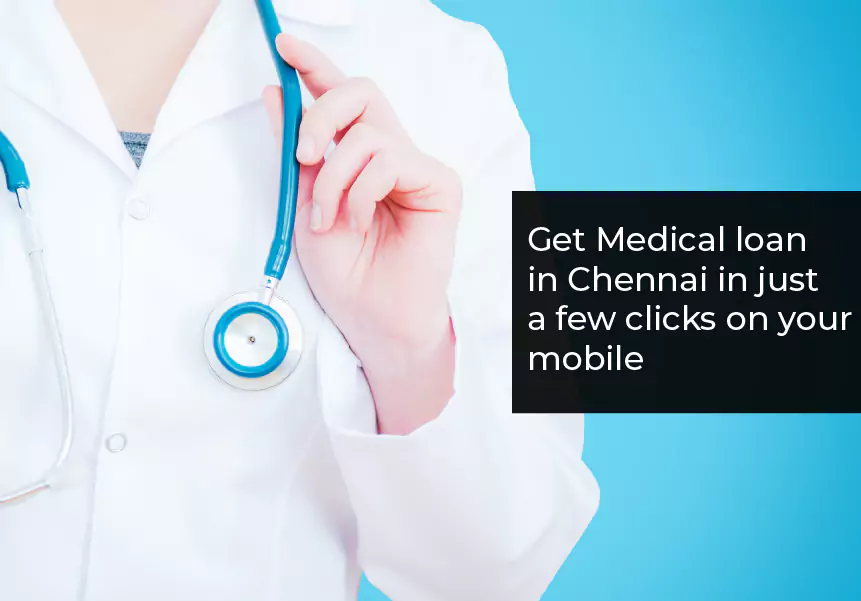 Published on : March 25, 2022
Chennai is one of the largest hubs of popular institutions, educational centres, big industries, and large high-tech companies. It is also known as the economic centre of Tamil Nadu. Because it has several booming enterprises and companies, millennials can easily get more job opportunities and upgrade their lifestyle. However, the living cost of a salaried individual in Chennai is approximately INR 50,000 per month.
But, if you are a resident of this metropolitan city of India, managing financial emergencies could be tough. Sometimes, due to medical conditions, you may be stuck in a financial crisis and need immediate help. In this case, you can go for quick medical loans in Chennai.
In this article, we will share the guide where you will learn about medical loans, the features and benefits of getting a medical loan, and who is eligible for this loan.
A medical loan is an easy financing option that offers a high amount to meet your financial requirements and repay later in the form of monthly or bullet payments.
How Does Medical Loan Work?
Health issues can arise anytime with no warning. You may not know how much it costs to fix any health problem. If you don't have any health insurance or enough savings, you could be in trouble. This is where Medical Loan comes handy, it provides you with sufficient balance for medical treatments and handling heavy bills. Best Features of getting a medical loan from LoanTap for surgery:-
High Loan Amount- It offers you a loan amount between INR 50,000 – INR 10,00,000. LoanTap will decide the exact amount based on your credit score and your annual income.
Loan Tenure – It offers you customized repayment options and longer loan tenures. You can pay off the amount over a tenure of 6 months – 60 months. It allows you to choose the repayment tenure period as per your financial capability and the exact loan amount.
Interest Rates: Instant Personal Loans in Chennai for medical emergencies are available at an interest rate of 18% per annum. The interest rates may vary depending on your credit score, medical needs, and income proof.
Processing Fee – You need to pay at least 2% + GST fees during the processing of your loan application.
Why should I go for Medical Loan in Chennai for Medical treatment?
Medical loans are personal loans customized to cover medical bills, get proper treatment, fast recovery, and pay on a timely basis for surgeries. It is an affordable solution for millennials with a steady income who need financial assistance to meet medical expenses. Here are the benefits of getting a medical loan in Chennai to cure any illness:-
Customized Repayments Options: The Instant Medical loan from LoanTap offers relaxation on the repayments. There are three repayment options to choose from as per your needs and financial conditions.
EMI Free allows you to pay off the loan amount in bullet payments every 3/6 months towards the principal outstanding and pay only the interest component on a monthly basis.
Step up allows borrowers to repay the amount in interest-only EMI for three months, followed by fixed EMIs.
Term Loan Instalment allows you to make monthly payments towards the principal amount. Each instalment will reduce both interest and principal amounts.
Quick Disbursal and Approval: Borrowers can get any personal loan in just a few clicks. LoanTap will approve the loan on the same day if your credit score is good. It is a 100% online loan process. So you don't need to wait to get the funds during emergencies. After instant verification of the documents, we will credit the loan amount to your bank account within 24-36 hours.
Unique Personal Loan: Medical Loan Online is a unique personal loan that lowers monthly outflows by 40%. It will help you manage the monthly instalments without compromising on your monthly expenses. It doesn't need any collateral or security against the amount.
Minimum Documentation: No extensive paperwork is needed to complete loan applications for the medical loan. However, you need to upload some basic documents to verify your personal information and bank details.
Flexible Prepayment Charges: Borrowers can make higher payments towards the loan. There are no prepayment charges for higher payments and no foreclosure charges after six months. However, you need to make a prepayment or foreclosure with minimal charges within six months.
Transparent process: LoanTap believes in transparency. There are no hidden or pre-payment charges levied on you. This transparent process creates trust between borrowers and lenders.
Eligibility Criteria For Medical Loan
Getting a medical loan is a simple and fast process. It supports you to move ahead with ease. To apply for the medical loan on mobile, you need to pass all the eligibility criteria, which are mentioned below:-
Applicants should be aged between 21 and 60 years.
Indian residents are eligible to apply.
You should be a Self-employed or working employee.
Individuals should have a net monthly income of INR 30,000.
Salary bank account statements of the last 6months
If you qualify for the loan application, check out the documents required to apply for the personal loan online.
Identity proof: PAN Card, Aadhaar card, Voter's ID Card, driving license, passport, etc.
Address Proof – PAN Card, Voter's ID Card, passport, driving license, utility bills, etc.
Income Proof – Salary slips or financial statements of your business
Bank statements of the last 3-6 months to check the credit score.
Before applying for the loan, you should ensure all your documents are valid and up-to-date. Bank statements will verify your financial situation, so try to clear all your debts and maintain a healthy credit score. In this way, it will help your application get approved as early as possible. Otherwise, the LoanTap team can ask for other documents to run further credit checks.
How To Apply for Personal Loan for medical emergencies?
LoanTap offers you a contactless and efficient way to apply for medical emergency loans online. It helps you with enough cash in hand during tough times. Here are the steps to complete the personal loan application process in just a few minutes:-
Step 1: Download the LoanTap mobile app or visit the website to log in. Create a profile and fill out an application with personal, financial, and employment details.
Step 2: Choose the loan amount and tenure as per your income. To know the exact loan amount, you can use the Personal Loan EMI Calculator.
Step 3: Upload the required documents on the website or submit the signed documents for the KYC process.
Step 4: As soon as your loan application is approved, you will receive the money in your bank account within 24 -36 hours.
After the loan is credited to your bank account, you can take the amount as much as you need. There is no limitation on the number of transactions. There will be no interest on the principal outstanding. However, If you want to pre-close the loan, pay minimal fees towards the principal outstanding.
Final Thoughts
This guide can help you get any personal loan in a few hours. LoanTap is a digital lending platform where we understand the needs of borrowers and provide financial solutions to fulfil their requirements. The LoanTap app offers you a one-stop solution to get all the financial products at your fingertips. Reduce the burden of paying medical expenses using medical loans.