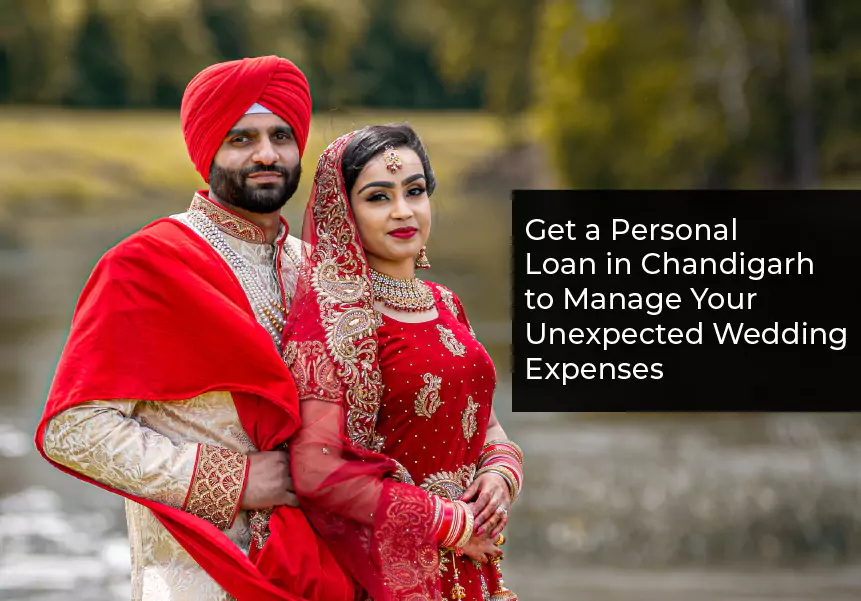 Published on : May 06, 2022
Chandigarh is one of the most developed cities in India. Le Corbusier, a Swiss-French modernist architect, designed this city. It is famous for its clean roads and greenery. It is the capital of two neighboring states – Punjab and Haryana. This best-planned city has become the face of modern India. This beautiful and greenest city is perfect for getting married. It has lavish wedding venues, caterers, wedding planners, and more to make your D-day a blissful moment.
The average wedding cost in Chandigarh is up to 15 lacs. During the marriage, you can't oversee unexpected expenses. These expenses can imbalance your budget. The wedding party is still an expensive affair for working people. If you struggle with the same issue, marriage loans are the ideal solution. It will help you in making your D-day unforgettable, with no compromise.
This article will answer all your questions regarding the marriage loan. How can this loan help you ‌meet the expenses of your wedding? Will it give you any benefits of taking a personal loan for a wedding?
What Is a Marriage Loan?
While preparing for your marriage, you are calculating the expenses. If you are falling short of your funds, get a loan to finance your marriage expenses. Whether you are salaried or self-employed, you will get the personal loan hassle-free. 
Making your wedding a grand affair is not easy. From a designer lehenga to jewelry, it takes a lot of money. Even If you use your savings to meet your expectations, it may not be sufficient enough to fund unexpected expenditures. So, applying for a personal loan can save you from higher interest rates and no hidden costs.
So, How does a Wedding Loan work?
This wedding loan works to make your wedding a big and glamorous celebration. You can manage multiple expenses that may be incurred during the wedding ceremony. You will get an amount up to INR 10,00,000 with a flexible repayment facility. There is no need to worry about paying a lot of money. You can decide the EMI amount based on tenure and your monthly payment capacity. Personal loans will rescue you from difficult times and keep your fixed deposits intact. If the two of you are planning to share expenses, you can apply for the personal loan individually. That will give you a total fund of Rs 20,00,000 provided you meet the criteria, individually.
Eligibility Criteria for a Personal Loan for Wedding
A wedding loan is an affordable solution for everyone. It can provide immediate funds in just a few clicks. However, you need to clear the eligibility criteria to avail the wedding personal loan. Check out the following eligibility requirements to get any personal loan in India:
Minimum Age: Individuals must be at least 21 years old to qualify for a marriage loan.
Maximum age: Salaried/self employed applicants should be no older than 58 years old.
Minimum Net Monthly Income: For wedding loans, the minimum monthly income should be INR 30,000.
Employment status: Applicants must have a stable source of income.
Credit score: Applicants should have a decent CIBIL score. Applicants with low CIBIL scores may suffer from the rejection of an online application.
Documents Required to avail of the Wedding Loan Online
During the loan application process, you need to submit basic documents to verify your personal and professional details. Also, you don't have to go to any bank to submit the documents. This online wedding loan offers the simplest way of filling out the loan application online. Along with that, you need to upload the following documents listed below:
Valid Proof of Identity: PAN Card /Aadhar Card / Driving License/ Ration Card (NREGA) / Valid Job Card
Proof of Residence: Rental Agreement / Driver's License / Passport / Ration Card/ Aadhar Card or Water/Electricity/Telephone Bill
Bank account statements showing the credited salary for salaried persons.
Self-employed should submit recent IT returns, P&L accounts, and Balance sheets.
Payslips for the last 6 months are needed.
Why should you take a marriage loan?
If you are still in doubt, why should you choose a marriage loan over another option? Here is the list of benefits that you get while availing of the loan. It will not only tackle the wedding finances, but also let you enjoy the wedding ceremony stress-free.
Competitive Interest Rates – LoanTap offers wedding loans online at affordable interest rates. It is kind of competitive in the market. Interest rates may vary based on the credit profile of the borrower. Better the credit score and repayment history, the higher chances of getting a good deal on the marriage loan. 
Instant Approval – With all the right documentation and a good credit score. You can get instant loan approval within 24 hours. Also, ‌you need to meet the basic eligibility criteria related to age, income, etc. You don't have to provide any security against the loan.
 Higher Loan Amount – This wedding loan online will spare your savings from getting exhausted in managing your wedding. You can easily get the loan amount ranging from INR 50,000 to 10,00,000. If you are qualified, you can get enough funds to make your dream wedding unforgettable.
Flexible Repayment Option – It is the best feature of a free wedding loan. You can enhance your finances by meeting all your expenses. This personal loan offers a flexible repayment option to repay the amount after 6 months of disbursal.
Minimum documents – We collect only the basic minimum documents for all our customers for personal loan products.
Easy loan Tenure –  This marriage loan online offers the ideal facility to get some financial support for the wedding. You are allowed to choose the repayment tenure in the range of 1 to 5 years. It gives the liberty of choosing tenure as per your needs and financial conditions. 
No Collateral Needed – In India, parents can go to any extent to host the big fat Indian wedding for their children. So, they take secured loans by submitting security or collateral. However, personal loans for weddings are essentially unsecured loans, where you don't need to risk your assets.
What are the Aspects of a Marriage Loan cover?
A marriage loan is a personal loan, so it can cover all the costs of the wedding. With this huge amount, you can pay the bills of :
Printing the invitation cards
Booking a venue or having a destination wedding
Buying jewelry and accessories to make you look royal.
Hiring the best catering to serve your guest's delicious cuisines.
Buying designer outfits for different ceremonies.
Entertainment and music to add fun to the wedding.
Travel and hotel booking for the honeymoon.
Designing your favorite decor to make your guests go wow.
Summing Up Whether it is about booking venues, shopping, catering, or other arrangements, you certainly want your most special day of your life to be extraordinary. Choosing LoanTap's Wedding Loan will reduce all your financial burden. We are here to assist you with the best financial solutions and provide funds in just a few hours. Visit LoanTap website or download the app to get the best deals.