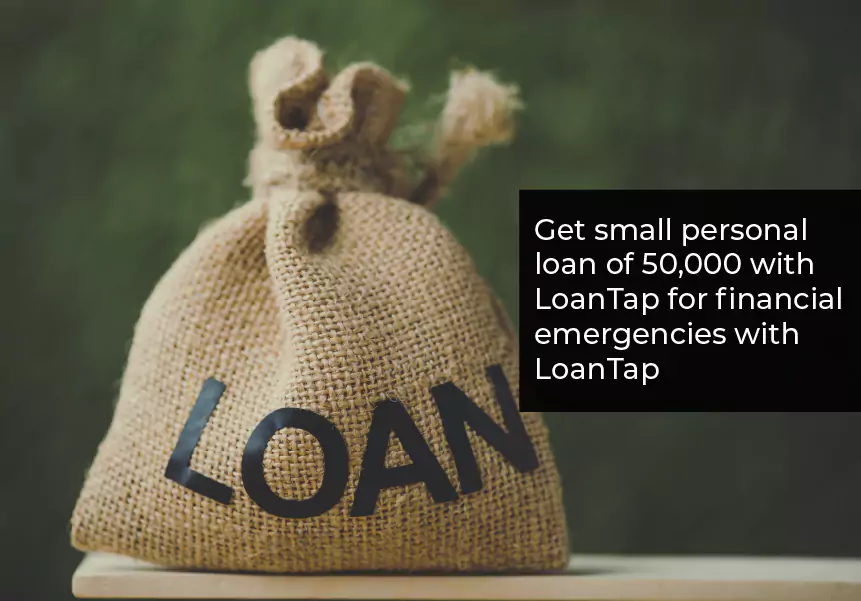 Published on : January 22, 2022
Back to back small expenses can burn a hole in your pocket. Sometimes, to meet emergencies like paying medical bills or credit card bills, you need a little extra money to cover them. A Personal Loan of 50,000 is an affordable solution to meet urgent expenses and pay all the bills before salary credit. Borrowers can easily access the loan amount from LoanTap whenever the need arises.
What are Small Personal Loans?
Short-term loan of Rs. 50,000 is a financial product to help salaried / self-employed individuals with immediate funds. It is an unsecured loan that fulfills requirements like home repair, travel trips, medical emergencies, purchase of gadgets, festive events, and more. Personal loans are versatile and easy to get through an online application process within 24 hours. It can be a lifesaver for people who feel helpless during tough times.
Rs 50,000 Personal Loan Eligibility Criteria
LoanTap could be a good option if you are looking for a trustworthy lender. You need to meet the minimum eligibility criteria before applying. This is another reason why this product is so popular among the younger generation. You should follow all the conditions which are mentioned below:-
You should be at least 21 – 60 years for salaried professionals and 23 – 65 years for self-employed/ business people.
Applicants must have a minimum net income of Rs. 30,000.
You must be an Indian citizen or resident.
You should have valid Bank Statements for the last six months.
Apply for Small Personal Loans in India
If you meet all the criteria, visit the LoanTap website to get a free personal loan. The entire process of applying is so simple. You don't need to leave your work or spend hours at the bank. All you need to do is fill up an online application form and upload the basic documents. The following documents are required to verify your account:-
PAN Card
Aadhaar Card/Driving License/Passport
Salary slips for the last 3 months
Bank statements for the last six months
If you are self-employed, you have to submit the required details of –
Income Tax Returns for the last two years
Bank statements of Income Account
Profit and Loss Account and Balance Sheet
Now you can sit back and relax. The LoanTap team will evaluate your online application for a small loan. If your CIBIL score is decent and your documents are in order, there is a high probability that your loan will be approved and the cash credited to your account. The entire process will be completed within 24-36 hours.
Benefits of Personal Loan of Rs. 50,000
Personal loans are excellent options that provide instant amounts and flexible repayments. Anyone can choose the loan amount they require to finance a particular expense. Therefore, flexibility in terms of the loan amount and repayment tenure is offered by LoanTap. Some of the benefits of these loans are as follows –
Flexible Loan Amount: You can borrow a sum of your choice after clearing the eligibility criteria. Borrowers can choose the amount between Rs. 50,000 to Rs. 10 lakhs. At LoanTap, it's easy to get a mini loan after a few clicks.
Flexible Repayment Term: At LoanTap, Borrowers can get small personal loans from 10,000 – INR 50,000 for tenures ranging from 6 months to 60 months. You can go for the flexible repayment tenures of up to 5 years
Affordable Interest Rates: Getting an instant small loan is cheaper than paying the outstanding bill of your credit card. Credit cards charge between 24-36% on the unpaid balance, but Personal loans only take 18% interest rates per annum. A Salaried individual can afford to pay interest rates towards the principal balance of the loan.
Instant Disbursal Online: Borrowers need to follow an easy online process for loan sanction. If your documents are valid and up to date, the loan will get disbursed within 24 – 36 hours. You can use that credit amount for covering small expenses without waiting any longer.
Minimum Documents: Small Loans need only the basic documents such as resident proof, identity proof, and bank statement to match all the parameters set by LoanTap for availing of personal loan products.
No Hidden Charges: LoanTap believes in following the transparent process to avail of the loan. There is no pre-payment penalty if the loan is foreclosed after six months. This collateral-free loan is the ideal solution for people with constant income.
Why do you need a ₹ 50,000 Personal Loan?
A ₹ 50000 Personal Loan can be taken to personal needs and urgent requirements. Some of these include:
Travel: Are you tired of a busy life? You want to explore the world to relax a bit away from the hustle and bustle of your life. Financial obligation is not a constraint anymore as personal loans can provide you with a luxurious vacation.
Home Renovation: Small home repairs take some big chunks out of the month's salary. Personal Loans can help with small renovations such as painting the walls, repairing the ceilings, or remodelling the kitchen. You can easily get from a few thousands to a few lakhs via fintech lenders like LoanTap.
Fees: If you need to pay fees for an education course for yourself or for your child and the deadline is close by, you can choose to take an emergency personal loan to make the payment.
Debt Consolidation: Your credit card bills are lying on the table and you don't have enough account balance. Short-term loans give the option to pay off high-cost credit card bills without submitting any security.
Rent deposit: Increasingly, millennials are relocating to different cities in search of employment where rent can be quite high. If you want to rent an apartment or house, it is normal to pay 50,000 or more as a deposit for renting. Personal Loans can help you to deposit the rent.
Medical: Medical emergencies don't come with warnings. Personal loans are a good option for people facing such emergencies. Getting a small personal loan to pay your medical bills can save you from big problems.
Guidelines to follow for availing of small loans?
Before applying for small loans, you should bear in mind a few factors so that you have a comfortable experience.
You should have a regular job with a good company.
You must have a good CIBIL Score.
Do not go for multiple lenders as that can cause rejection of your application.
Check the interest rates as they vary between money lenders.
Some lenders are not transparent so always check the fine print for hidden charges.
You should read the foreclosure clause before entering the agreement.
You must know the exact loan amount and plan a repayment method.
Learn to Use a Personal Loan EMI calculator to know the EMI amount with tenure.
Small loans are accessible via digital lending platforms for borrowers. LoanTap provides a convenient digital lending platform for borrowers to get instant small loans with ease. If you have a regular job and a net income of at least INR 30,000, small loans give you a sense of security to manage your urgent requirements with instant funds. Now, what are you waiting for? Go and visit the LoanTap website now!