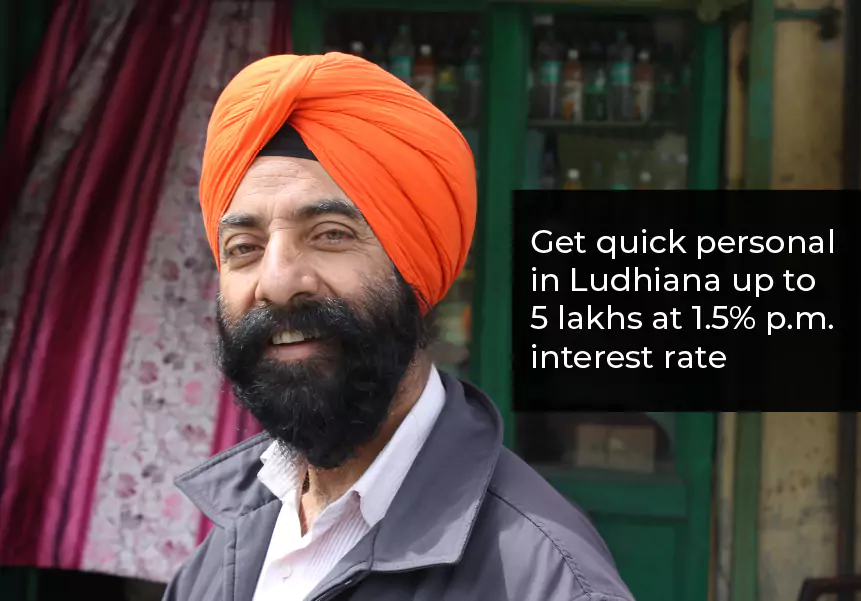 Published on : May 24, 2022
Ludhiana is the heart of the Punjab state. This oldest city of Punjab is full of business opportunities and offers global exposure. It reflects both traditional and modern culture. This metropolitan city has a vast business market. In 2013, it was selected as the best business city. It is a perfect blend of Westernization and old traditional culture. There are several banks to get a personal loan from in Ludhiana. 
Taking a personal loan from a bank requires a long procedure to disburse your loan amount. You may have to go through a lot of paperwork. At LoanTap, you will get access to immediate funds to pay off unexpected expenses. A personal loan at lower interest rates can help you manage your monthly budget.
What is a Personal Loan?
A personal loan offers sufficient money to meet your urgent financial needs. Money will be needed to pay for unforeseen expenses, such as medical bills, travel expenses, etc. Personal loans can be availed of in amounts ranging from INR 50,000 to INR 10,00,000. You can get a variety of flexible repayment options to service your personal loan.
With LoanTap, borrowers can access the funds by applying for a personal loan online. Availing of personal loans online makes it quicker and easier for anyone to get a loan in times of emergency.
Benefits of Taking Personal Loan Online in Ludhiana
Fast Disbursal in 24 hours: This quick personal loan offers an online application to get instant cash in a few minutes. While applying for an instant loan, make sure your credit score is good. If your documents are valid, LoanTap will disburse the loan within 24-36 hours.
Flexible Tenure: Borrowers can choose the loan amount up to Rs 10 lacs. Also, you can select the repayment tenure ranging from 6 months to 60 months. It can help you ‌break the vicious cycle of taking one debt to pay off another.
Paperless Verification: It reduces the burden of going through a heap of papers. An online personal loan from LoanTap needs borrowers to upload the basic documents. This documentation will help in the verification of personal details and financial history. Alternatively, LoanTap representatives can visit your residence and collect the documents.
Affordable Interest Rates: Our personal finance company offers you the loan at lower interest rates than credit cards. You can manage your monthly cash flow. It reduces the financial burden on you. There will be a 1.5% monthly interest on the amount of INR 50,000 – INR 10,00,000.
Zero Collateral: Personal loans in Ludhiana are unsecured loans. They do not require any assets to be pledged as collateral. Income proof is the key factor for personal loan approval.
No Hidden Fees: The whole loan application process is transparent. There will be no hidden costs charged on the loan amount. No foreclosure fees are charged when borrowers want to close the loan after six months of the disbursement.
Customized Repayment Option: At LoanTap, you will get repayment options to choose to pay off the amount as per your capacity. You can choose to pay interest only EMIs for the first three months and normal EMIs thereafter.Alternatively, you can pay only interest EMIs and pay off the principal in bullet repayments on quarterly/half-yearly basis. The third option is to use a personal loan overdraft facility where you will be billed on actual usage.
Some Top Reasons to get a Personal Loan
Instant Small Loan in Ludhiana from LoanTap can help you manage your short-term financial crunches. If you cannot make your ends meet and need some financial help, apply for a personal loan from LoanTap. There are unexpected expenses that you can cover with this huge amount. Here are the top reasons to take personal loans:
Medical emergency: A medical loan is a personal loan that can help you take care of all medical bills, surgeries, treatments, and medical recoveries. You don't have to worry about arranging money from friends or family. 
Finance primary/secondary/higher education: You struggle to pay your child's education fee. There is some money saved in your bank account for times like this. With this personal loan for child education, you can spare your savings and pay fees on time. 
Dream Marriage: Indian marriages are quite expensive for couples. Your savings are not enough to cover wedding expenses. Marriage loans provide private finances to have a royal and lavish wedding. 
A long-awaited vacation: you are finally free to travel and all ready to pack bags. But there is a shortage of funds to travel to your dream destination. This personal loan can finance your trip. 
Purchasing electronic gadgets: You want a new phone or laptop, but it costs more than your budget. A loan can solve this problem.
Debt Consolidation: Pay multiple credit card debts and high-interest rates with the personal loan. You ‌can consolidate all the charges and clear your repayment history. Online personal loans are a great way to escape the cycle of debt. 
Who is eligible for a Personal Loan?
Before applying for the loan, make sure that you are eligible and meet all the conditions.
You should be an Indian citizen or a resident.
The age of an applicant should be between 21-58 years.
Salaried, self-employed, or business owners should have a steady net monthly income of INR 30,000/-.
You should have stable employment.
Your credit history should be decent and your CIBIL score must be 580-630 or above.
Documents Required for Personal Loan
If you meet all the eligibility criteria, apply for the loan now. While applying for the personal loan, you need to submit documents, which are listed below:
Applicants should have a Voter ID / Passport / Driving License / Aadhaar Card
Applicants should have a Ration Card / Electricity Bill / Passport.
Salaried persons should provide at least three months' salary slips. Self-employed individuals need to submit three or six months of income proof.
If you have all the mentioned documents and submit them online. Else, the LoanTap representative can collect the documents from your residence. Wait for some time! Try not to panic. If your credit history is good, the loan will be disbursed instantly. After the loan approval, the LoanTap team will directly credit the amount to your account.
Wrapping up!
Getting personal loans in Ludhiana is a very convenient process. With LoanTap, you can get them faster than you think. Also, LoanTap will help you with the finances whenever there's an emergency situation.
LoanTap's loan process is completely online. Borrowers can apply from the comfort of their homes. There is no need to go through any hassles to avail of a personal loan in Ludhiana.