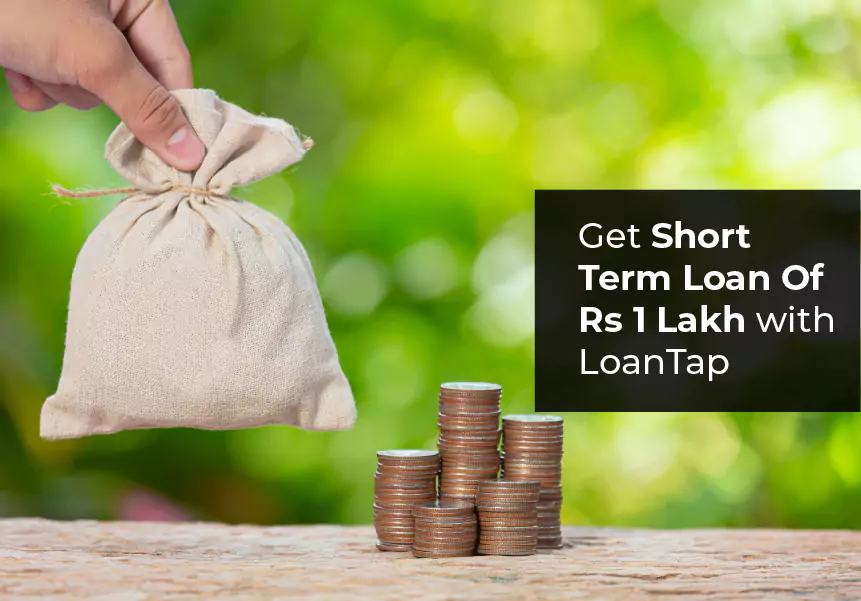 Published on : October 09, 2021
Overview
The need for money can arise anytime. Not everyone wants to borrow money from their family and friends when they are in need. Financial institutions offer various types of short term loans for such immediate financial requirements which includes loans such as personal loans, short term loans etc. You can always deal with unexpected situations and emergencies with a short term loan of INR 1 lakh from LoanTap.
The funds borrowed can be utilised for personal uses such as buying the gadgets you always wanted, meeting a medical emergency, paying for an education course or putting down a rental deposit.
Read on to find out how to take a loan of Rs 1 lakh from LoanTap.
Features and Benefits Of INR 1 Lakh Loan
Loan Disbursement Within 24 Hrs
The loan is easy to apply for and is easily disbursed within a duration of 24 -36 hours. The lengthy procedures of applying for the loan are no longer applicable these days. In today's digital world, borrowers can easily apply for personal loan without the tedious paperwork.
Flexible Repayment Tenure
Even with a low salary, you can easily get a loan of Rs 1,00,000 from LoanTap as needed and repay them over a payback term of up to 60 months.
LoanTap provides complete transparency, with no hidden fees or charges. The loan gives you peace of mind because no charges other than those listed are applied to the loan.
The loan is unsecured and does not require you to mortgage your assets against the amount reimbursed.
Earlier, loans used to take weeks to be approved. LoanTap provides loans with instant approvals so that you don't have to wait to fulfil your aspirations.
The basic documents such as Aadhar card, PAN card, salary slips of last three months, bank statements of last six months and employment details need to be uploaded to apply for the loan.
Easy Eligibility Criteria
It is very important for the applicant to fulfil all the personal loan eligibility criteria before applying for the loan.
The applicant must be over 21 years of age.
The minimum net monthly income must be 30,000 INR.
The applicant must be an Indian citizen or resident.
Attractive Interest Rates
Interest rates offered by LoanTap are cheaper than credit cards. While credit cards charge interest of 24-36% per annum, LoanTap interest on personal loans starts at 18% per annum.
What can you do with a personal loan of Rs 1 lakh?
You can do a lot of things with a personal loan of Rs 1,00,000.
Buy the I-phone you always wanted
Pay medical bills in an emergency
Buy equipment for your home gym
Go on a dream vacation
Put down a rental deposit
How Can You Apply For A INR 1 Lakh Loan From LoanTap?
Applying for the INR 1 lakh loans is very easy. It just involves a few steps after which the amount is yours to spend. Below are the steps that you need to follow to apply for the loan at LoanTap.
Step1: The Eligibility Criteria
Those applying for the loan must be:
At Least 21 years of age
An Indian citizen or resident
Earn a net monthly income of INR 30,000.
Once you pass this step, congratulations! You are one step closer to get your personal loan approved!
Now, let's take a look at the next step.
Step 2: Website Visit
Now, go to the LoanTap website and fill out the online application form with information such as your name, address, the loan you want to get, the purpose if you know what you want it for, the loan amount, your employer's information, and so on.
Step 3: Documentation
In a standard loan application, this step would involve mountains of paperwork. At LoanTap, you won't find anything like that. All you have to do now is upload the following documents.
PAN Card
Aadhar Card
Salary Slips (last three months)
Salary Account Bank Statement (last 6 months)
Step 4: The Team Takes Over Now
Now sit back and relax while the LoanTap team takes care of the rest. LoanTap's helpful staff will review your application, confirm your credit score, and go over your papers. You have a very strong probability of getting your loan application accepted if you meet all of the loan approval criteria and have a solid credit score. Your loan amount is disbursed to your specified account once you receive the OK signal.
Step 5: The Disbursement!
Your loan amount is credited to your bank account within 24-36 hours of completing an online application. As you can see, there is no unnecessary paperwork.
Personal loans ranging from Rs 50,000 to Rs 10,00,000 are available from LoanTap, with terms ranging from 6 months to 5 years. Annual interest rates start at 18 % per year. You can choose a flexible repayment plan that suits your needs. You can use a personal loan EMI calculator to figure out the best term for you to keep your EMIs cheap. After six months of loan servicing, you have the option to prepay or foreclose on all or part of the loan with no penalty.
Getting a Personal loan of Rs 1,00,000 from LoanTap is a walk in the park. The EMIs will be easy to handle and you can meet your short term needs easily. Remember to visit https://loantap.in/ for all your personal loan needs. We are here to make your dreams a reality.