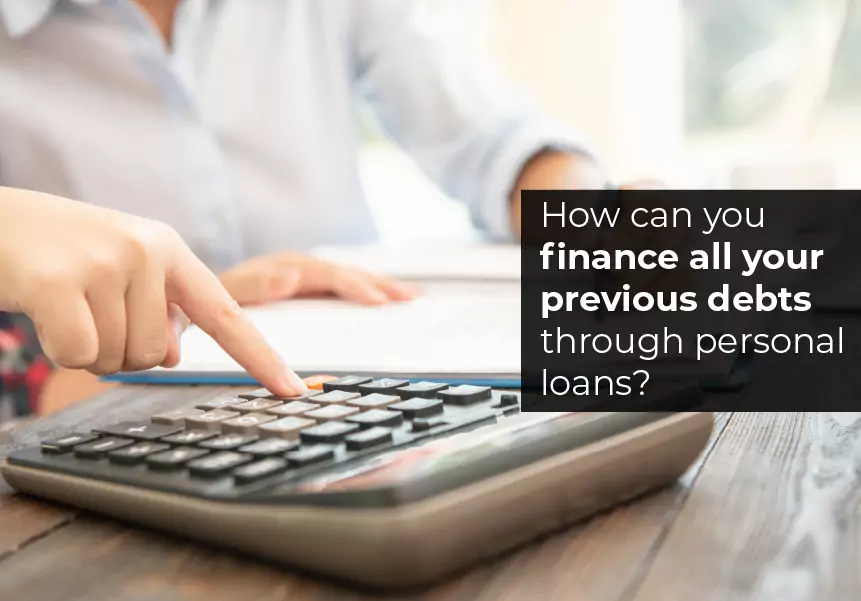 Published on : June 18, 2021
Expenses are a part of life and cannot be wished away. Some are planned, some impromptu and some completely unforeseen. No matter the nature of your expense, you will need funds to meet them. In today's internet-driven world, marketers are having a field day attracting consumers with irresistible offers around the year. Mailboxes are full of seasonal offers and you get relevant pop-ups every time you surf the net. This has most definitely led to compulsive consumption and budgets often go for a toss.
Credit cards have become an easy backup solution when expenses pop up. Soon, it becomes a habit to incur impulsive expenses because the credit card is there to take care of the payments. However, credit cards need to be paid once they fall due.
If you have multiple credit cards and run up an expense on all of them, you may wind up with multiple card payments during a month. If the entire outstanding due is not cleared within the said due date, it will start incurring interest. Interest rates on credit cards are in excess of 2.5% per month.
After a few months, it becomes a hassle to pay the minimum amount due on multiple credit cards and get them off your back. However, the total outstanding keeps mounting and you desperately need a way out of this debt trap.
Here is where a personal loan can come to your rescue.
What is a Personal Loan?
A personal loan is an unsecured loan that can be taken for any purpose without the need to specify it. This means that you do not need collateral to avail this loan. As long as you meet the basic eligibility criteria, you can apply for this loan.
What is the eligibility criteria for a personal loan?
You need to be an Indian citizen or resident over the age of 21 years and earning a monthly net salary of at least Rs 30,000. You should have a steady job or a consistent source of income.
What is the process for applying for a personal loan?
Applying for a personal loan is very simple. All you need to do is visit the LoanTap website/app and fill in an application form. You need to attach the following documents-
PAN Card
Proof of Residential Address ( Aadhaar Card/Passport/Driving Licence)
Salary Slip of last three months
Bank Statement of Salary Account of last six months
The team at LoanTap will evaluate your application and get back to you if anything else is needed. After verification of your credit score and other parameters, the loan is approved and credited to your account.
How will the personal loan help to offset my previous debts?
A personal loan bears an annual interest rate of around 18% while credit card debts are at 24-36% a year. So, you can use a cost effective personal loan to pay off the expensive credit card debts at one go. Now, you can comfortably pay off the personal loan over a tenure of your choice. You can choose a tenure between six months to sixty months. It is prudent to select the longest tenure at the start.
The most convenient date for your EMI can be selected keeping in mind your salary inflow and other expenses. You can do away with the hassle of having to remember multiple card payment dates.
Once you pay the EMI for six months, you are free to prepay partly or foreclose the loan without any penalty or charges. You can use a bonus or a salary increment towards the prepayment of the loan.
A personal loan gives you a much-needed respite from the hassle of managing multiple debts at much higher rates of interest. Defaults in those debts could lead to a serious setback in credit score that could affect future lines of credit. It makes a lot more sense to pay off the expensive debts using a cheaper and flexible personal loan. It will help bring your finances back on track. You can adjust the EMI by tweaking the tenure to improve the affordability of the payment. Once you have paid back the personal loan, you are free to apply for any loan as and when you need it.
If you are caught in a web of multiple debts, pause and reflect. Make a quick calculation using a Personal Loan EMI calculator and apply on the LoanTap website. Your loan will be processed in 24-36 hours. Pay off the existing debts and focus on servicing a single personal loan over the pre-decided period. Say goodbye to multiple payouts priced at steep interest rates. Say hello to a hassle-free life where you can manage your finances smarter.
Remember that a wise financing decision can help you save a lot of interest and reduce the trouble of juggling multiple debts that can affect your mental and physical health. Do visit the LoanTap website and we will be able to help you with the best schemes available that can sort your finances.