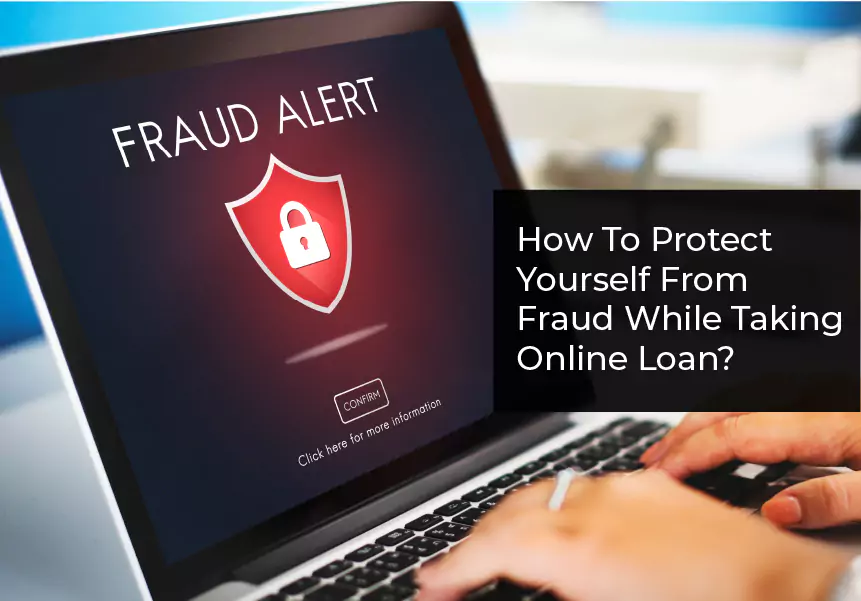 Published on : October 14, 2021
Overview
Due to the restrictions on movement because of the COVID pandemic, there has been a push towards digital payments. We can see examples of the same in our daily lives. We prefer to make all of our payments digitally rather than a visit to the local Kirana shops, malls, and markets. The way people borrow money has also been affected by digitalisation. Personal loans have gotten more convenient and digital in this age of touchless transactions, allowing customers to receive fast funds online with less documentation.
However, you must not fail to consider the possibility of digital fraud when applying for a digital personal loan in times of urgent financial need, especially in these times.
The world is going through a tough phase and people have been vulnerable due to the emotional upheaval caused by the pandemic. Such periods are ideal for cons who look for new ways to make money. With so many people at home and spending more time online, the opportunity to perpetrate scams is alluring to some unscrupulous individuals.
Here are some red flags that you're dealing with an online loan scam:
1. First and foremost, it is critical to recognise that one of these fraudsters' most common methods is to make random phone calls, SMS, and WhatsApp communications and acquire the victim's personal information.
2. Rather than knowing your credit history or score, the scammer would focus on acquiring personal information such as Aadhar or PAN card numbers and bank account numbers.
3. They may also require payment in advance for loan processing or GST. These fees, on the other hand, are assessed after the loan has been granted.
4. They will present you with a limited-time deal and give you very little time to make a decision..
5. They would also refrain from disclosing their registered address or any other information about their company.
Here are some effective techniques to prevent oneself from such misfortune:
1. Keep Your Sensitive Personal Information Private:
Bank officials will never ask for sensitive personal information or financial details over the phone, email, or SMS. As a result, never give out your personal information to an unknown third-party agent.
2. Only Verified Apps Must Be Used:
There are a lot of companies out there that provide banking and finance services. It is recommended that you only utilise verified lending apps, otherwise you may become the next victim of an online scam.
3. Verify That The Website You're Visiting Is Secure:
Secure websites are usually prefixed by HTTPS:// rather than just HTTP://. Check to see if the website you're visiting is safe and secure.
4. Be Wary Of Phishing Calls, Sms, And Emails:
A phishing caller may pose as an employee of a bank or financial institution and ask for personal information. Never give out such information over the phone, by SMS, or via email. If you come across anything like this, report it to the appropriate authorities right away.
5. Use An Internet Connection That Is Secure:
You must make sure that you are logged in to a secure network whenever you make a payment or submit any sensitive personal financial information. Avoid utilising any unsecured public Wi-Fi connection that could give cybercriminals access.
For Scammers, Your Personal Information Is A Gold Mine
What makes you a target for cybercriminals? Fraudsters seek identities that are similar to yours in order to avoid raising suspicion about their activities.
How Can You Protect Your Personal Information?
Limit how much information you offer to keep it safe. Only use it when absolutely required. When registering an account on a website, it may seem normal to submit your first and last name as well as your address, but if the website suffers a security breach, the information could slip into the hands of scammers.
How Can You Protect Your Login Information?
A cybercriminal could gain access to your accounts and commit Internet fraud using your usernames and passwords. Your login information might potentially be sold to other cybercriminals on the dark web, an uncontrolled section of the Internet associated with illegal activities.
Create a strong password that is unique to each account and enable two-factor authentication whenever it is available to prevent your login information from being stolen. Keep your software and antivirus up to date to protect your home computer.
Some Ways To Protect Yourself From Online Fraud:
Awareness Is The Key:
When reading newspapers or watching the news, be on the lookout for anything suspicious. New loan scams and frauds are reported on a regular basis, and staying aware will help you avoid becoming a victim.
Confidential And Personal Information Should Stay Personal:
Don't give out personal information over the phone, by email, or in an online chat room. You should make contact with the banks or other financial institutions with which you do business. Keep your credit card information out of unencrypted email accounts and don't save passwords in plain text on your computer or phone. Make use of a password manager. There are numerous solutions available, and they are simple to set up.
Passwords And Pins Must Be Changed Frequently:
Passwords and PINs should be changed at least twice a year. Also, join up for a free service that will notify you if any of your internet accounts have been hacked.
Track Your Credit Report:
Checking your bank statements once a month is a good idea, but ordering your credit reports is even better. They'll show you whether someone has been exploiting your identity to make purchases that don't show on your normal statements.
Tear Old Documents:
When you no longer need a document that contains your personal information, shred it. If you're self-employed, keep in mind that you must keep records of your earnings for at least 5 years after filing your tax return.
Keep An Eye On Odd Transactions:
Set up all of the extra security features on your corporate and personal bank accounts. Protecting yourself from fraud can be as simple as using two-factor authentication and receiving text message notifications about suspicious transactions.
Don't Fall For It:
Don't open the links to photos, videos and any attachments sent to you via mails by unknown senders.
LoanTap offers you a safe way to avail of a personal loan whenever the need arises. It is a completely secure platform that protects the data shared by you. There are no hidden fees or charges at LoanTap. What you see on the website is what you pay. LoanTap offers tailored personal loans from Rs 50,000- Rs 10,00,000 for time frames ranging from 6 months to 60 months. You can choose repayment options according to your convenience. Once you service the loan for 6 months you are free to foreclose the loan without any prepayment penalty. When you are in serious need for financing, you are likely to be very vulnerable. This can expose you to unscrupulous elements who can take advantage of you. Make sure you find a safe platform like LoanTap for your financing needs. You can visit https://loantap.in/ and we will be glad to assist you. Stay Smart. Stay Safe. Trust the right source. Trust LoanTap for all your financing needs.