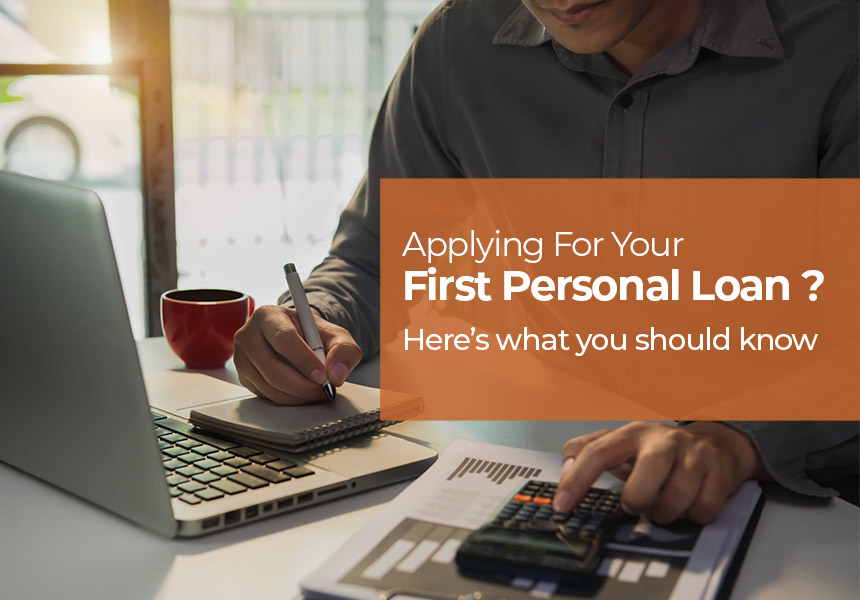 Published on : December 12, 2019
Got your heart set on that amazing insta-worthy trip to Greece or the super racer bike? Dreaming of a fairytale wedding but falling short on the moolah? When expenses pop up suddenly and take you by surprise, it's time to consider a Personal Loan.
What is a Personal Loan?
A personal loan is a loan that covers your planned, sudden or unplanned expenses. Even with the most careful financial planning, there are some expenses that will come up and stun you. It could be a medical emergency in the family, an impromptu trip with friends that you did not budget for, or other such sudden financial expenses that take you by surprise. Cash crunch is real and when your salaries are already spoken for , unplanned expenses can put you in a fix. This is where Personal Loans can save the day.
In the era of personalization and customization in just about everything, personal loans have undergone a makeover too. We do have the regular, vanilla personal loan that takes care of every other financial need. However, lenders have gone a step ahead and designed specific personal loan products that are tailored to meet your financial requirement.
For instance, if you want to rent your dream home and can well manage your monthly rent but the rental deposit is a dilemma, you can go for the Rental Deposit Loan. If you have planned your dream wedding and do not want to cut corners on your special day, go for a Marriage Loan. And if you need just a bit more funding for that coveted trip to watch the Northern Lights, take a Travel Loan.
There are two key aspects of Personal Loans that you should understand while opting for one. The first is that these loans offer you the flexibility of using it where and how you want to use them (unless of course you take the specific personal loans). And the second aspect is you don't have to provide any security or collateral like your home documents, cash, gold or any such asset to get a personal loan.
Why are there different types of Personal Loans?
A natural question that would pop into the mind is: why go for these specific types of loans when you can take a personal loan? Well the answer is fairly simple. While a vanilla personal loan gives you a sort of blanket cover, these other loans are deliberately designed to be specific for a purpose. The purpose is to keep them flexible in terms of tenure, rates of interest, and terms, as per their specific use. Customization and specification of these loans allows the lender to offer you the preferred tenure, interest rates, and payment modalities. For instance, in case of a Wedding Loan, your monthly instalment can be flexible, and you can keep this amount low for the first five months when you already have expenses lined up owing to the big day, and once your major expenses are over and you can comfortably switch to regular EMI.
What do I need to remember as a first-time Personal Loan applicant?
Check your Credit Score
Your credit score is one of the factors which determines whether you are eligible for a loan, how much loan can be extended to you, and what the rate of interest would be. Since you are a first-time personal loan beneficiary, chances are you don't know your credit score; in fact, you may not have a credit history at all. Make sure you have a reasonable credit score; you can check your credit report using any rating agency for free or a small fee.
Learn About : Factors Affecting CIBIL Score
Understand commonly used Financial Terms:
You don't have to be a financial whiz, but you need to know the basics to be able to select the most suitable loan provider. You need to clearly know what EMI (equated monthly instalment) is and what is the interest component; be aware of how your loan provider calculates the interest for your personal loan Compute the rate of interest to know which one suits you the best so that you don't end up paying substantially just because you didn't do your research!
Select the Right Loan Provider
There are several banks and non-banking financial companies that extend personal loans, each one making taller claims than the last. So, it is important to evaluate what works for you based on your reason for taking the Personal Loan, the interest rates being charged, the flexibility of payment that is allowed, the speed at which the loan is disbursed, the repayment clauses, and foreclosure charges . Be sure to compare these details among lenders and ensure that you understand the terms clearly before making a decision.
Check the Loan Tenure
This is a critical piece in making your selection of the right loan provider because a longer loan tenure allows you enough breathing time and flexibility to repay the loan. Most lenders have a loan tenure of 24-36 months; however, a better deal may just be around the corner! For instance, LoanTap, provides loans for as long as 60 months to allow you enough time to pay it back comfortably.
Get your Documents in Place
Keep all your documents handy so that your loan is processed in the minimum time and your loan amount is disbursed speedily, without hassle. You can even get your loan amount in your bank account on the next business day, subject to your documents being accurate; selecting a loan provider that asks you for minimal documentation will also help your case.
Know the Other Fees/Charges
Make sure you are aware of the processing charges on the loan and how it is computed. Know clearly about the total charges applicable under different garbs to be 100% sure on the total loan amount you receive and the repayment liability. Loan insurance is an important aspect here! it is an insurance that covers your loan amount in case you are unable to complete your repayment for any reason.
Understand the Loan Agreement
Go through the loan terms and conditions to avoid unpleasant surprises. Being a first-time borrower, it's crucial that you figure out the best, cheapest, fastest, and most hassle-free payment modes. You can sign up for eNACH, an electronic process that automates your payment through your bank; you could redirect your monthly payments of interest/instalments using the facility and earmark a fixed date on which the payment is debited. This way, you won't need to bother about reminders or delayed repayments. Overdue payments impact your credit score adversely, so automating your payments is wise.
---
These tips are good to start you off on your first ever personal loan journey. Having this knowledge will make your journey smoother and make you more confident while applying for other loans in the future.
However, there could be a not-so-pleasant jolt of rejection that may happen, for which you may want to be prepared as well. In some cases, the lender may not be in a position to offer you a loan.
Why is a Personal Loan rejected (for a first timer)?
A low credit score
Failure to fall under the minimum salary/income criteria
Inconsistency or volatility in your income documents
Inaccurate or incomplete information in your application
Multiple loan applications or enquiries (this could impact your credit score and thus your loan eligibility).
Learn more about in our blog on : Personal Loan Rejection Reasons
So, keep an eye on your credit score, select the right lender, study the terms carefully, and be on track with your documentation. These will go a long way in improving your chances of being approved for your first personal loan!

At LoanTap, we provide instant personal loan ranging from ₹50,000 to ₹10 lakh as per your eligibility, with a hassle-free & transparent application process – Apply Now!
Download our Personal Loan App: Google Playstore / Apple App Store