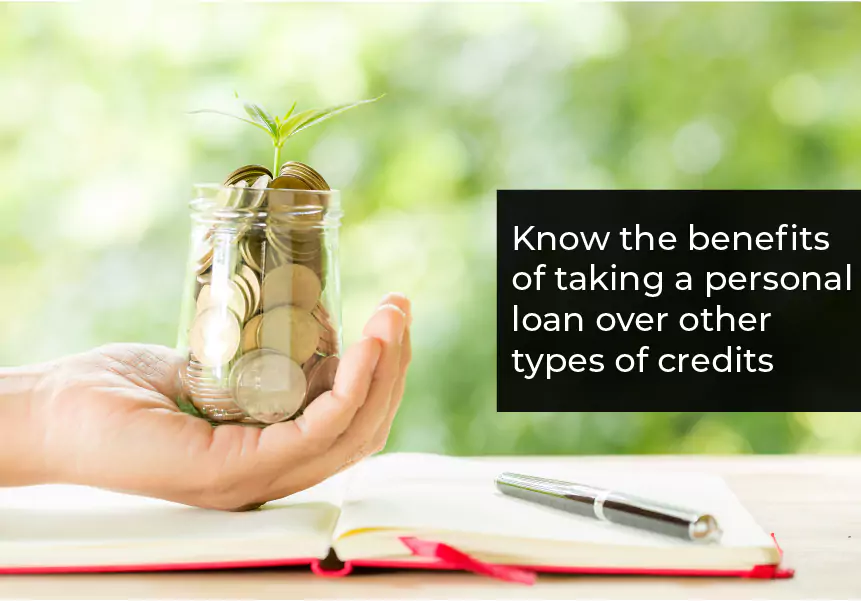 Published on : December 21, 2021
Credit forms an indispensable part of human life. It is rare to have enough funds at all times to be able to service all your needs instantly. Most people resort to one form of credit or another to deal with fund needs. A need for immediate funds could arise on account of several reasons some of which are covered below.
Putting down a deposit
Paying the fees
Purchase of a gadget or appliance
Going on a dream vacation
Wedding and honeymoon expenses
Home Renovation
Investment opportunity
Medical emergency
Personal loans have become a very popular mode of short term financing in recent years because of the speed, ease and convenience it provides without the hassles associated with other forms of credit.
What makes the personal loan a better option compared to other forms of credit?
To understand this, we will need to start with the definition of a personal loan.
What is a personal loan?
Personal loans are unsecured or collateral-free loans that can be availed of for any purpose which means that no assets need to be pledged against these loans. This makes the product quite popular among the millennial generation who are on their first jobs and may not have any assets to pledge.
What are the different types of credit available to a borrower?
There are different forms of credit available in the market. You have secured loans like home loans, vehicle loans, education loans, business loans, etc. A bank overdraft is also a line of credit. Apart from this, you have credit cards that can be used for any purpose. Unorganised credit from moneylenders is also a line of credit that is available to borrowers.
Why is a personal loan considered better than other forms of credit?
Personal loans have become more popular because of the various benefits they offer compared to other lines of credit.
No collateral – The freedom from not having to pledge any assets makes it easy for a lot of borrowers to apply for a personal loan. This is one of the main reasons why personal loans have become the go-to choice for short term financing.
Convenient user interface – FinTech lenders have created seamless platforms with the help of new-age technology that makes the process of taking a loan very simple. You can go from application to cash without moving from your seat or talking to anyone.
Quick disbursement – Personal loans get disbursed within 24 hours which makes it a very convenient option even in case of an emergency.
Minimum paperwork – Traditional loans involve a lot of paperwork which makes the process very cumbersome. Online personal loans involve bare minimal paperwork. A few mandatory documents like the PAN Card, Aadhaar Card, Bank Statement and Salary slips need to be uploaded.
No human intervention – Online personal loans are a contactless experience. You can complete the process on the platform without any human intervention. It is a smooth, automated process from start to finish.
Cheaper than credit cards/ unorganised credit – Credit cards are good only if you pay the outstanding amount on or before the due date. Else they charge 2-3% per month on the outstanding amount which works out to a whopping 24-36% annually. Unorganised credit is offered at exorbitant rates. Compared to these options, a personal loan works out much cheaper at 11-20%.
Structured repayment – Unlike a credit card where you have the option to kick the can down the road and let the amount snowball, a personal loan is a short tenure loan and the EMIs need to be paid on time. This ensures financial discipline and the borrower will need to figure out a plan to repay before he avails of the personal loan.
Versatility -Since personal loans can be used for virtually any legal purpose, they are quite versatile compared to secured loans which are usually purpose-specific.
Simple eligibility criteria – Most lenders offer personal loans on the basis of very simple eligibility criteria that can be met by a majority of the target group.
Fits the monthly budget – Personal loans are usually taken for the short term. You can choose a convenient tenure that ensures that the EMI fits into your monthly budget comfortably.
24/7 access – Online personal loans have made funds accessible to borrowers round the clock, unlike traditional loans which have restrictions on bank timings and bank holidays. This makes it as good as a credit card at cheaper rates since you can get funds for all your needs at short notice.
As you can see, personal loans outweigh other forms of credit on every parameter.
What makes a person eligible for a personal loan?
At LoanTap, any individual who fulfils the following criteria can apply for a personal loan –
He is an Indian citizen or resident
He is over 21 years and under 60 years of age
He has a net monthly income of over Rs 30,000
How simple is the personal loan process at LoanTap?
LoanTap has a very robust integrated platform that is available on the website as well as on a mobile app that can be downloaded from the play store.
Once you have downloaded the app, you can fill in the online application form with the required information.
You will need to upload the following documents as proof –
PAN Card
Aadhaar Card/ Driving Licence/Passport
Salary slips of the last three months
Bank statements of the last six months
Once you have reached this stage, you can sit back and relax while the LoanTap team processes your application. They will go through the application and the documents and run a credit check to confirm your credit score. If you have a decent credit score and you meet the other loan requirements, your loan will be approved. The cash will then be credited to your mandated bank account. If everything goes well and all details are provided, the entire process will be completed within 24 hours.
LoanTap offers several flexible repayment options –
Step-up EMI – In this option, you can pay only the interest component of the EMI for the first three months after which the normal EMIs start.
Interest-only EMI – You can pay only the interest component of the EMI on a monthly basis and make bullet payments towards the principal on a quarterly or half-yearly basis.
Overdraft – You can get the personal loan sanctioned and use it like an overdraft where interest will be charged only on the amount withdrawn and not on the amount sanctioned for the period of use.
LoanTap offers tailored personal loans from Rs 50,000- Rs 10,00,000 for tenures ranging from six months to five years at interest rates starting from 18% per annum. You are free to foreclose the personal loan after six months without any prepayment penalty.
Personal loans are very easy to avail of and manage as there is a structured repayment plan. Whether it is a wedding or a vacation or home renovation or a medical emergency, you can get the required funds without any hassle within 24 hours. This helps you to plan your expenses in advance and pay them off comfortably. Even in the case of an emergency, you can get access to funds within a day.
LoanTap understands the multiple needs that an individual may have for which access to quick funds becomes critical. The personal loan process has been designed keeping in mind the unique needs of each individual. If you ever need funds for any purpose, all you need to do is visit https://loantap.in/ or download the mobile app on your smartphone. Our services are just a few clicks away!