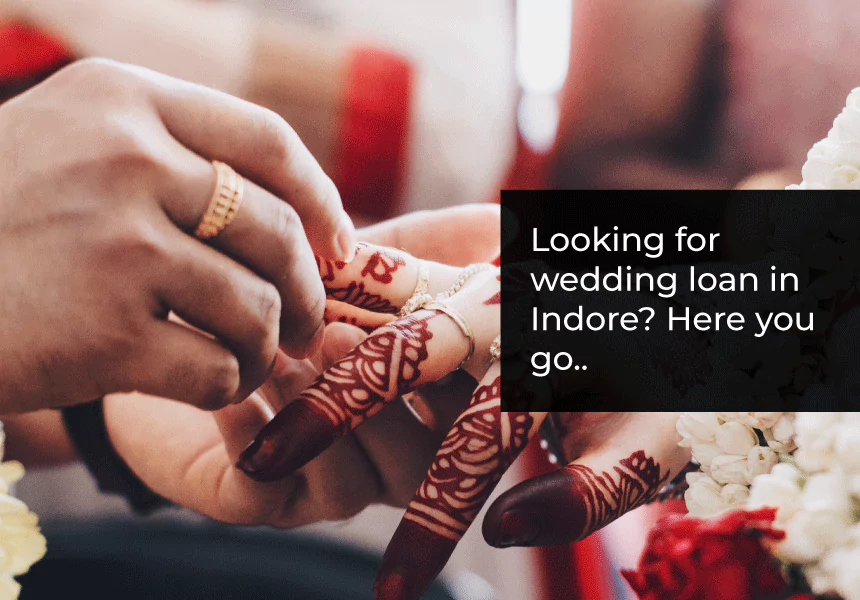 Published on : February 24, 2022
Indore is a hub of the commercial centre of Madhya Pradesh. It has won the title of the cleanest city in India for five consecutive years. The city has its own culture and history that attracts people to host their weddings in the most populous city of Madhya Pradesh. It fascinates you with budget-friendly hotels, pre-decorated venues, and caterers to embark on your marriage journey with love, surrounded by family and friends.
Weddings are a grand affair for couples. You can have a grand celebration in Indore to make your D-day special and remarkable. There was a time when weddings used to be short with a few invitees. But, today, couples love to celebrate their once-in-a-lifetime moment spread over a few days with family and friends.
What is the average wedding cost in Indore?
Weddings are the most cherished moment of your life. To make it an unforgettable experience, you have been planning for ages. However, wedding planning is not a slice of cake for everyone. Having a fancy wedding needs an ample amount of money in your bank. Even if there are savings to meet the wide range of expenditure, you can't rely only on savings to meet the cost of the wedding.
In Indore, a lavish wedding can cost you from INR 10,00,00 or even more. A variable alternative for couples is a personal loan for weddings to manage the financial crisis before the wedding date. Along with this, you will get the funds disbursed to your bank account within 24 hours.
What are the Typical Wedding Expenses?
Destination and Venue: Planning a destination wedding is costlier. Deciding on the wedding venue takes a big percentage of your budget. Indore is one of the famous destinations for weddings with beautiful banquet halls, hotels, farmhouses, and resorts. These wedding venues can cost you between INR 5 lakhs – 20 lakhs.
Catering: Mouth-watering cuisines can add flavour to events and wedding ceremonies. Indore has the top wedding caterers at affordable prices. The quality of food can't be ignored. Depending on the decided menu, the catering service providers in Indore can range anywhere between INR 1,00,000 – INR 10,00,000.
Wedding Invitations: The first impressions are lasting impressions. Likewise, appealing wedding invitations are the first impressions of your wedding, which tells the people how much you have spent on the wedding planning. It can cost you up to INR 1 lakh with the best wedding invitation designs.
Accessories and outfits: Every couple wants to look like a celebrity on their wedding day. But, designer clothes have heavy price tags that can cost you over INR 1 lakh. Grooming and other accessories can be expected to cost over INR 2 lakhs.
Accommodation for guests: Booking a hotel for the guests also adds up to INR 2 lakhs to your Marriage expenses. Guests' Accommodations are important for any destination wedding. It ensures offering the best services to your family and friends, who will join you to increase the excitement during the wedding.
Photography and Videography: Professional wedding photographers can help you capture the important moments of your wedding celebration. With a wide range of services, wedding videographers provide you with a package worth INR 1,00,000, including pre-wedding shoots, candid photography, post-wedding photography, and videography.
Benefits of Getting a Wedding Loan from LoanTap
Instant approval and Fast process
Wedding loans are easy to get within 24 hours. You can make your dream marriage a reality by applying for the loan online and getting approval on the same day. Once the loan is approved and the documents are verified, instant disbursal will be activated.
Choosing wedding loans will allow you to repay the entire loan amount with flexible instalment options. It gives borrowers enough time to pay off the loan amount hassle-free, either as bullet payments every 3/6 months towards principal and interest only EMIs or Interest-only payments for three months followed by fixed EMI.
With the instant wedding loan, you can get the loan amount value ranging from INR 50,000 to INR 10,00,000. In this way, you do not need to compromise with your wedding planning budget. This loan amount can get you the best wedding decorations, catering, and facilities for the wedding ceremonies.
You can easily get quick wedding loans online with a paperless process. LoanTap will ask you to submit the basic documents for all financial products. This marriage loan is an easy process with no filling forms and paperwork.
Marriage Loans in Indore will not include any hidden charges or pre-payment charges towards the loan amount. However, there are minimal charges applicable to part payments or foreclosure within six months. However, no foreclosure charges post six months on the loan amount.
Document Required for Marriage Loan
LoanTap's wedding loans are an affordable solution for couples who want to get the sanctioned loan amount in a short period. This Unique Personal Loan can cover multiple expenses with flexible repayment options. For applying for this instant personal loan for a wedding, upload the following documents with the loan application:-
Identity Proof: Aadhaar Card/Voters ID/Passport/PAN Card/Driving License
Address Proof: Driving License/Passport/Aadhaar Card/Rental Agreement
Bank account statements or salary slips of the latest 6 months (for salaried applicants).
IT returns for the last 2 years, only applicable for self-employed.
If the documents are valid, your application will be accepted. After the verification process, it will allow you to apply for a marriage loan at low interest. It is one of the best wedding Loans in Indore, which can help you pay high expenditures. You will get an option of paying this high amount in fixed EMIs which will make repayment easy.
Eligibility Criteria for Marriage Loan
Wedding Loans Online are tailor-made personal loans to pump your account with instant cash. It gives the freedom to couples to cover the unforeseen expenses of the weddings, not depending on family for a lump sum. Here are certain eligibility criteria to be met if you want to avail of a personal loan for Marriage:
Your age must be between 21-60 years
Your net monthly income must be at least Rs 30,000.
You should be a salaried employee with work experience of at least 2 years.
You must be an Indian resident or citizen with residential proof.
It can process Indian wedding loans instantly if you fulfil all the above conditions. LoanTap can check the CIBIL score of the applicants, including credit history, payment track records, and any running loan. If the credit score is lower, it may result in the rejection of your loan application. Consider the CIBIL score before you apply for the wedding loan.
Tips to keep in mind when applying for Wedding Loan
Make sure you have already planned a wedding budget to get a clear idea about your wedding expenses. It will help to estimate the exact wedding loan amount.
Before applying for any personal loan, you should consider the monthly income to understand the EMI and monthly cash outflows.
Always compare the best loans and their interest rates to know which loan is best suited for you.
Estimate all the wedding expenses when getting a marriage loan. If you go over budget, it could land you in trouble.
Wrapping up!LoanTap will help you as a friend in need. We understand the financial needs of individuals. So, Marriage Loans Online is a simple and convenient option for millennials with a steady income. The loan process offers a simple and quick way to apply for loans from the comfort of your home and office. Plan your Indian wedding stress-free and enjoy your momentous occasion.