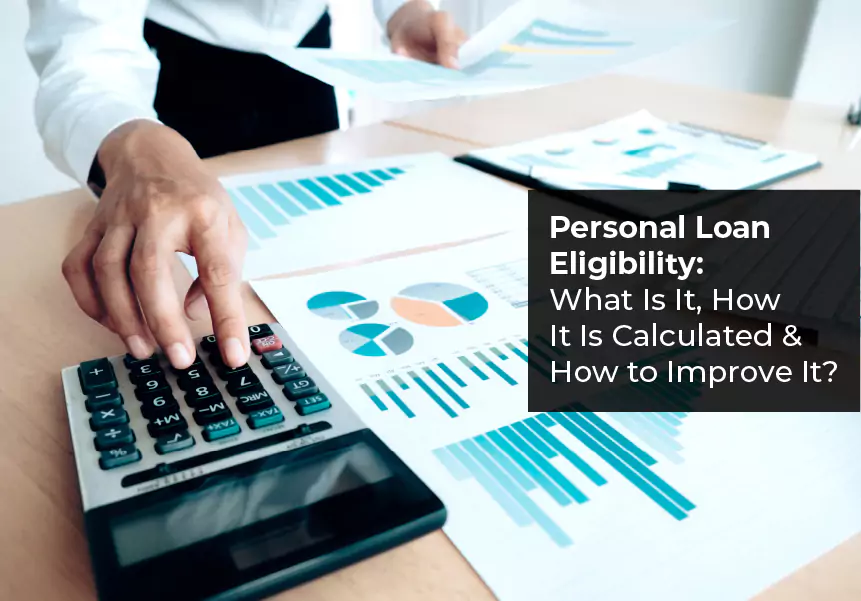 Published on : May 12, 2021
We keep hearing the term Personal Loan frequently. We often get calls from banks and NBFCs offering pre-approved personal loans. We see the term mentioned in advertisements as a convenient financing option. What is a Personal Loan? What makes me eligible for it? Come, let us figure out everything you need to know about personal loans.
What is this product called Personal Loan?
A personal loan is an unsecured loan that can be taken for any purpose without the need to mention the same. You can take a personal loan whether it is for higher education, medical emergency, home renovation, fancy vacation, wedding expenses or anything else. You can even take a personal loan if you want to pay off your other high-interest rate debts. Essentially, a personal loan is a multipurpose loan that can be used to tide over any immediate cash crunch.
Since personal loans are normally unsecured, there is no need to provide collateral or security. This is extremely convenient for youngsters who have just started their careers. They would have a steady income stream but not have any assets to pledge. A personal loan allows them to borrow for an immediate expense without the need for collateral.
If you have managed to build up expensive credit card debts, it may make sense to take a personal loan for debt consolidation and pay them off. It turns out cheaper in the long run.
At LoanTap, personal loans are usually given in the range of Rs.50,000- Rs. 10,00,000 for tenures ranging from 1-5 years. It usually carries an interest rate of 18% p.a. which is better than the rates charged by credit cards.
Who is eligible for a Personal Loan?
There are 3 basic requirements to be met to avail a personal loan –
You are an Indian citizen or resident
You are over 21 years of age
You are earning a net monthly income of over Rs 30,000
If you meet these requirements, you are eligible to apply for a Personal Loan and submit the documents for verification and approval.
You will need to upload the following documents after filling the online personal loan application.
PAN Card
Address Proof
3 months salary slip
6 months bank statement of salary account
e-Nach Mandate
How does a Personal Loan application get approved?
Once you submit your online application along with supporting documents, it is considered by LoanTap for verification. Once the documents are verified and found in order, KYC is completed and the loan is approved. The amount is instantly disbursed to the borrower's bank account. The entire process takes 24-36 working hours.
How can I improve the chances of getting my Personal Loan approved?
Several parameters are taken into consideration while approving a personal loan. The most important of them is the CIBIL score. Now you may wonder what CIBIL score is and how it is calculated.
CIBIL Score
CIBIL score is the score arrived at by the CIBIL credit bureau. They collect the credit information of all borrowers in the country. Based on the credit information report and the comments in the Accounts and Enquiries section, a CIBIL score is generated. A CIBIL score lies in the range of 300-900.
A CIBIL score can be generated only after the accumulation of 6 months credit history. So it is advisable to wait for your credit history to build before applying for multiple personal loans.
A CIBIL score above 750 is considered good. Over 90% of loan applicants who have this score get their loans approved.
Steady Job and Monthly Income
It is important to have a steady job and an income stream for the easy approval of a personal loan. As personal loans require no collateral, the lender needs to obviate the risk of non-repayment to the extent possible.
Do not chase multiple lenders
You should not be sending multiple applications to different lenders. If the lender feels you are not serious about availing a loan or are too desperate to get one, the personal loan application may be rejected.
Do not run multiple loans simultaneously
You should apply for only one personal loan at a time. If your bank statement reveals that you are already servicing a few loans, the lender may not be interested in approving a fresh loan. It would raise doubts about your ability to repay.
Conclusion
A personal loan is a very convenient financing option. It is affordable, easy to process and is collateral-free. Once you complete 6 months of the loan, you are free to repay the loan in full without any prepayment penalty. This gives you complete freedom to manage your finances without shortchanging yourself. At LoanTap you can get a personal loan in just a few clicks. You can check your personal loan eligibility by visiting our website https://loantap.in/ and we will be happy to guide you through the process.