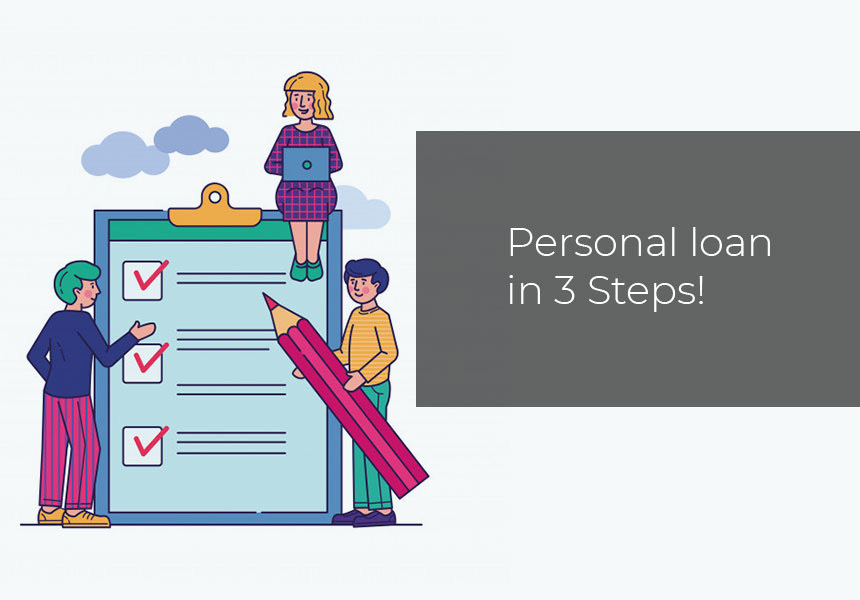 Published on : September 14, 2020
Traditionally, personal loans were only offered by Banks. All the processes were carried out manually. You would have to visit the bank to and fro for multiple procedures. Extensive documentation, complicated application process, and long wait for disbursal were a part of availing a personal loan.
Lengthy application processes not only make availing a personal loan a mind-numbing affair, but also encourage you to opt out of the process mid-way. Owing to the demand of Personal loans and the fast paced life of Millennial's, lenders have transformed the face of lending. Availing an Instant Personal loan online is the new normal. Instant personal loans offer a complete digital process and demand minimum documentation. With the help of technology, lenders have managed to reduce the turnaround time of a personal loan application and ensure quick approval and disbursal.
At LoanTap, We provide seamless experience from application to disbursal to meet our customers' expectations. All our personal loan products are available online and we offer a simple and speedy application process. We use the latest technology to design and make available instant personal loans in just 3 easy steps!
3 Stages of the LoanTap Personal loan Application
We have a 3 step personal loan application process. Listed below are the 3 steps of the application process and what are the essentials at each of the stages. The essential information contributes to building your profile, enabling us to customise flexible loan offers that best suit your profile.
1. Online application
In this Stage, you are required to fill in an application form by visiting our personal loan app or our website. You need to provide basic information used to process your loan applications. Here are the details we capture under the online application phase –
Employment Type: Here, you are required to provide employment information and whether you are a salaried, self employed or business professional.
Purpose of your Loan: The purpose of your loan could be medical emergency, holiday, wedding, home improvement or Others. This helps us understand the exact nature of your requirement. Understanding your need helps us cater to the requirement in a better way.
Personal information: Here we require information like email Id and city in order to be able to reach out to you. Also, you are required to provide information regarding your monthly income and any obligations against the said income. This helps us understand your profile and design offers that will be suitable for your monthly cash outflow.
Documents you can provide: In this section we take an understanding of how many documents you can provide to process your personal loan application. Documents like salary slips (3/6 months), Bank statements (3/6 months), ITR etc., are the basic documents usually demanded in order to process your application.
All the above information you provide contributes to your Personal loan profile with us. This ensures that we have sufficient information in order to design, customise and deliver tailor made offers that are best suited for your needs.
2. eKYC and Verification
The KYC stage i.e., Know your Customer stage is a very crucial part of the entire personal application process. This stage determines whether the information provided by you is authentic or not. Lenders would carry out a basic verification process before approving your personal loan application. Listed below are components that are a part of this stage.
PAN Card details: You require to input your PAN Number and our system will verify the same
Date of Birth: Input your date of birth. This is used to check your eligibility with respect to age.
Mobile Number verification: Here you are required to to provide us with your Mobile number, which is verified via OTP.
We have made provision for eKYC and Verification processes online in order to fast track your personal loan application. Post this process, we instantly provide you with the customised offers that are designed to cater to your requirements and are best suited for your profile.
3. Fund Transfer
Once you have selected the offer which provides monthly payouts as per your needs, you are one step away from the loan. You are required to upload basic documents online. Ensure that you read all the terms and conditions carefully to avoid any disruptions in the future journey of your personal loan. After you have successfully read and signed the eAgreement we activate instant disbursal for your Personal loan. This way you can receive the sanctioned amount for your personal loan within the span of 24 hours.
To be able to make personal loans available online and with low turnaround time, we require applicants to provide the necessary information best to their knowledge. This enables you to fast track the instant personal loan application and acquire the funds when you need it the most. As the entire process is made digital, you can enjoy a contact less loan experience from the comfort of your home.

Related Articles – Personal Loan in 24 Hours – How Is it Possible?
Personal loans – Top 5 Questions Answered